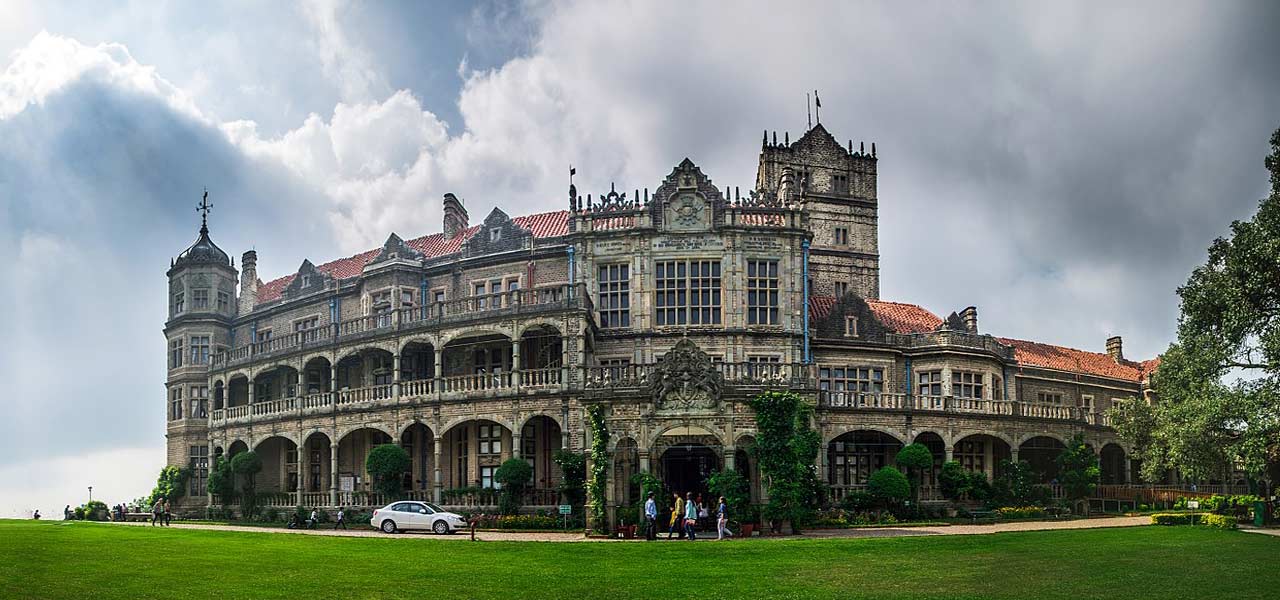 Viceregal Lodge Shimla Entry Fee
20 per person for Indians
50 per person for Foreign Nationals
*Free Entry for Government school Students in groups with their teachers
Viceregal Lodge Shimla Phone
---
Rating:
| 4/5 stars
Based on total 60 reviews
Viceregal Lodge Shimla Address: Rashtrapati Nivas, Observatory Hill, Near Summer Hill Railway Station, Boileauganj, Shimla, Himachal Pradesh, 171005, India
---
Viceregal Lodge, surrounded by beautiful pine trees, well-maintained gardens and rose plants, invites holidaymakers from all around the world to go back in time again. It is a must-visit attraction of Shimla tour and is a perfect destination for a good half-day excursion.
Also known as the Rashtrapati Niwas, the Viceregal Lodge is one of the most prominent and historically significant sites of the region. It is undeniably one of the best places to visit in Shimla. Positioned on the picturesque Observatory hill of Shimla, this architectural marvel attracts thousands of experience seekers every year and has become a central place for tourists who are interested in learning more about the architecture.
Quite famous for boasting an amazing architecture, the building offers a panoramic view of the Shimla mountain ranges and is ideal for history lovers, experience seekers and connoisseurs. Here you can enjoy a short stroll around the garden area or visit the cafeteria to satisfy your appetite with light bites. There is also a coffee shop where you can chill out with your friends while enjoying a sip of your favorite coffee.
History of Viceregal Lodge, Shimla
Completed in the year 1888, the Viceregal Lodge in Shimla was designed by a renowned British architect, Henry Irwin, who was appointed as the chief superintendent of the entire construction. It is a six-story building, built in Jacobethan style. It was once the residence of Lord Dufferin, who moved into the lodge soon after the construction was completed.
This architectural marvel was widely popular for organizing various lavish parties along with taking several important decisions related to India's partitioning as well as India's Independence.After Independence, the lodge came into the hands of the President of India.
Later, the President of India decided to make it a scholars' abode. The proposal was sent to the Ministry of Education and then the lodge was handed over to the research centre IIAS (Indian Institute of Advanced Study) in 1965.
Interesting facts about Viceregal Lodge are as follows:
It is spread across an area of 110 acres of land
The pine and cedar woods were used to construct this architecture
The woods were imported from Burma
It costs nearly INR 36 lakhs to construct it
Image Gallery of Viceregal Lodge Shimla
Architecture of Viceregal Lodge, Shimla
With its Swedish architecture, the Viceregal Lodge lets you re-visit the historic moments again with its most impressive looking heritage building. The interior is simply classic and colonial and has a single corridor that runs throughout its ancient structure.
On the left side of the main hall, you'll find two galleries that directly connects the ballroom, which is now converted into a library with 150,000 books and over 40,000 bound volumes in Sanskrit, Persian, Arabic, Hindi, Urdu, Tibetan, English and other languages. While on the right hand, there is a staircase of 3 stories.
All rooms are quite large in size, with each room having its own private waiting area for conducting various meetings related to the university's academic council and executive council. The drawing room, the lounge room and the dining room are at the ground level.
Enjoy spending time in the circular garden with several fountains in the centre or visit the visitor's lounge to admire the Kashmiri designs. The lounge is carefully decorated with celing made with walnut tree and has wall coverings in its original form. You can also see a Chandelier and a portrait of Lady Elgin in the main hall.
Entry Fee and Timings of Viceregal Lodge
The entry fee to visit Viceregal Lodge in India is INR 20 per person for Indians and INR 50 per person for foreigners. It is open from 10:00 AM in the morning to 5 PM in the evening except on Mondays.
How to Reach Viceregal Lodge, Shimla?
By Air: Jubbarhatti Airport is the nearest airport to reach Viceregal Lodge in Shimla, which is only 23 km drive away from the city centre. From there, you can hire a private taxi or a shared cab to get down to your destination.
By Road: Viceregal Lodge has maintained good transport connectivity to Shimla via road. It is only 3.3 km from the Mall Road and 3.5 km from the main square. Besides, there are several regular buses, air-conditioned buses and public-owned luxury buses that connect Shimla to many states of India. So, you can travel as per your convenience.
By Train: The closest railway station to Viceregal Lodge is Shimla Railway Station, which is just a 7-minute away. After reaching Shimla, people can book a ride from one of the top car rental companies in Shimla to enjoy a hassle-free commutation.
For your convenience, we at Shimla tourism, a division of Holidays DNA, also offer customized travel packages at the best possible prices. Other than that, you can also look for all-inclusive Shimla tour packages to make the most of your holiday. To know more about the available discounts and competitive deals, reach us out by filling the Contact Us form. Our customer support team will assist you shortly.
Location Map for Viceregal Lodge Shimla