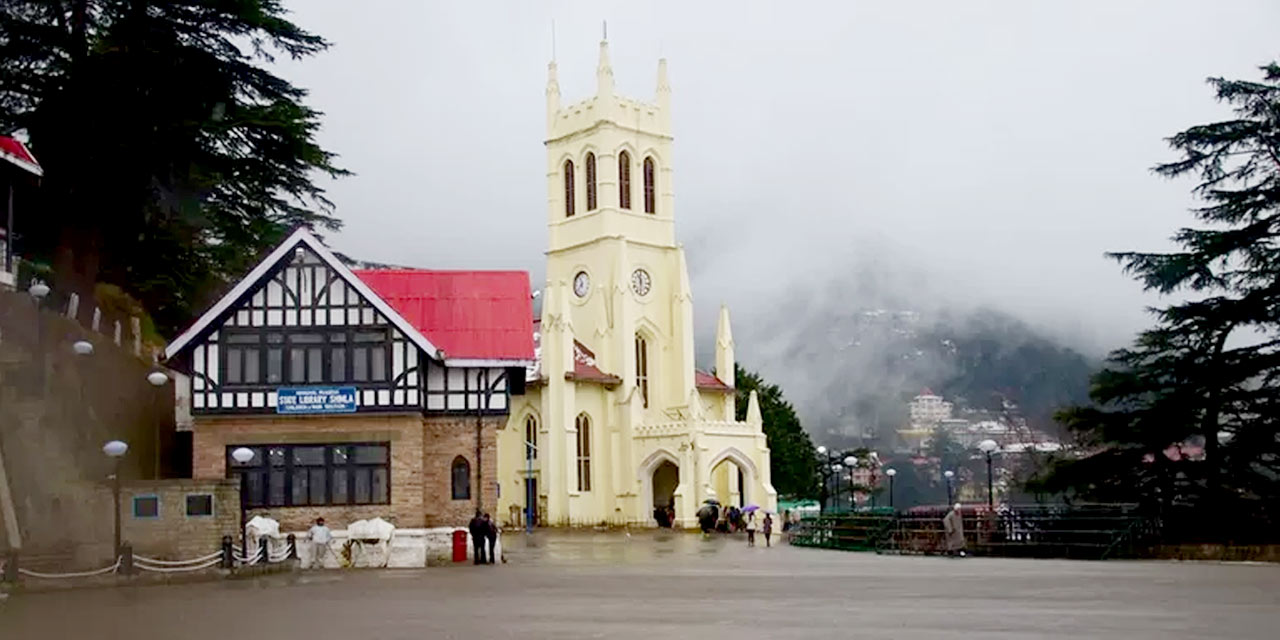 Christ Church Shimla Entry Fee
Christ Church Shimla Phone
---
Rating:
| 4/5 stars
Based on total 74 reviews
Christ Church Shimla Address: Mall Rd, Lakkar Bazar, Shimla, Himachal Pradesh, 171001, India
---
If you're looking to spend some ME time amid peace and spirituality, Christ Church in Shimla can be the right place to visit. Positioned at the Ridge, Christ Church is the second oldest church in Northern India and has become a popular sightseeing place in Shimla for holidaymakers of all ages. It is a must-visit tourist attraction of Shimla tour.
Widely famous for its great architecture, the church offers an awesome view from its vantage point and is a perfect base for history buffs and architecture lovers. Here you can enjoy a short stroll in the nearby market or click as many pictures as you can – to make your visit an unforgettable experience.
History of Christ Church, Shimla
During the British Raj in India, the area around the church was occupied by a huge flock of Britishers and Anglo-Indians. Since they were the followers of Christianity, they asked the government to build a place of worship for them. Hence, in 1844, the construction of the Christ Church started. For conducting the divine services, the church was officially given the license on October 11th, 1846, while it became a pure symbol of devotion on January 10th, 1857.
Interesting facts about the Christ Church are as follows:
The foundation of the church was laid down by Bishop Reverend Thomas Daltry.
It took nearly 11 to 12 years to construct it.
The total cost was around INR 40,000 to 50,000 for its entire construction.
Image Gallery of Christ Church Shimla
Architecture of Christ Church, Shimla
With its Neo-Gothic style of architecture, the Christ Church redefines the beauty in its own unique way. Although the interior is quite simple and plain, the most interesting feature of this religious place is its five windows that attract tourists from all over the world.
The windows are made of stained glass and represent the virtues of patience, humility, faith, hope, fortitude and charity. Other than that, the height of the Christ Church is about 90 feet and the architectural marvel is all decked up with 5 tubular bells and a clock. There are also several paintings that portray the life story of Jesus Christ. While this building looks dazzling at night, it is worth to watch during Christmas and Easter celebrations.
Entry Fee and Timings of Christ Church, Shimla
There is no entry fee to visit Christ Church of Shimla. It is open from 8:00 AM to 6:00 PM every day.
Travel Tips for Visiting Christ Church, Shimla
Make sure to maintain silence throughout the church
Refrain yourself from clicking pictures inside the church
Attend the Sunday Mass if you're planning to visit it on weekends
How to Reach Christ Church, Shimla?
Since the Christ Church is located in the heart of the hill station, it maintains good transport connectivity from all parts of the city. Choose to walk on foot if you are staying somewhere close to The Mall Road or The Ridge in Shimla. You can also opt for a private bus or a local taxi to reach your destination. The Christ Church is just a few minutes' walk away from the Shimla US Club and only 3.6 km away from the city centre.
Distance from Shimla Railway Station: 1.89 km
Distance from the nearest bus stand: 1.2 km
We at Shimla Tourism, a division of Holidays DNA presents our clients with best of the deals at competitive prices in the market. Tourists can choose an all-inclusive Shimla tour package to have a perfect time while exploring the Christ Church. In addition, we have also curated a list of top car rental companies in Shimla, which can be contacted for a hassle-free commutation. Please feel free to reach us by filling the Contact Us form to know more about the packages.
Location Map for Christ Church Shimla