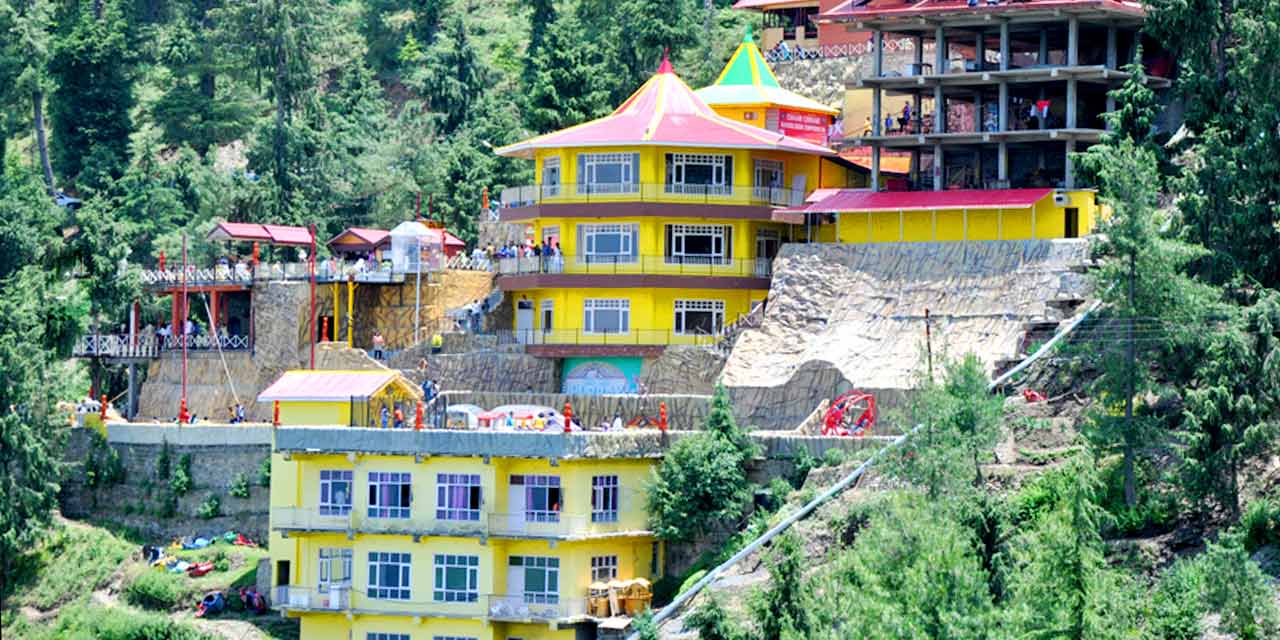 Hip Hip Hurray Amusement Park Shimla Entry Fee
700 per person for Adventure package
700 per person for Amusement package
1000 per person for Combined package
500 per person for any 3 rides from adventure activities or any 4 rides from amusement activities
Hip Hip Hurray Amusement Park Shimla Phone
---
Rating:
| 4/5 stars
Based on total 75 reviews
Hip Hip Hurray Amusement Park Shimla Address: Kufri-Fagu Road, Near Kufri Bazar, Shimla, Himachal Pradesh, 171019, India
---
For all those who are after a day full of entertainment and fun can visit the Hip Hip Hurray Amusement Park in Shimla. An idyllic destination for leisure seekers, the amusement cum adventure park keeps you occupied with a wide variety of recreational games, adrenaline-fuelled rides and plenty of other activities.
Positioned at an altitude of 8500 feet above sea level, Hip Hip Hurray Amusement Park is a one-stop destination for utter enjoyment. Nestled at a distance of 16 km from Shimla, it spreads over an area of 5000 square meters and is truly a heaven for an adventure junkie.
Surrounded by snow-capped Himalayan mountain ranges, with picturesque views of the hills at its backdrop, the park offers several options for a solo traveller, a couple, a group of friends and a family with children. One of the best amusement parks in Himachal Pradesh, Hip Hip Hurray Amusement Park promises a memorable holiday to everyone. Its state-of-the-art facilities and thrilling rides give an unparalleled experience.
Add some spice to your life with an exciting adventure such as Zip Lining, Burma bridge, Valley Crossing, Net Climbing, Gyroscope, Flying Fox and Reverse Bungee Jumping. Get ready to spend some leisure time with virtual reality games or have a blast with rides like giant wheels, air hockey or bumper cars.
There is also a gaming zone, a haunted house, a movie tunnel and an art gallery for people of all ages. Other energizing amusement activities include crash-mobiles, double swing, kiddies' helicopters and gondola wheel.
Shop at the Himachali handloom shop inside the park premises to bring some souvenirs back home. Discover the flavours of mouth watering delicacies at an array of fine-dining restaurants. You can also stay at one of the hotels located within close proximity to the amusement park to make the most out of your holiday. The place has something for everyone!
Places to Visit near the Hip Hip Hurray Amusement Park, Shimla
With several things to see and do under one roof, you will never get bored at the Hip Hip Hurray Amusement Park. However, the place has also got several other tourist places to explore in and around the park. We have summed up the top 4 places to visit:
1. Himalayan Nature Park – Widely famous for its wildlife, the Himalayan Nature Park has about 140 species of birds and animals. It has a mini zoo for small kids and a lush green park for nature admirers. Here you can also enjoy horseback riding in your free time.
2. Mohan Shakti Heritage Park – Step back in time and see the beauty of ancient villages at the Mohan Shakti Heritage Park. An awesome place to enjoy the surroundings, the park allows you to worship the statues of Hindu God and Goddesses.
3. Indira Tourist Park – Perfect for experience seekers, the Indira Tourist Park offers more of a laid-back atmosphere to enjoy the tranquil setting away from the metro life. Witness the breathtaking views while indulging in mouthwatering snacks or get photographed in Himachali clothes. There is also a beer bar, an ice-cream parlour and a video-game zone for some family enjoyment.
4. Green Valley – It's time to overlook the undisturbed views of the verdant hills at Green Valley. Also known as the Hassen Valley, the Green Valley lets you breathe in the fresh air. Relax and rejuvenate your senses in the laps of nature, ooze the pristine beauty from distant or walk hand-in-hand with your loved ones around the woods. You can also stop at your favourite eatery to hang out with your friends.
Other points of tourists' interests include The Ridge, Jakhoo Temple, Gaiety Heritage Cultural Complex, Indian Institute of Advanced Study, Tara Devi Temple, Kali Bari Temple and many more.
Image Gallery of Hip Hip Hurray Amusement Park Shimla
Entry Fee and Timings of Hip Hip Hurray Amusement Park, Shimla
The entry fee to visit Hip Hip Hurray Amusement Park in Shimla is INR 700 per person for adventure package, INR 700 per person for amusement package and INR 1000 per person for combined packages.
It is open for its tourists from 10:30 AM to 6:00 PM on all the days of the week.
Best time to Visit Hip Hip Hurray Amusement Park, Shimla
Although the weather in Kufri remains pleasant throughout the year, visiting it in summer i.e., from March to November would be best for people who are planning to spend some fun-filled time at the Hip Hip Hurray Amusement Park. During the winter season, the park is covered with snow.
How to Reach Hip Hip Hurray Amusement Park, Shimla?
It's pretty easy to reach the Hip Hip Hurray Amusement Park in Kufri. With a wide variety of travel options available, you can choose your favourite modes of transport to get to the destination. However, if you are wondering how to reach Kufri from Shimla, you'll be surprised to know that it is only 15 km from the centre of the hill-station and can be accessed on a private vehicle. Please note that there are no air terminals or railway station in Kufri, so the only option is by road.
Choose to walk on foot if you want to soak up the unseen beauty on your way or hire a cab for a hassle-free experience. The pony rides are also available for your convenience. Other than that, there are several private and state-owned buses that operate from Shimla to Kufri. Make sure to check the timings of these buses in advance as their schedule is not very accurate.
It costs nearly INR 1000 to rent a taxi from Shimla. For those who are on a tight budget can choose to travel via bus for a pocket-friendly holiday. We, at Shimla Tourism, have also curated a list of various companies that can help tourists to have a perfect time while exploring sightseeing places in Shimla. Fill the Contact Us form to know more about our offerings!
Location Map for Hip Hip Hurray Amusement Park Shimla