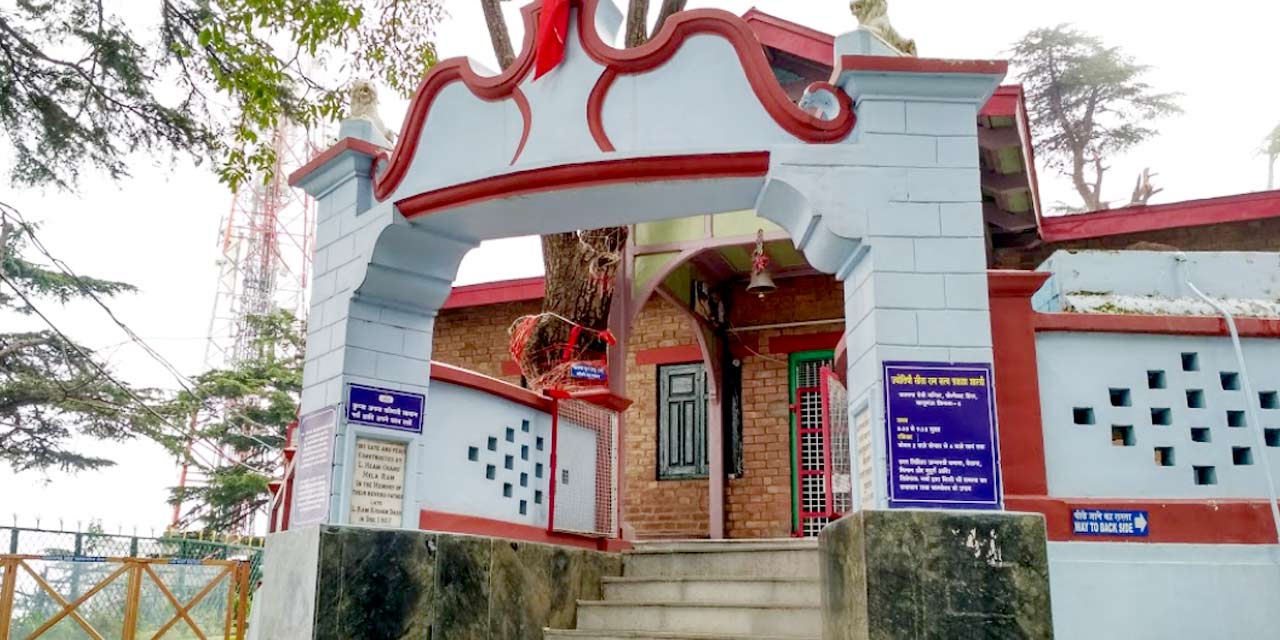 Kamna Devi Temple Shimla Entry Fee
Kamna Devi Temple Shimla Phone
---
Rating:
| 4/5 stars
Based on total 64 reviews
Kamna Devi Temple Shimla Address: Prospect Hill, Boileauganj, Chakkar, Shimla, Himachal Pradesh, 171005, India
Kamna Devi Temple Shimla Daily Aarti Timings
| | |
| --- | --- |
| Aarti | Timings |
| Morning Aarti | 6:00 am |
| Evening Aarti | 6:00 pm |
---
Whether you are a nature admirer, an adventure enthusiast or a devotee, the Kamna Devi Temple in Shimla is sure to offer you an unforgettable experience.
Also known as the 3rd most popular tourist places to visit in Shimla after Sankat Mochan and Jakhoo Temple, the Kamna Devi Temple is dedicated to Hindu community and has a presiding deity of Goddess Kali, who is believed to be another form of Goddess Durga.
Surrounded by breathtaking mountains, picturesque valleys and meadows, the temple offers a magical atmosphere to holidaymakers of all ages and offers picturesque views of the southern Shimla. Enjoy the natural beauty from its hill-top location or indulge in adventurous activities like rock-climbing and trekking. The place is also recognized as an excellent picnic spot for spending some fun-filled time with your family.
Tourists who are planning their Shimla tour either for a short or a long city break must pay a visit to this beautiful religious spot. It is generally said that Maa Kali fulfils the desires of all those people who worship her with full faith and dedication. The temple also celebrates the festival of Navratri and Durga Puja every year, which gives another reason for people to flock to this place.
Note: Don't forget to bring your camera with you if you want to capture the all-encompassing scenery! The place will give you some hidden and mesmerizing views.
Places to Visit in and around Kamna Devi Temple, Shimla
While the Kamna Devi Temple is widely known for its religious significance, you can also explore the nearby places around the area in your free time. Here we have summed up the top 3 attractions:
· Manorville Mansion – Nestled near the University of Himachal Pradesh, the Manorville Mansion boasts a prominent architecture with a tranquil setting where you can enjoy some peaceful moments. Built during the British era, the building gives in-depth knowledge about Gandhiji's stay who stayed here from 1935 to 1946. It is only 0.2 km from Kamna Devi Temple.
· Indian Institute of Advanced Study – An ideal place for history buffs and architecture lovers, the Indian Institute of Advanced Study has a great monument to explore within the hill-station. Here you can easily spend an hour or two while overlooking its intricateness and exquisiteness. It is only 0.4 km from Kamna Devi Temple.
· Summer Hill – Enjoy scenic and beautiful views of the snow-capped Himalayan mountains ranges at the Summer Hill. Unlike other spots in Shimla, it is an excellent base to get away from the hustle and bustle of everyday life. The place is only 1.2 km from Karma Devi Temple.
Image Gallery of Kamna Devi Temple Shimla
Entry Fee and Timings of Kamna Devi Temple, Shimla
There is no entry fee to visit Kamna Devi Temple in Shimla. It welcomes its devotees from 6 am to 8 pm in the evening on all the days of the week.
How to Reach Kamna Devi Temple, Shimla?
Getting to Kamna Devi Temple from Shimla is quite easy. Since it is located at a distance of only 5 km from the city centre, you can choose to travel via a bus or a taxi – the choice is completely yours! The three main modes of transport are as follows:
By Train: Enjoy a Kalka Shimla Toy Train ride to get down to Shimla in a hassle-free manner. The toy train starts from Kalka Railway Station and takes nearly 5-6 hours to reach the 'Queen of the Hills'.
By Road: One can opt for a regular, private or a government-owned bus that connects Shimla to many states of India. There are also air-conditioned and deluxe coaches available for the ultimate convenience of tourists. However, the booking of luxury buses is done is much advance. After arriving in Shimla, you can follow the Boileauganj route on Shimla Bilaspur road to access it on foot.
By Air: All those who have a shortage of time can board a flight from Chandigarh and New Delhi airport to reach Jubbarhatti Airport, which is only 23 km away from the town. From there, you can hire a private vehicle from one of the top car rental companies in Shimla to get to your destination.
---
If you want to have an unforgettable time of your life exploring the various sightseeing places in Shimla, book an all-inclusive Shimla tour package with us. We at Shimla Tourism, a division of Holidays DNA, present our clients with several discount coupons along with offering the best deals at pocket-friendly prices. Our team of experts carefully design the holiday packages suiting to your needs and duration of the visit and leave no stone unturned. In the end, it is the customer satisfaction that matters to us the most. What else do you want? Fill the Contact Us form to know more about our services in detail. We are just a one-step away!
Location Map for Kamna Devi Temple Shimla