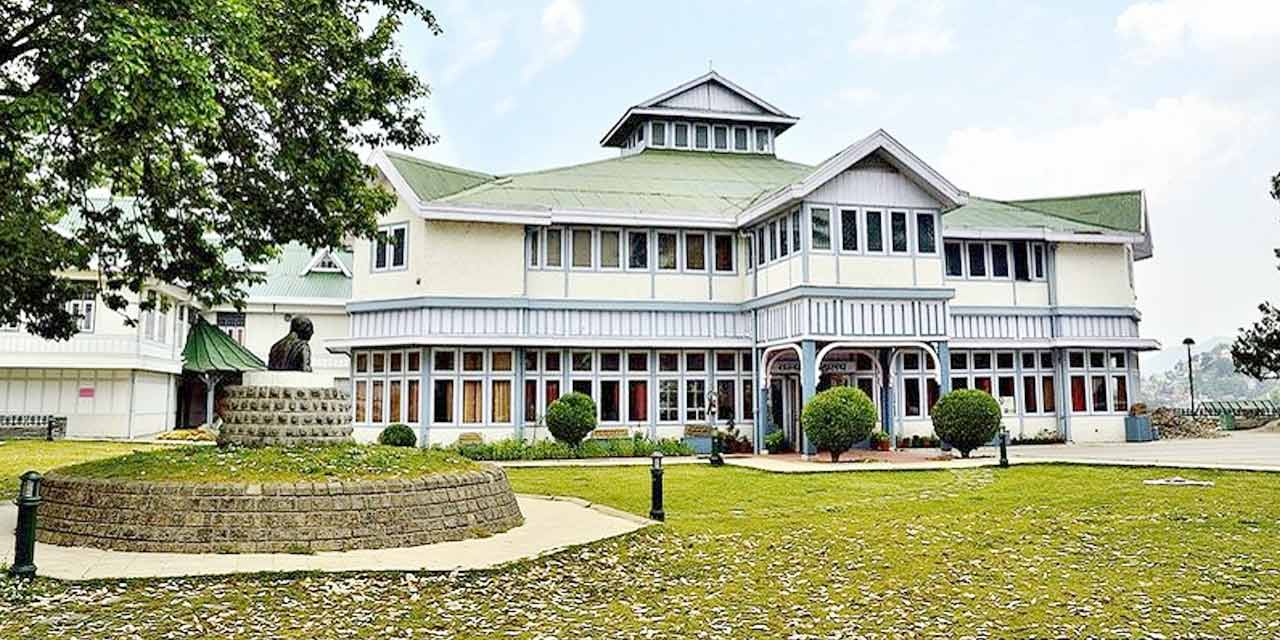 Himachal State Museum Shimla Entry Fee
20 per person for Indians
100 per person for Foreigners

Camera Fee
50 for Indians
100 for Foreigners
100 for Research Scholars
1500 for Videography (with special permission)
Himachal State Museum Shimla Phone
---
Rating:
| 4/5 stars
Based on total 70 reviews
Himachal State Museum Shimla Address: Near Doordarshan Kendra, Chaura Maidan, Shimla, Himachal Pradesh, 171004, India
Shimla Tour Packages
Himachal State Museum Shimla Timings
| Day | Timing |
| --- | --- |
| Monday | Closed / Holiday |
| Tuesday | 10:00 am – 5:00 pm |
| Wednesday | 10:00 am – 5:00 pm |
| Thursday | 10:00 am – 5:00 pm |
| Friday | 10:00 am – 5:00 pm |
| Saturday | 10:00 am – 5:00 pm |
| Sunday | 10:00 am – 5:00 pm |
Note: The Himachal State Museum Shimla is closed on Monday and Public Holidays
Links:
Website
|
Map
---
Step back in time and get to know more about the city's glorious past at the Himachal State Museum. One of the popular tourist places to visit in Shimla, Himachal State Museum protects the history of the northern state and gives you a chance to understand the cultural heritage of a particular time period. It is an ideal base for art lovers and a must-visit spot for experience seekers and connoisseurs.
Positioned on the top of the hill, the museum offers a calm and peaceful setting to enjoy the serene surroundings at its backdrop. Here you can take a short stroll in the lush green garden or capture the picture of some interesting artifacts. There is also a fine collection for Indian miniatures for tourists' interests.
History of Himachal State Museum, Shimla
Dating its history back to the colonial times, the Himachal State Museum was once the residence of Lord William Beresford, who was the Military Secretary of Lord William Bentick. When he left the country, the complex was occupied by Sir Edwin Colon and then it was inherited by the finance member of the council, Sir Edward Law. Later, after many years of independence, the mansion became the house of several Indian government officials.
On January 26th, 1974, the house was finally converted into a museum with the sole aim of preserving the historical and archaeological artifacts. Since then, the museum collects a wide variety of heritage paintings, coins, photographs and sculptures which otherwise would have been extinct.
Architecture of Himachal State Museum, Shimla
Built in a unique Victorian-era style with sprawling lawns all around the area, the Himachal State Museum is divided into 5 main galleries which are categorized as Pre-Historic Gallery, Wood-Carving Gallery, Wall Painting Gallery, Archaeology Gallery and Numismatic Gallery. Other forms of galleries include Himachal Archaeological Gallery, Photographs Gallery, Bronze Gallery and many more.
The most striking feature of the museum is its collection of archaeological antiquities that includes stone images from the 8th century. In the painting section, you'll get to see the lifestyle and culture of the people living in the Himalayas. Besides, there are Rajasthani Painting, Mughal Paintings, Contemporary Paintings and Religious Paintings. It has a separate room for Mahatma Gandhi and also houses a library that stocks more than 9,000 books, journals and magazines on history and archaeology. In addition, the museum also displays a layout of Himachali dolls, which is admired by tourists of all ages.
Image Gallery of Himachal State Museum Shimla
Places to Visit near Himachal State Museum, Shimla
Whether you've come for a short or a long city break, Shimla is sure to offer you a unique and different experience every time you make your presence felt here. With so many sightseeing available near the Himachal State Museum, it might get difficult for you what to choose and what not. So, here we have summed up the top 5 places:
· The Ridge – An ideal base to hang out with your friends in the evening, the Ridge lets you relax and refresh your mind away from day-to-day life. Soak up the panoramic beauty of the mountains, breathe in the fresh air or explore plenty of fine-dining restaurants, the place has something for everyone. It is only 2.4 km from Himachal State Museum.
· Scandal Point – Perfect for couples and honeymooners, the Scandal Point is surrounded by snow-capped Himalayan mountain ranges and offer breathtaking views of the sunrise and sunset. It is an excellent place to admire nature or get photographed in ethnic Shimla wear. The Scandal Point is only 2.5 km from Himachal State Museum.
· Christ Church – Enjoy some time amidst peace and spirituality at Christ Church. Widely famous for boasting an impressive architecture with a significance to history, the church redefines the beauty in its own way. In addition, the building also offers magnificent views from its vantage point. It is only 2.6 from the Himachal State Museum.
· Lakkar Bazaar – Your Shimla tour won't be complete without visiting the Lakkar Bazaar. Nestled next to the Mall Road, the market has several roadside stalls which are specialized in selling handicraft items, wooden stuff and other decorative goods. Here you can also get customized things for your special one. It is only 2.8 km from Himachal State Museum.
· Johnnie's Wax Museum – Come face-to-face with the life-size statues of widely renowned personalities at Johnnie's Wax Museum. It is a great place to click some amazing pictures of sports legends, Bollywood stars and real-life heroes such as PM Narendra Modi, Barack Obama, Harry Potter, Justin Bieber, Amir Khan and many more. It is only 3 km from Himachal State Museum.
Entry Fee and Timings of Himachal State Museum, Shimla
The entry fee to visit Himachal State Museum in Shimla is INR 20 per person for Indians and INR 100 per person for foreigners. It is open for its tourists from 10 am to 5 pm on all days except Monday.
Travelers Tips for Himachal State Museum, Shimla
Take care of your belongings such as mobile phones, cameras, wallets and other valuable stuff.
Wear comfortable footwear as you will need to walk a lot to explore the surroundings of the entire museum.
How to Reach Himachal State Museum, Shimla?
Getting to the Himachal State Museum is quite easy. Since it is located at a strategic location on the Mall Road, it can be accessed via a taxi, cab, or a bus. However, if you are wondering how to reach Shimla, you'll be surprised to know that the hill-station maintains good connectivity to other states of India and offers several options to reach your destination. The three main modes of transport are as follows:
By Train: Shimla Railway Station is the nearest station to Shimla, which is only 1 km from Himachal State Museum. It is linked to Kalka Railway Station through a narrow-gauge line. From there, you can enjoy a toy train ride to have a perfect train journey of your life. The Kalka Shimla Toy Train passes over 100 tunnels and 800 bridges to cover a distance of nearly 96 km.
By Air: Board a direct flight to Jubbarhatti Airport from Chandigarh or New Delhi Airport to pave your way towards the Queen of Hills in the least possible time. After arriving at Shimla, you can opt for any local transport as there are plenty of conveyances available for the convenience of tourists.
By Road: Another way to reach Shimla is by road. If you're staying in the centre of the town, you can choose to walk on foot to explore the unseen beauty of the place on your way. And if you're coming directly from Shimla Old Bus Stand, it would be great to go for an auto-rickshaw or a shared taxi.
For a hassle-free commutation, we at Shimla Tourism, a division of Holidays DNA, have curated a list leading car rental companies in Shimla. So, if you want to make the most of your holiday while exploring the various tourist places on your trip, we are here to help you!
---
Holidays DNA has been able to mark its presence in the travel industry within a short span of time. We are a one-stop-shop for all your needs. From booking flights to hotel reservation and bus and train tickets, our team of experts offer everything under one roof. Other than that, we also design all-inclusive Shimla tour packages suiting to your budget requirements. What else do you need? Just pack your bags and head for a holiday! To know more about our services, please fill out the Contact Us form.
Location Map for Himachal State Museum Shimla