One of the most romantic and captivating hill stations in North India, Shimla is a haven for all types of tourists. From honeymooners to family holiday-goers, friend-a-cations to a perfect long weekend getaway, Shimla boasts of everything you want in your hilly holiday destination.
Fun, shopping, touring and everything under the bright yellow sun, we at Shimla Tourism, a division of Holidays DNA present to you a fun way of exploring the corners of Shimla with our Shimla Local Sightseeing Tour Packages.
The majestic snow-clad mountains beckon you to explore their rich canvas and paint the picture of green and blue and everything you want to. Shimla leaves such a mark on every holiday.
#Trivia: Located in the high passes of Himachal Pradesh, it is famously dubbed as 'Home to the First Mall Road Of India' or 'The Queen of Hill stations'. Ironically Mall Road is a place where traders from near and far used to gather once a day or once a week to trade their goods, carrying their heavy loads up and down the steep hills of Shimla. Hence the name.
There are a number of things to do and places to explore if you want to take a holiday to the most coveted and popular tourist destinations in Himachal.
A booming summer capital of British India and now the Capital of Himachal Pradesh, Shimla can be seen buzzing with liveliness on all its touristy spots. So catch your breath, breathe in some freshness and let's go on a trip to explore the local sightseeing options of this gorgeous hill station.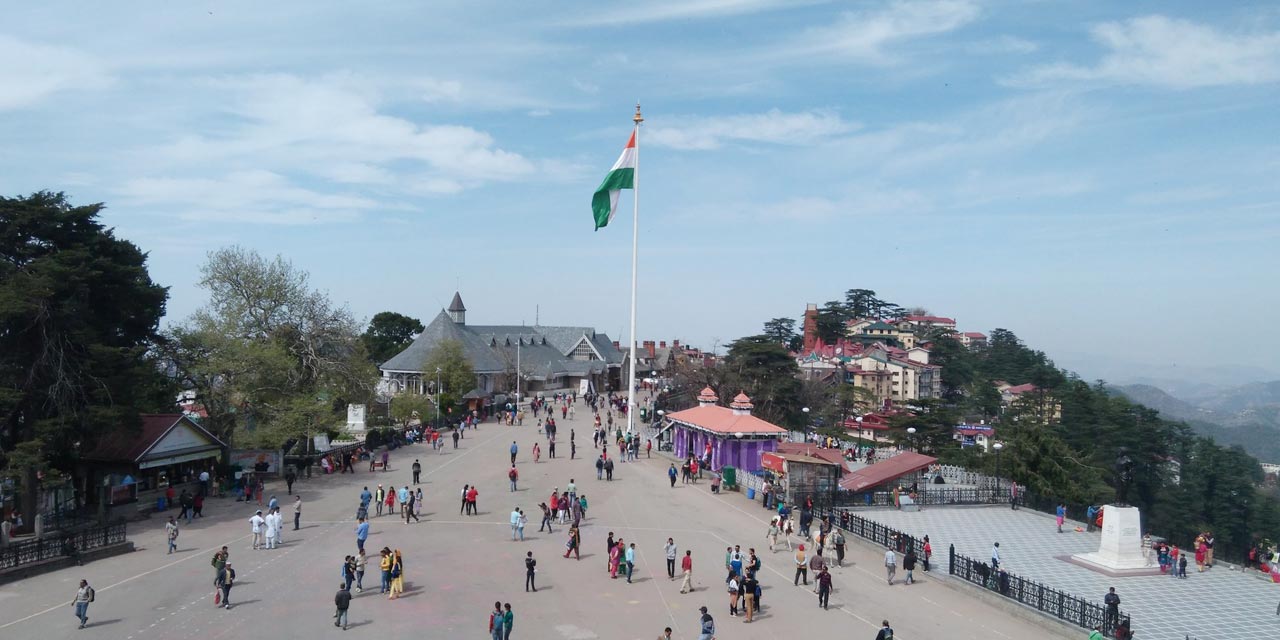 The famous Ridge is an absolute 'must-stop' and 'cannot be missed' popular central market and tourist spots of Shimla. It overlooks almost the entire city, with sparkling lights illuminating the night sky.
It is open all day long and does not require any entry fee. Please note that you cannot take your vehicles on the Ridge or on Mall road. There is an official parking area made at the bottom of the hill to ease this woe and you can then climb it to the top or just take the elevator.
It is connected from east to west along the Mall road and offers spectacular views on either side of the road.
#Trivia: A picture speaks a thousand words and the Ridge has been famously featured in some motion pictures like '3 Idiots', 'Jab We Met', 'Black', 'Udaan' and many others.
The Ridge is a huge open area that is buzzing with activity all day long. From horse rides to street food options, clicking a picture in traditional Shimla attire to short rides for children, you can simply relax and let your hair down at the end of a hectic sightseeing day.
You can visit the Tudor library, Scandal point on the west or Christ Church while at the Ridge.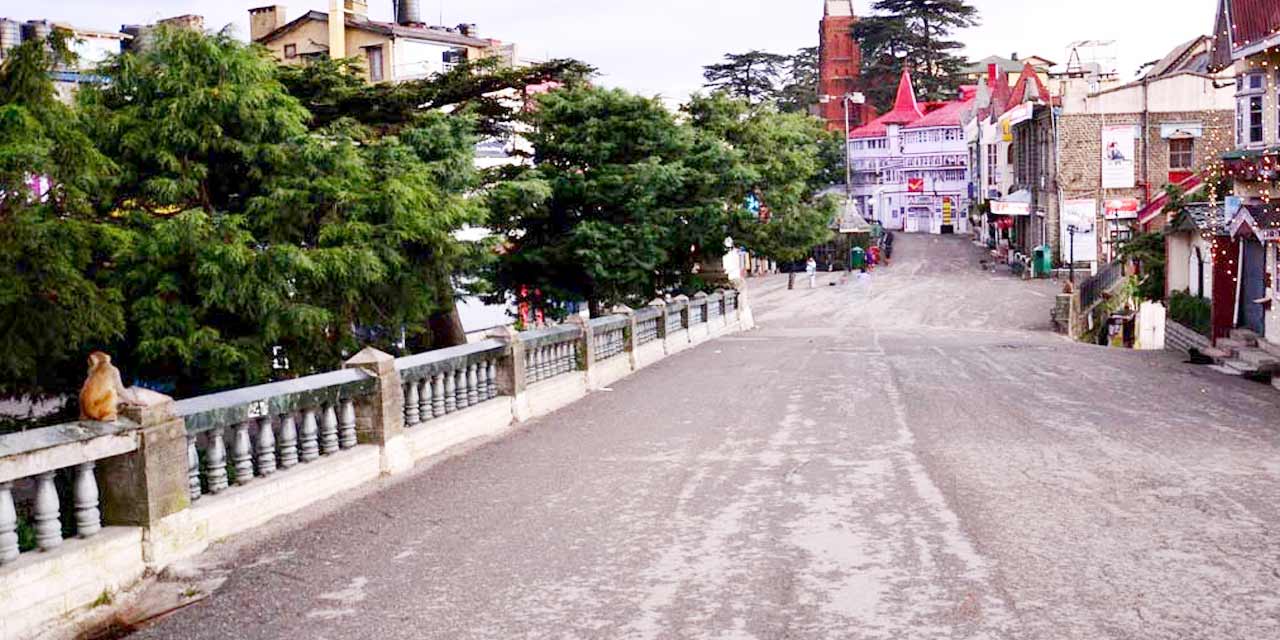 We have deliberately kept the two (the Ridge and Mall Road) separate, although they are located one below the other. The Mall road of Shimla is a place buzzing with eateries and lots of shopping. The heart of the hill station, you can find a number of local shops and local bakeries that have been around for decades.
The small cafes lining the mall road are a delight to just sit and watch the world go by. While on the Mall road, you can walk the entire stretch to buy woollens, small handicraft items, gifts for kids, and much more.
One particular thing to notice is how clean Mall road is. Yes, clean! There are dustbins allotted at every 50 meters nearly to help you pitch your garbage away and not throw them on the road. The police are patrolling the area and are keeping a strict vigil about the health of their favourite Mall road.
While on the Mall road, make sure you drop by Johnny's Wax Museum. A quaint little place that is made by a local guy called Johnny- it houses famous national and international personalities and is a beautiful place to enjoy some quiet time.
You can also visit Kali Bari temple, Gaiety Theatre and Town Hall while walking here.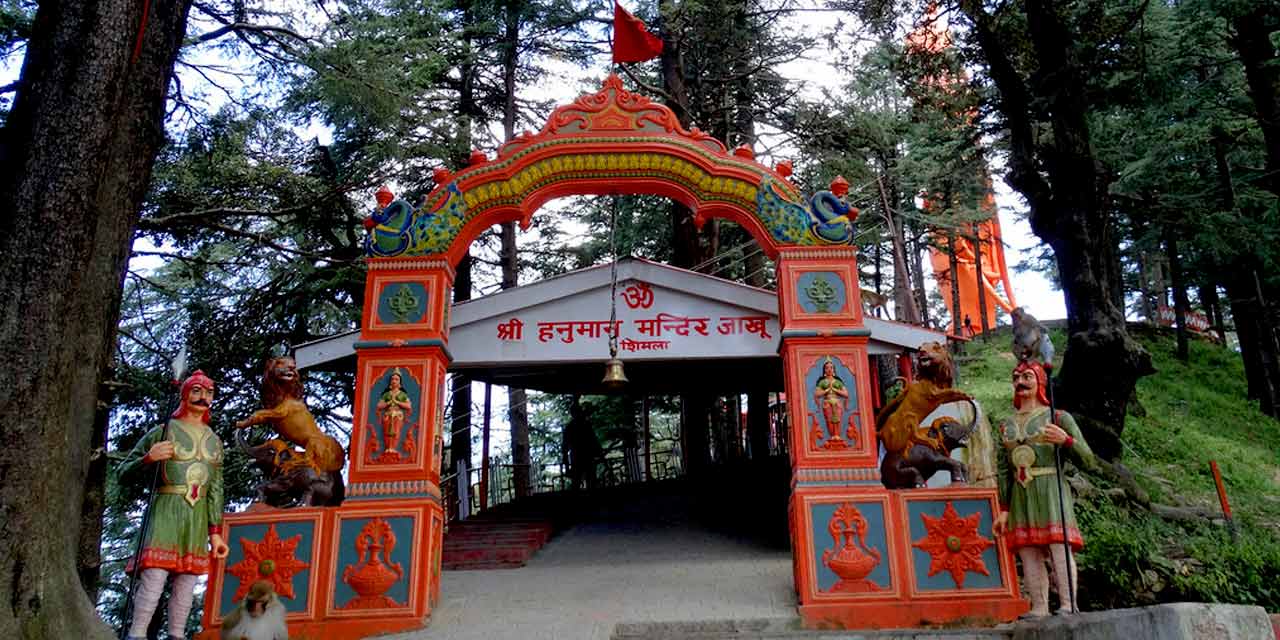 Well-connected by a road leading up from the Ridge or a 2 km round trip up to the hilltop, Jakhoo Hill or Temple is home to an enormous standing statue of Lord Hanuman, its chief deity. Surrounded by countless monkeys, Jakhoo temple is a tranquil place to simply sit down and offer your obeisance to the lord.
To make travel easier, you can also take the Ropeway that starts from one end of the Ridge up to 8000 Ft. Jakhoo hill and back. The trip costs Rs. 300 to Rs. 500 per person but it is best to speak to the operator at that time. It is operational all day long but the last ropeway ride from the temple starts at 5:30 pm. If you miss it, you will have to travel all the way back on foot.
There is a huge space where the statue of the Lord stands tall (quite literally) and a temple as well to offer your prayers. A small children's play area has also been made to keep your little ones engaged.
#Trivia: The 108 feet tall statue is nearly visible from all parts of Shimla. Towering in between the huge trees, this statue is a welcome sight for all those visiting the hill station.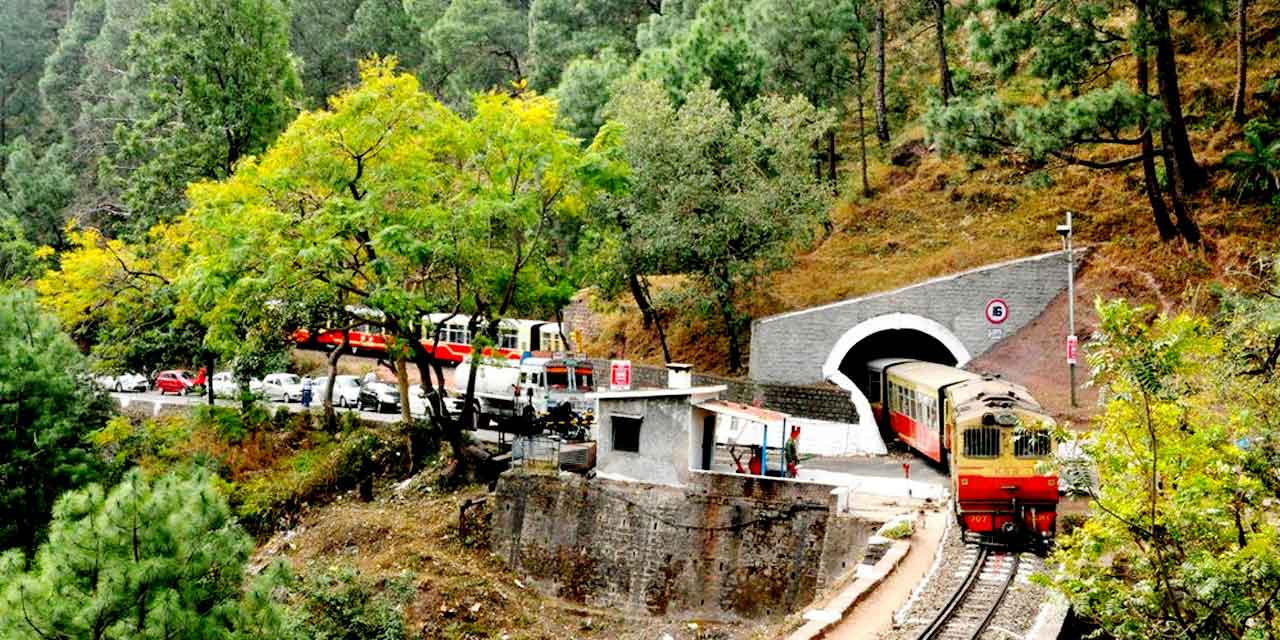 Built in 1898 to connect Shimla with other railway lines of India by the British, the Kalka-Shimla Railway is a must try while planning a trip to Shimla. The journey starts at Shimla and culminates in Shimla, making this narrow-gauge railway a gorgeous journey worth traversing.
It covers approximately a distance of 96 km from Kalka to Shimla, stopping at 18 stations along the way. It is a way of daily commute for many locals.
#Trivia: It was accredited by UNESCO in 2008 and added to the mountain railways of India World Heritage Site.
If you wish to take a ride through the mountainous terrain of Shimla, this approximately 4 hour ride is definitely worth it. A sight to reckon and keep in your memory forever.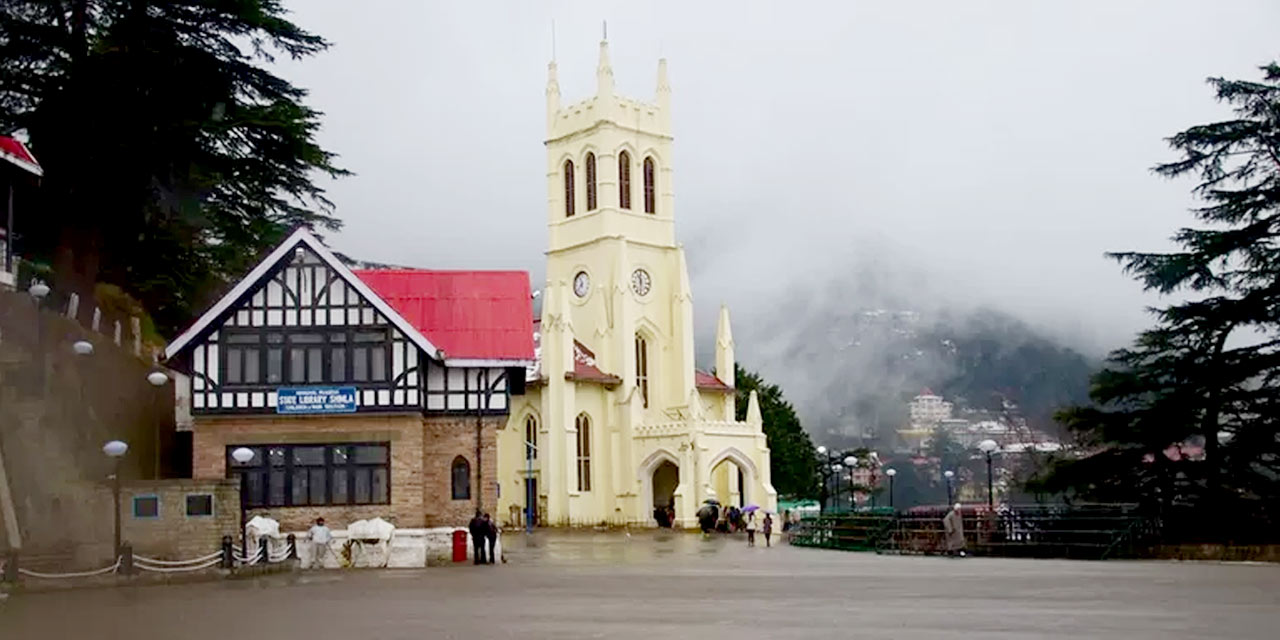 An excellent example of neo-gothic architecture, Christ Church is an evergreen part of Shimla's skyscape. Built in 1857, it is located on The Ridge and took nearly 3 years to complete. The gorgeous frescoes lining the interiors with stained glass windows and a clock tower are iconic to the Shimla skyline.
#Trivia: Home to the largest pipe organ in India.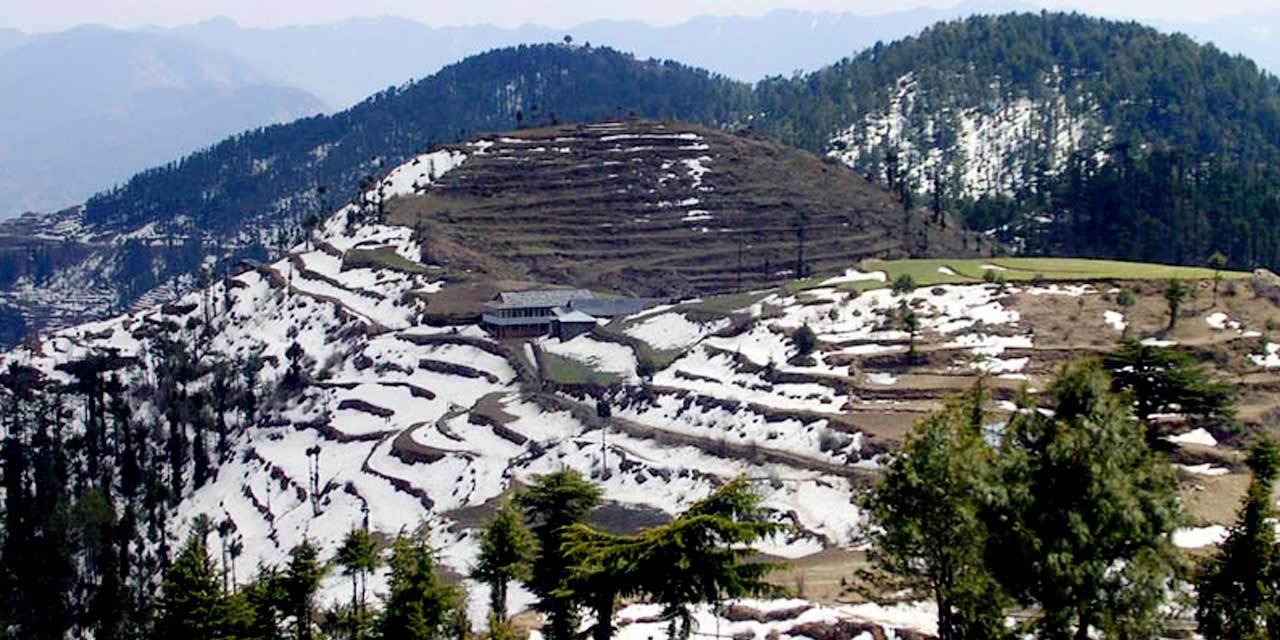 The iconic tourist spot located around 17 kms from Shimla main city, is a travellers paradise. With multiple things to see and do, Kufri is the hub of all tourist activity of this hill station. Easily accessible by road, you can park your vehicles at the parking lot at the bottom of the hillock.
The only way to get to the top of Kufri hill is on a horse back or walking. The narrow rugged road is quite unsheathing to walk up and will exhaust you completely. Lined with rocks and uneven terrain, climb right to the top of the hill is quite steep and not worth climbing on foot.
Horse rides cost around Rs. 500 to Rs.800 per person to go back and forth and is an adventurous one indeed. Once on top, you can spend a good 2 to 3 hours roaming around and eating from the local shops on the hill.
There are a lot of games as well for children to explore along with knick-knacks to purchase. The viewing point from the top of the hill costs around Rs. 150 to see distant places from a telescope. If you are keen, you can explore this as well.
The Yaks are a sight to behold. These absolutely massive and heavy furred creatures just make you keep looking at them. A photo will cost approximately Rs. 100 or so but needs to be bargained.
Enjoy the freshness of the air and a gorgeous view of the surroundings when on top of Kufri.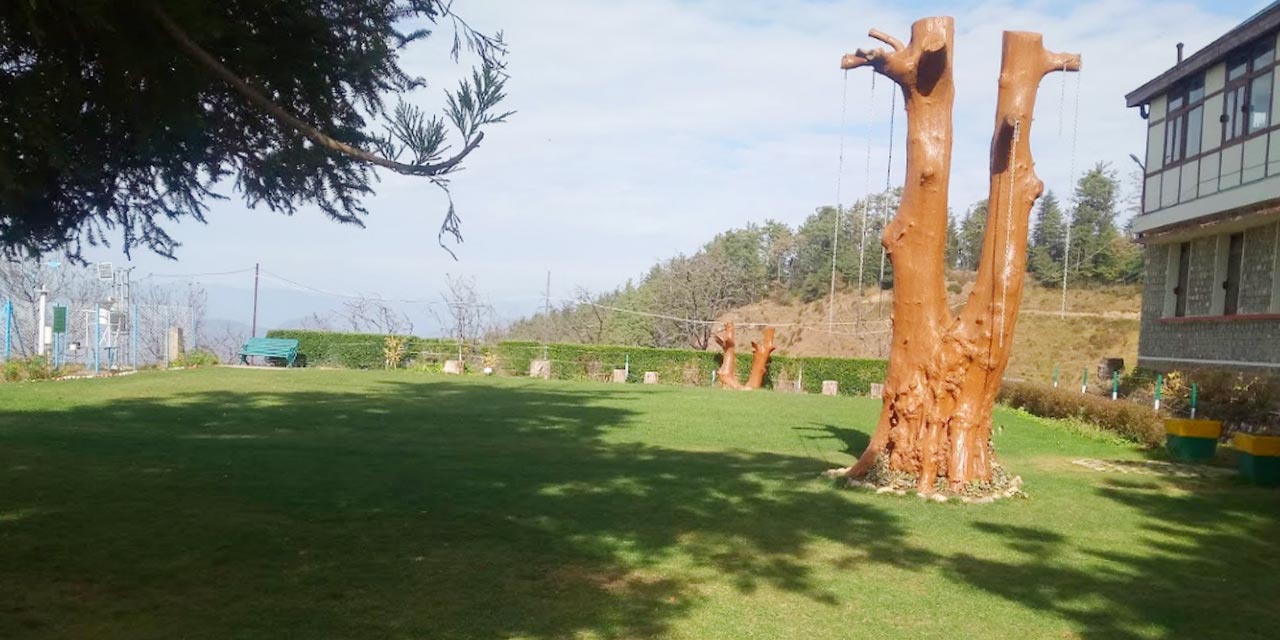 Another gorgeous place of interest in Shimla is Mashobra. Located around 20 kms from the main city, it is famous for its apple orchards.
Lined on a steep hill, the view from the apple orchard boasts of exuberance and gaiety. Explore the different fruit trees and apple trees. Once up the height of the mountain, the breath-taking views completely take you by surprise.
The mist-bathed pine and cedar trees form a picturesque stream of beauty gushing down the valley of 'Quieter Shimla', attracting every tourist as they pass by. You can definitely enjoy a quiet time holidaying in Mashobra, heaven away from the buzzing Shimla city life.
Things you can do at Mashobra include quad biking, trekking, biking, rappelling, river rafting, bird watching, paragliding and much more.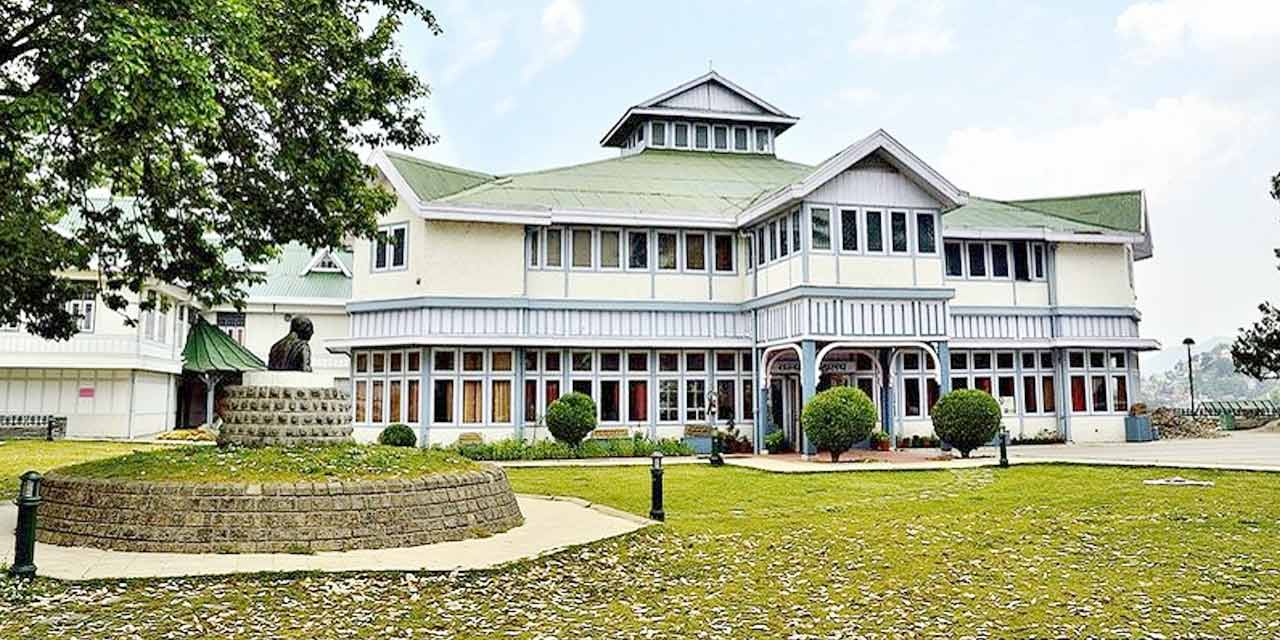 Located on top of Mount Pleasant, it is an iconic structure gracing the skyline of Shimla since 1974. It was built to protect and preserve the cultural heritage of the city. It gives you a firsthand record of the city's glorious past that speak to you through its architecture, paintings, archaeological findings, handicrafts, sculptures, and much more.
The entry tickets is Rs. 20 for Indians, Rs. 100 for foreigners, Rs. 100 for photography. It is open on all days from 10 am to 5 pm except Mondays.
One of the key attractions of Shimla, Annandale, also known as Annadale, is located around 4 kms from the Ridge. Once a playground for the British, it was used to play polo, cricket and also horse racing. It is now converted to a small golf course and is also used as a heli-pad for official dignitaries.
Things to see in Annandale is the Army museum and Cactus museum. Explore the beautiful expanse of the nearby gardens while touring Annandale.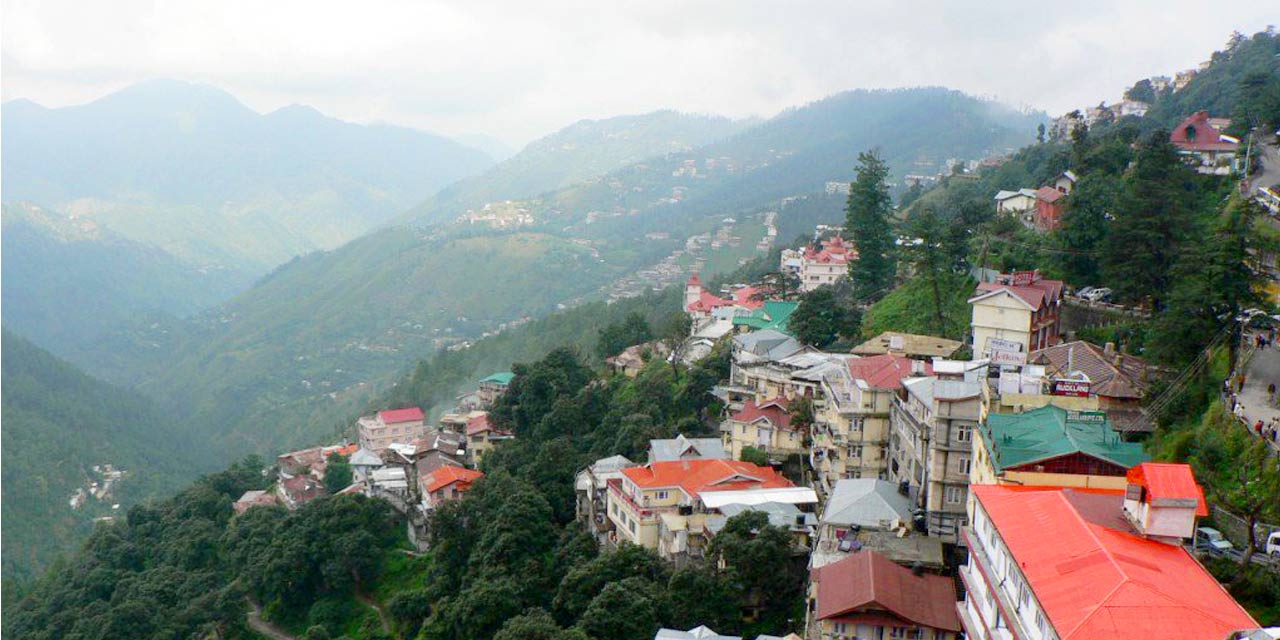 A quaint little town located around 5 kms from the Ridge, Summer hill, also known as Potters Hill, is a beautiful place to roam around. It is believed that people used to come here to make clay pots and kilns here. It offers a spectacular view of the steep valley and expansive green escapade. It is part of a cluster of 7 hills that form Shimla and hence regales you with its beautiful sights.
You can visit the Indian Institute of Advanced Study (IIAS) while visiting Summer hill.
#Trivia: IIAS is a also known as Rashtrapati Niwas situated in the famous Viceregal Lodge atop the Observatory hill. Built between 1880 to 1888, it is a marvellous place to enjoy the culmination of beauty with science. The tickets are priced between Rs. 20 to Rs. 50 approximately.
Best time to visit Shimla
The best time to visit Shimla is during the summer season, from March to May, as the weather is cool throughout the year.
The capital gets considerable rainfall as it is situated at a height and hence it is best to avoid it during monsoon season i.e. from June to September.
The early winter months, between October to December, are particularly interesting to experience the cold here. Snowfall begins from December end and lasts up to February. If you wish to experience snow, this is the time to be here. Be wary about the weather and take all precautions while travelling.
How to reach Shimla
Shimla is accessible by road from all major cities in India. You can also take a train trip from Kalka to Shimla in the toy train i.e. a journey of around 4 hours, and enjoy the splendid sights that keep you awestruck.
You can take the Chandigarh-Shimla highway that will have you at the city within 3 to 4 hours. The nearest station is Kalka i.e. approx. 90 kms away and all major trains connect to Kalka from different parts of the country.
You can drive down by your car or taxi / cab as well and explore the natural beauty of the mountains along the way. The total travel time from Delhi to Shimla by car is around 10 hours and hence it is best to keep a buffer of a few hours while travelling.
The roads are well made but it is advisable to take an experienced driver from top car rental companies in Shimla with you, in case you are not comfortable with steep hills.
Pack your bags and get ready to explore the beautiful hill station called – Shimla! with the Shimla Tour packages designed by us at Shimla Tourism. You can explore all the tourist attractions of Shimla at budget friendly prices and have a perfect holiday experience that you would cherish for a lifetime.