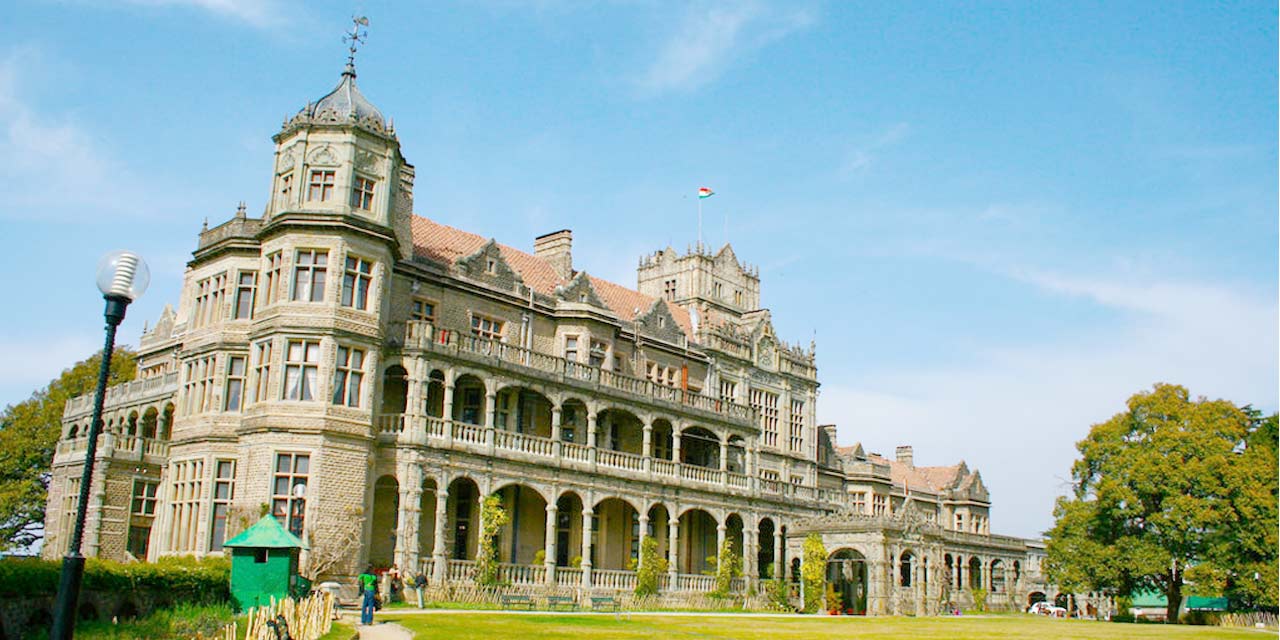 Indian Institute Of Advanced Study Shimla Entry Fee
40 per person for Indian Citizens
85 per person for Foreigners
20 per person for Garden Visit
0 Free entry for Government school Students in groups with their teachers
Indian Institute Of Advanced Study Shimla Phone
---
Rating:
| 4/5 stars
Based on total 73 reviews
Indian Institute Of Advanced Study Shimla Address: Rashtrapati Nivas, Chaura Maidan, Near Birds Zoo Park, Shimla, Himachal Pradesh, 171005, India
Shimla Tour Packages
Indian Institute Of Advanced Study Shimla Timings
Day
Timing
Monday
Closed / Holiday
Tuesday
9:00 am – 5:00 pm (1 Jul - 30 Apr)
9:00 am – 7:00 pm (1 May - 30 June)
Wednesday
9:00 am – 5:00 pm (1 Jul - 30 Apr)
9:00 am – 7:00 pm (1 May - 30 June)
Thursday
9:00 am – 5:00 pm (1 Jul - 30 Apr)
9:00 am – 7:00 pm (1 May - 30 June)
Friday
9:00 am – 5:00 pm (1 Jul - 30 Apr)
9:00 am – 7:00 pm (1 May - 30 June)
Saturday
9:00 am – 5:00 pm (1 Jul - 30 Apr)
9:00 am – 7:00 pm (1 May - 30 June)
Sunday
9:00 am – 5:00 pm (1 Jul - 30 Apr)
9:00 am – 7:00 pm (1 May - 30 June)
Links:
Website
|
Map
---
A well-known research center in India, the Indian Institute of Advanced Study (IIAS) is a prestigious historical monument that takes you back into the time of the British era and leaves you totally nostalgic with its irreplaceable charm and aura.
Located on the Observatory hill, the Indian Institute of Advanced Study is encompassed by beautiful pine trees and an amazing garden and offers a pristine environment to attract thousands of tourists every year. It's a great place for all those who are interested in post-doctoral courses and can also be visited by people for a good half-day excursion.
History of Indian Institute of Advanced Study, Shimla
The Indian Institute of Advanced Study has an interesting tale attached to it. It is said that before it turned into an educational institute, the building was originally a home for Lord Dufferin, who was the Viceroy of India from 1884 to 1888. During that period, IIAS was known as Viceregal Lodge.
Many important historic decisions including the Shimla Conference that was held in the year 1945 and the decision to separate Pakistan and East Pakistan from India were taken here in this building at the time of independence. After independence, this architectural marvel came into the hands of the then President of India and was renamed as Rashtrapati Niwas. Later, after a few years, it was converted into a center of higher learning.
Formed in 1964 by the Ministry of Education, the Indian Institute of Advanced Study was formally started by Dr. S. Radhakrishnan, the second president of India from 1962 to 1967, on 20th October 1965. Since then, it has become a vital part of the sightseeing tour for tourists on their Shimla tour.
Architecture of Indian Institute of Advanced Study, Shimla
Designed by Henry Irwin, the Indian Institute of Advanced Study features a stunning Victorian-style architecture that wins over the hearts of tourists at the very first glance. It is carved out of grey stones and exotic Burmese teak that gives this ancient building an exquisite look.
The moment you step inside this monument, you'll find a huge staircase of 3 stories and a fireplace which is worth seeing here. There is also a lounge room, a dining area, a drawing-room, and a ballroom that has now been converted into a library featuring more than 1,50,000 books in all languages.
The beauty of this educational institute is – it draws the attention of all kinds of travelers, whether you're a wanderer, a history buff, an archaeologist, or even a Bollywood filmmaker. In fact, there is a super hit movie "Black" whose many scenes were shot here in this building.
Image Gallery of Indian Institute Of Advanced Study Shimla
Things to do at the Indian Institute of Advanced Study, Shimla
Visit the garden and lawns to spend some time in tranquility surrounded by evergreen lush greenery. The garden has several fountains that enhance its overall beauty.
Click pictures outside this historical edifice. It's a great place to capture some good photos for shutterbugs.
Do not forget to take the museum pictures from the ticket counters to cherish your visit for a lifetime.
Head to Manorville Mansion and Annadale to make the most of your trip to this location. As both the places are situated nearby, it can be a great decision to include them in your itinerary list on your Shimla sightseeing tour. One can also stop at the Mall Road to shop for a variety of souvenirs for their loved ones.
Entry Fee and Timings of Indian Institute of Advanced Study, Shimla
To enter the Indian Institute of Advanced Study, you'll need to pay INR 40 per person for Indians and INR 85 per person for foreign nationals. A fee of INR 20 is collected for visiting the garden area. There is no entry fee for government school students coming in large groups.
Coming to its timings, it opens its doors for its visitors from 9 am to 5 pm during the months of July to April and from 9 am to 7 pm during the months of May and June. It is open on all days except on Monday and the recommended exploration time is 1 hour.
Travel Tips for Visiting Indian Institute of Advanced Study, Shimla
Don't use your camera once you enter the complex. It is strictly prohibited.
Bring water bottles with you. You may or may not find drinking water while roaming around the monument.
If you're traveling with kids, it is advised to keep them away from touching anything as it is not allowed totally.
There are washrooms for public use within the premises, so you don't have to worry about it. Also, the facility of lockers to store your personal belongings is available for the comfort of tourists.
In case you feel hungry, you can pay a visit to the eateries located inside the building.
Wear shoes that make you feel comfortable all day long as this property needs a good amount of walking.
Please note that there are no signboards that take you to this edifice in Shimla. Hence, you need to keep asking people for directions.
How to Reach Indian Institute of Advanced Study, Shimla?
Since the Indian Institute of Advanced Study is located at a distance of only 3.4 km from the center of Shimla, it can be easily accessed by both locals and tourists via all modes of local transportation.
You can either enjoy an auto-rickshaw ride or opt to travel in a bus to reach your destination at pocket-friendly prices. Alternatively, there is also an option of booking a cab from the list of top car rental companies in Shimla to commute within the hill station at your utmost comfort.
And now, the following are the different ways to go to Shimla:
By Air: Jubbarhatti Airport is the nearest domestic airport that receives various flights from Delhi and Chandigarh regularly. For foreign travelers, the best feasible airport is the Indira Gandhi International Airport. From outside both airports, you'll find several options to get to your desired location.
By Train: The closest railway station to Shimla that serves trains to and from anywhere in India is the Kalka Railway Station and it is approximately 96 km away. After deboarding your train at Kalka, you can catch the Kalka Shimla Toy Train to experience a mesmerizing journey all the way. It's a once-in-a-lifetime experience that everyone should enjoy.
By Bus: Last but not the least, the HSRTC department operates frequent public and private buses that connect Shimla to many states at pocket-friendly prices. Several luxury buses with AC facilities are also available for your convenience. Depending on your budget, you can choose to travel the way you want!
---
Shimla is a popular hill station in North India that is rich in history and there is no better way to explore its cultural heritage than availing of our all-inclusive Shimla tour packages. We at Shimla Tourism, a division of Holidays DNA, present a variety of travel packages that cater to everyone's varied holiday needs and other requirements. You can also take the assistance of our team in creating an itinerary of your choice that helps you cover the must-visit sightseeing places in Shimla. For more information on our packages and deals, we request you to fill out the Contact Us form.
Location Map for Indian Institute Of Advanced Study Shimla