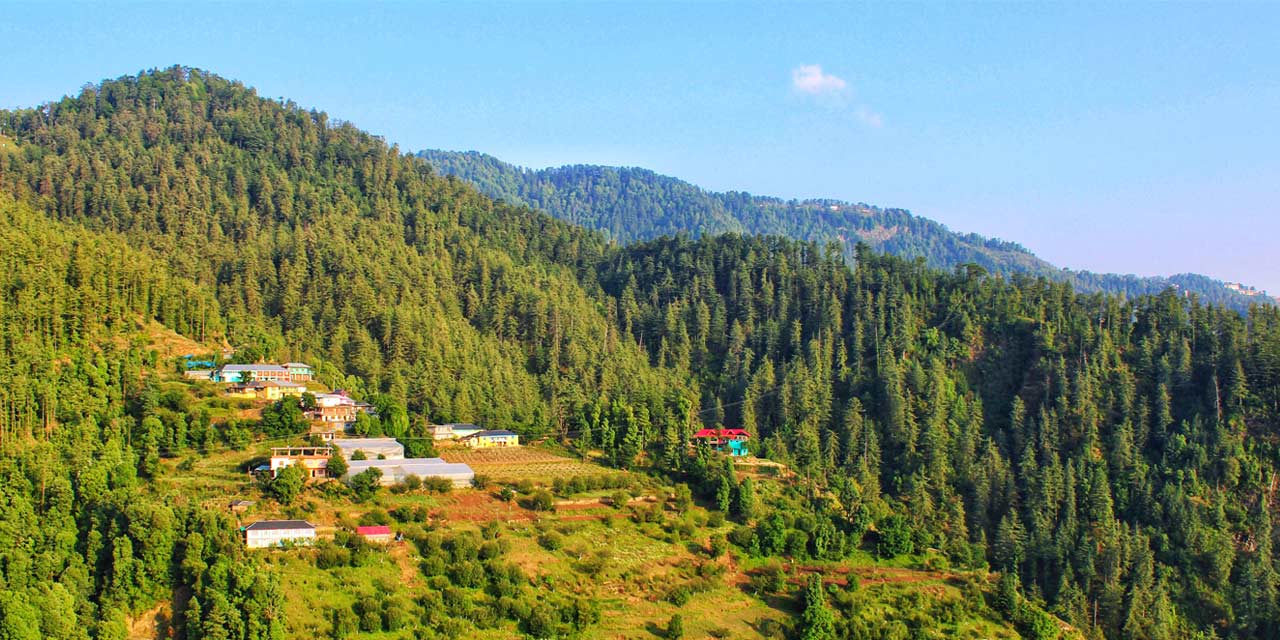 Mashobra near Shimla Entry Fee
Mashobra near Shimla Phone
N/A
---
Rating:
| 4/5 stars
Based on total 79 reviews
Mashobra near Shimla Address: Mall Rd Mashobra, Himachal Pradesh, 171007, India
---
Lying in the lap of the Himalayas is this quaint town, Mashobra. Also referred to as "The Quieter Shimla", Mashobra is a little hill retreat that is known for its lush oak forests, captivating fruit orchards, mist-bathed hills, and gurgling streams, enabling tourists to relax and unwind in tranquility.
It's a small hamlet that promises to offer an unforgettable holiday experience to all age groups. The serene ambiance, blissful weather, gorgeous views, and unmissable charm make it the perfect alternative to Shimla for tourists looking for peace and solitude, and the picturesque valleys all around the area give you an opportunity to enjoy the most liberating experience of your lifetime.
So, whether you're traveling solo, as a couple, or with family, Mashobra offers so many things to do and see around throughout the time to keep you occupied all day long. Make sure to visit it once and we bet you would want to extend your trip for sure.
Places to Visit in Mashobra, Shimla
There are plenty of places hidden in this unexplored town that everyone should visit on their trip to Mashobra. While some are in the town itself, others are located a short distance from it. For your ease, we at Holidays DNA have listed here a few of the places that you cannot miss at any cost:
1. Reserve Forest Sanctuary: An ideal destination for birdwatchers, the Reserve Forest Sanctuary, surrounded by oak, cedar, and pine trees, welcomes tourists from all over the world to dwell in the warm and welcoming atmosphere of this location.
Located at a distance of only 4 km from Mashobra, the Reserve Forest Sanctuary features a variety of birds that delight couples as well as families with children. Here you can spot common bird species such as pheasants, Himalayan Eagles, Chukars, and Partridges along with many animals that call this place their home. These include Leopard, Monkeys, Barking Deer, Kakkar, Hyenas, etc.
In addition to all this, one can also admire the best of nature to treat their eyes with mind-blowing scenic views. It's a great place to visit to spend some quality time with your friends and capture some unforgettable pictures to cherish the time forever. The weather remains cool and pleasant throughout the time, making it a perfect destination for trekkers and hikers as well. Make sure to include this place in your itinerary list whenever you plan to visit Mashobra next time because you are sure to take thousands of memories back home.
2. Wild Flower Hall: Visit the Wild Flower Hall in Mashobra for enjoying a staycation at a height of 2500 meters atop the Mahasu Peak. It's a kind of tourist attraction that combines elegance, unmatched luxury, magnificent design, beautiful décor, and breathtaking vistas to present its visitors with an experience that is hard to get anywhere else.
Although this is now a heritage hotel managed by the Oberoi Group of Hotels, it remains a tourist hotspot due to its rich past. It is said that initially, the Wild Flower Hall was a residence to Lord Kitchener and Ripon during British rule. However, after a fire in 1993, the hall was reconstructed with the help of the Himachal Pradesh administration and Oberoi Hotels and since then, it has been delighting tourists with a wide range of modern facilities.
For your comfort, there is a swimming pool, fitness center, spa and wellness center, business center, restaurant, lounge, bar, free Wi-Fi, free parking, tennis court, laundry service, etc., along with in-room amenities like a mini bar, outdoor jacuzzi, and hot tub to make you feel no less than a king. Please note that it is roughly 3.5 km south of Mashobra on the way to Kufri.
3. Mahasu Devta Temple: The next destination that grabs everyone's eye on their Shimla tour in Mashobra is the Mahasu Devta Temple. Dedicated to Lord Shiva, the Mahasu Devta Temple is a religious shrine that receives a huge influx of devotees every year and is frequently visited by all who wish to immerse in its peaceful aura and divinity.
Another reason that encourages locals and tourists to head towards this place is the Mahasu Jatra festival. It's a 2-day affair that is hosted in the 3rd week of May annually to celebrate the repositioning of Lord Shiva's image in the temple. You can enjoy folk songs, traditional dance, archery competitions, and many other activities that are organized here for the sole purpose of entertainment.
This is the only time when people from the nearby areas come to Mashobra town to be part of this celebration, so you can expect to see a crowd during the festival. Moreover, this festival is considered great for travelers interested in exploring the unexplored culture, religious practices, and different traditions of the different communities in India.
4. Craignano: Famous for its Italian architecture, the Craignano is an Italian-style villa that hypnotizes people with a view to die for. It was designed by Chevalier Federico Pelite to pay tribute to his hometown in Italy and now has become a must-visit tourist attraction for avid travelers visiting the town of Mashobra on their Shimla tour.
The prime highlight of the Craignano is that the entire villa is made up of wood. Another fascinating thing about this place is its water lift which happens to be the highest all over the world. Other characteristic features include well-kept lawns, century-old stone benches, and historic night lights from the colonial era.
Situated 2 km away from Mashobra City Centre and 12 km from Shimla Bus Stand, the villa is also known as a hub of outdoor activities like rock climbing, fishing, and rappelling. That simply means that it can also be explored by thrill-seekers as well.
5. Chadwick Waterfall: Be sure to take some time off for this waterfall whenever you are in Mashobra, be it for a day or more. Nestled within the lush Glen Forest, the Chadwick Waterfall is an ideal summer getaway for tourists of all kinds and has everything one needs to relax and rejuvenate far away from their monotonous life.
It's a beautiful natural phenomenon that allows you to witness the turquoise waters tumbling down a vast valley from a soaring height of 86 meters. The adjacent pines and deodar trees as well as views of the enormous mountains surrounding the valley add to the unrivaled magnificence of this location.
Highly preferred by newlyweds and honeymooners, the Chadwick Waterfall serves as a great tourist spot for people to get rid of the scorching heat and enjoy a refreshing dip in this unspoiled site. Visit it during the rainy season to enjoy it to the fullest as this is the time when the water is in full force.
In addition to the above-mentioned places, the town of Mashobra has a lot more to unveil to its tourists. These include The Presidential Retreat, Tattapani River, Lakkar Bazar, Jakhoo Temple, Mahasu Peak, and Shali Tibba. All these tourist attractions deserve your attention at least once, if not more. Hence, it is important to keep them at your fingertips for your next visit to Mashobra.
Image Gallery of Mashobra near Shimla
Things to do in Mashobra, Shimla
Out of all the leisure and recreational activities that lure avid travelers, wanderers, experience buffs, and thrill-seekers to this quaint place, there are a bunch of things that are a must-do in this town. These are as follows:
1. Trekking: Who doesn't love to enjoy trekking amidst the lush green hills and hear the sound of birds chirping on the way until you reach the top of the peak? Well, believe it or not, this definitely looks more exciting, fun, and promising than it sounds.
A challenging yet worth trying outdoor adventurous activity, trekking allows you experience enchanting meadows and unseen wonders as you go through a dense forest. In Mashobra, you can visit the Shali Tibba perched at a height of 9423 feet above sea level for trekking or simply start from Fagu to the village of Chharabra for an everlasting experience.
2. Camping: There is nothing better than experiencing the unparalleled charm of hills and valleys than staying right in its arms. Yes, the lush hills of Mashobra offer a perfect opportunity for campers to enjoy camping so that you can get one step close to nature and admire its beauty in your comfort.
While camping, you can sit close to the bonfire, prepare food, organize various fun games, or simply relax under a sky filled with countless shimmering stars. No matter how hard you try, you cannot get the same experience in the hustle and bustle of city life, making it a once-in-a-lifetime experience for people of all ages.
3. Paragliding: Taking a paragliding session in Mashobra is undoubtedly a great way to soar over the enchanting hills of this tranquil town. It is a must-do sport for all those who wish to test their hidden adventurous side. The excitement to fly high in the sky with the thirst for captivating jaw-dropping views make it an offbeat experience for everyone.
The months from March to June have a pleasant climate, enabling tourists to enjoy this sport to the fullest. Also, at this time, the average temperature varies between 15 to 30 degrees Celsius, which is perfect for all types of outdoor activities.
4. Skiing: Get ready to roll yourself into the thick cover of the snow by enjoying a fun-filled skiing experience in the foothills of the Himalayas in Mashobra. An excellent destination for skiing lovers, this small town attracts thousands of adventure enthusiasts every year in the winter season as it remains covered in snow throughout the period, letting people experience the snow the way they want.
So, whether you want to indulge in cute snow fights with your partner, build snowmen for kids, or just wish to snowboard to bring out the best of hidden talent in you, Mashobra is a place for you. It is best experienced between October and March and usually charges from INR 300 to INR 500 per person.
5. River Rafting: If you want to try your hand at an adventurous sport that comes with numerous challenges, then you should get ready for a dauntless river rafting session in the freshwater stream of Tattapani River. Offering a kind of experience that one must-have, the river rafting allows you to engage in an enthralling expedition as you enjoy galloping in the icy, cold water.
The Tattapani River is amongst the top spots for experiencing an exciting round of river rafting in India and it is highly preferred by thrill-seekers who visit this place, be it for a short city break or a week. You can give it a shot from March to May to make the most out of it and the price varies from INR 400 to INR 500 per person.
If interested and have time, one can also give a shot to rappelling, quad biking, and bird watching to add an extra fun element to their Mashobra trip.
6. Shopping in Mashobra, Shimla: Do save some money for shopping in Mashobra if you're an ardent fan of handmade jewelry pieces. Home to a variety of fancy and colorful accessories, the Tibetan Handicraft Market invites people of age to buy souvenirs for their loved ones.
Woolen items, at a reasonable cost and of high quality, continue to be a significant tourist attraction here. This whole street has a rich cultural and historical vibe that makes you want to shop more! You really shouldn't forget to include this marketplace in your itinerary list as it's the best thing to do on your Shimla tour.
How to Reach Mashobra, Shimla?
You can reach Mashobra in various ways, including flight, train, or road!
The nearest domestic airport is located in Shimla which is approximately 12 km away from the destination. Outside the airport, you can hire a taxi from the list of top car rental companies in Shimla for hassle-free traveling. The required distance from Shimla to Mashobra will be covered in less than 45 minutes.
The next best alternative is to fly to Chandigarh Airport, which would roughly take a 3-hour car ride. Both these airports have an excellent connection to metropolitan cities and receive flights on a frequent basis, so you don't have to worry.
If you want to travel via train, then Shimla railway station, approximately 11 km from Mashobra, is the closest station. You will have plenty of cabs available from there. Mashobra also maintains excellent road connectivity with its neighboring towns and the rest of India. That simply means that you can opt for a delightful road trip whenever you want.
---
Mashobra is undoubtedly a must-see place on your Shimla tour as it offers some breathtaking vistas that never fail to steal tourists' breath away. You can plan to visit it during the summer season and winter seasons to enjoy your trip to the fullest. Both seasons receive a huge influx of crowd every year and are undoubtedly best to roam comfortably on its streets and discover its hidden beauty.
In case you need any help with your vacation, you can get in touch with our professionals. We at Shimla Tourism, a division of Holidays DNA, offer a diverse range of all-inclusive Shimla tour packages for your ease. Our travel packages can also be customized depending on your holiday budget, duration, and other needs.
At Holidays DNA, we serve you with the best of our services. Please fill out the Contact Us form to know more about our packages. One of our team members will reach out to you soon.
Location Map for Mashobra near Shimla