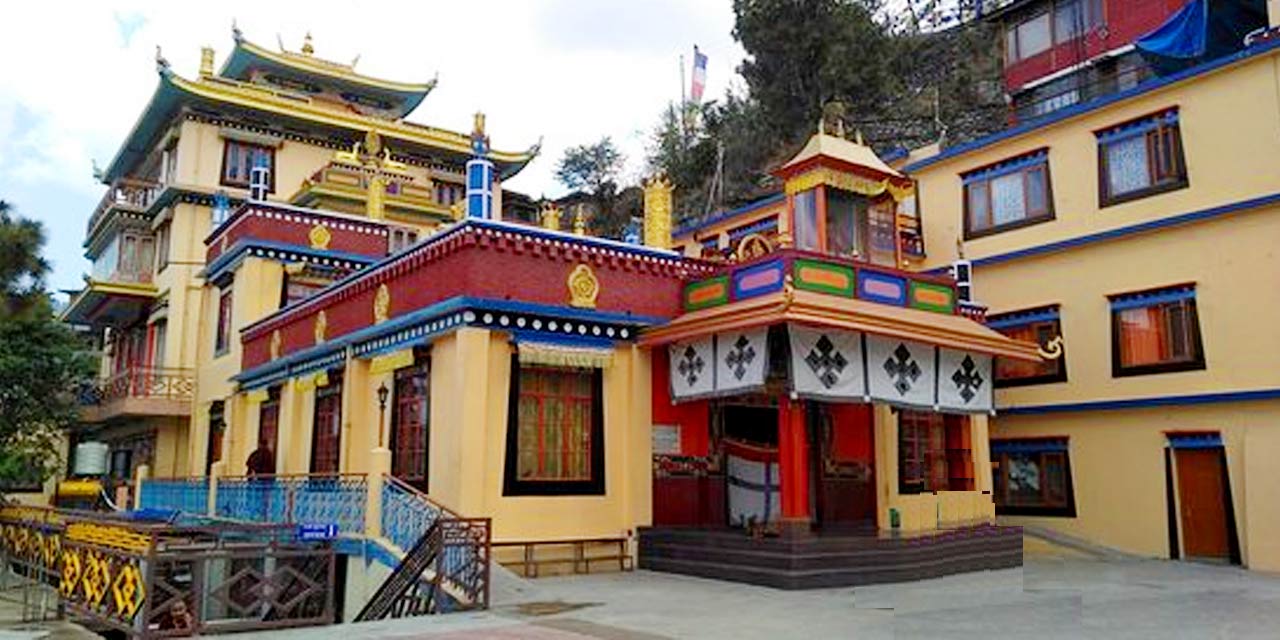 Dorje Drak Monastery Shimla Entry Fee
Dorje Drak Monastery Shimla Phone
---
Rating:
| 4/5 stars
Based on total 64 reviews
Dorje Drak Monastery Shimla Address: ParwanKasumpti Colony, Panthaghati, Shimla, Himachal Pradesh, 171009, India
---
Also known as TDAC Nyingmapa Monastery, Dorje Drak Monastery is one of the popular tourist spots in the region that allows you to disconnect yourself from the stressful life for some time and spend some time in its calm and peaceful environment so that you can re-energize yourself and look forward to the daily chores.
Nestled in the foothills of the Himalayas, this architectural marvel is rich in history and has the prevalence of Tibetan Culture on display to attract tourists from all walks of life. It's a famous pilgrimage spot for the followers of Buddhism and can also be visited by all those who wish to experience a laid-back atmosphere surrounded by the unparalleled scenic beauty that is a sight to behold.
Here you can observe the monks meditating in the monastery, admire the temple's architecture or simply choose to overlook the jaw-dropping views of the verdant landscapes from the monastery. If you visit the monastery during prayers, you can also hear the chanting, which adds to the serenity of the place. Don't miss out on the mouthwatering Maggie sold by the nearby vendors at the Dorje Drak Monastery to make the most of your Shimla tour.
Another highlight of this monastery is the Hemis Festival which is celebrated in May month every year in the honor of the Guru Padmasambhava. At this time, the monastery is beautifully decorated and the festivities continue for two days, thus giving another major reason to countless devotees to flock to this place and be a part of this grand festival.
History of Dorje Drak Monastery, Shimla
Dating its history back to over 60 years, the idea of constructing the Dorje Drak Monastery in India was proposed by Kyabje Taklung Tsetrual Rinpoche when he moved from Tibet in the year 1959. It was set up with the help of the Indian Government.
However, after the original monastery was demolished by the Chinese during their invasion of Tibet, Taklung Tsetrual Rinpoche, who was the supreme head of the Nyingma School of Tibetan Buddhism, decided to build it in Shimla and that's how the Dorje Drak Monastery came into the picture.
Image Gallery of Dorje Drak Monastery Shimla
Entry Fee and Timings of Dorje Drak Monastery, Shimla
There is no entry fee to visit the Dorje Drak Monastery in Shimla. If you want to explore it, you can plan a trip any day of the week as the monastery remains open every day from 10:00 AM to 5:00 PM and the recommended exploration time is 30 minutes to 40 minutes.
Travel Tips for Visiting Dorje Drak Monastery, Shimla
Don't make much noise whenever you are inside the premises of this monastery. As it is a place of worship and meditation, silence and peace are always prioritized.
Don't forget to bring your camera along with you. Here you can take as many pictures as you want as the monastery's architecture and the scenic beauty of the region are simply breathtaking.
How to Reach Dorje Drak Monastery, Shimla?
Since it is located at a distance of only 6 km from the famous mall road, it can be easily accessed by both locals and tourists via all modes of local transportation.
And now, the following are the different ways to go to Shimla:
By Air: Jubbarhatti Airport, which is also known as the Shimla Airport, is approximately 24 km away from Dorje Drak Monastery and it receives various domestic flights from New Delhi and Chandigarh Airport every day. However, there are times when it is not properly functional. In such cases, you can either choose to hire a private cab or opt for an inexpensive option like a bus from Chandigarh to reach Shimla at your convenience.
By Train: Catch a direct train to the nearest railhead, Kalka Railway Station from the neighboring Indian cities to enjoy a comfortable train journey with your loved ones at pocket-friendly prices. From there at Kalka Station, one can experience the magical toy train journey in Kalka Shimla Toy Train, which starts from Kalka and ends at Shimla Railway Station. Although the toy train takes nearly 6-7 hours to cover a total distance of 96 km, the overall experience you get here is something that cannot be explained in words.
By Bus: Last but not the least, as a prominent tourist destination in India, Shimla maintains a good network of public and private buses that run from Jaipur, New Delhi, Chandigarh, Punjab, Haryana, and many other parts of Uttar Pradesh on a frequent basis. So, if it suits you, you can definitely go with it! The Shimla Bus Stand is only 7 km away from the Monastery.
---
Book an all-inclusive Shimla tour package with us to have a gala time on your Shimla tour. We at Shimla Tourism, a division of Holidays DNA, present a variety of travel packages that cater to your varied holiday needs and other preferences. Our Shimla tour packages can also be customized depending on your getaway duration and you can also take the assistance of our professionals in creating an itinerary that helps you cover the topmost sightseeing places in Shimla. Also, you can book a private cab from top car rental companies in Shimla to visit this hill station leisurely. What else? All you need to do is to fill out the Contact Us form and we'll get back to you with the best of our services.
Location Map for Dorje Drak Monastery Shimla