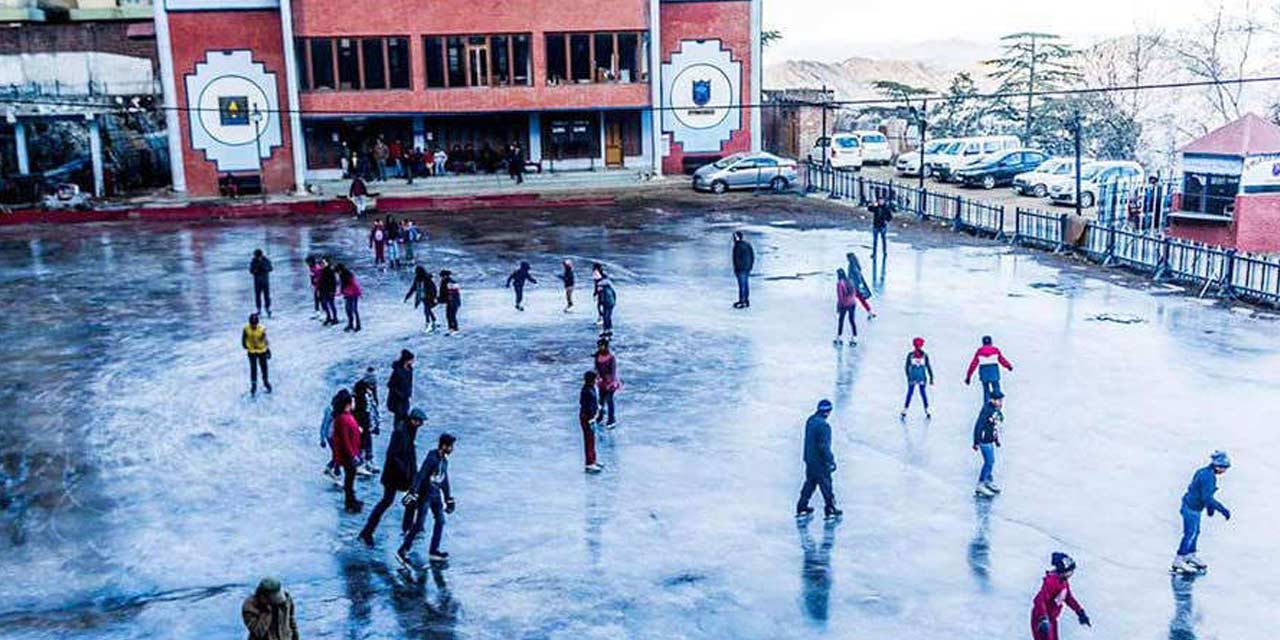 Ice-Skating Rink Shimla Entry Fee
200 per person / per 1 Hour
Ice-Skating Rink Shimla Phone
---
Rating:
| 4/5 stars
Based on total 65 reviews
Ice-Skating Rink Shimla Address: Lakkar Bazar, Shimla, Himachal Pradesh, 171007, India
---
Ice skating is one of the popular sports in Shimla. And considering the fact that Shimla is home to the natural rink where people of all ages can practice skating, it is obvious why this area attracts a large crowd throughout the year. Shimla has the largest and the only ice skating rink in South Asia. Not only the locals but tourists from all over the world visit this naturally formed rink to spend some quality time with their loved ones.
Since the 1920s, this ice skating rink has been used for conducting a variety of sports and fun activities. In fact, the place is also used for hosting an annual carnival and a national-level competition. Skating on the ice rink is the best activity to keep yourself entertained in the town. Do not forget to bring your cameras, as the white snow-covered backdrop looks fascinating from the rink.
Things to do in Ice Skating Rink, Shimla
The ice skating rink is for skaters and ice sports fans. But, there are a lot of fun activities to try here. Let's check out the most popular things to do on the ice skating rink in Shimla.
1. Skating: Skating along the Himalayas and taking in the beautiful views of the place are locals' favorite pastime activities in the town. The ice rink in Shimla is on a circular road and is approximately 15 cm thick. You get knee pads, skates, and other equipment required for practicing skating safely.
One can also plan to get skating membership to enjoy skating daily till their stay (the best opportunity for skating lovers and those planning a stay for a few weeks in Shimla). It is conducted in the morning in pleasant weather.
2. Play Ice Hockey: If you are a fan of hockey, you should definitely give this activity a shot in the circular skating rink in Shimla. Ice hockey has gained immense popularity in India after Akshay Kumar's Speedy Singh. Since then, people have been showing interest in ice hockey more than ever. The game is played between two teams, each consisting of six members. Each member has to wear skates and play on the rink.
It involves more fun and entertainment than field hockey, as the players tend to run faster on skates and the chances of slips and falls are also quite high. They are supposed to pass the puck into the net using a hockey stick. A hockey fan will love to try ice hockey. And the ice rink in Shimla is a perfect place to play this sport.
3. Be a Part of the Annual Carnival: The Ice Skating Club organizes an annual carnival starting from the first week of December till February. They transform the ice rink into an entertainment and sports arena where a variety of fun activities are conducted for three months. This includes ice skating competitions, ice hockey, fancy dress competitions, dance, music, and other activities that keep the locals and tourists entertained.
You can watch the participants perform and cheer for your favorite teams or be a part of the carnival by playing a sport yourself. There are also food stalls and many gift shops where you can buy souvenirs. If you wish to be part of this annual festival, plan a visit to Shimla during winter.
4. Go Shopping at Lakkar Bazar: The ice rink is located close to Lakkar Bazar, a street shopping place where you can buy souvenirs or warm clothes. The place is mainly famous for wooden toys and showpieces. The vendors here sell a wide range of wooden artifacts at reasonable prices. So, when you are on the circular road, check out the wonderful wooden collection at Lakkar Bazar and purchase some souvenirs. Developed by Sikh Carpenters, Lakkar Bazar is now home to some of the finest wood products and kid's toys.
Image Gallery of Ice-Skating Rink Shimla
Entry Fee and Timings of Ice Skating Rink, Shimla
The skating starts at 8 AM and ends at 11 AM. It is also open in the evening. So, plan your trip accordingly. Skating comes for a small fee, starting at just INR 100 per person and costing up to INR 500. The fees may vary depending on what time of the year you are visiting the rink, the crowd, and what equipment you borrow from the skating club. You could get skating shoes for rent at a nominal cost. Ideally, the entry fee to the skating rink is INR 200 per person.
Travel Tips to Visit Ice Skating Rink, Shimla
Skating equipment is provided to the tourists at the rink, so there's nothing you have to bring from home unless you have special skating tools.
It is best to book your session before arriving at the rink, as the area gets extremely crowded in winter.
Wear warm and comfy clothes to enjoy your time at the Ice Skating Rink the most.
Best Time to Visit Ice-Skating Rink, Shimla
If you are visiting Shimla for ice skating, plan your trip between December and February, as this is the time when the Ice Skating Rink is open. January is the best month for tourists who want to attend the annual carnival. Note that the ice rink is not open in any other season. So, you must call the ice skating club before paying heed to it. Usually, it is open in winter when there's enough ice accumulated on the ground to allow tourists a smooth and seamless skating experience.
How to reach the Ice Skating Rink, Shimla?
Located on Circular Road, the Ice Skating Rink can be easily accessed by people via local transport. That simply means that you can either hire an auto-rickshaw to reach the desired location at pocket-friendly prices or opt for a bus ride from any part of this hill station. Please note that it is only 750 meters away from the famous Lakkar Bazar in Shimla.
For a hassle-free commutation, one can also choose to book a cab from the list of top car rental companies in Shimla to commute in the region leisurely, without any discomfort.
---
Have the best time of your life on your Shimla tour by booking an all-inclusive Shimla tour package with us. We at Shimla Tourism, a division of Holidays DNA, present a variety of travel packages for the ease of our tourists. Our travel packages can also be customized according to your holiday duration and budget. You can also take the assistance of our professionals in selecting the best package so that you can enjoy it to the fullest. To get in touch with us, we request you to fill out the Contact Us form.
Location Map for Ice-Skating Rink Shimla