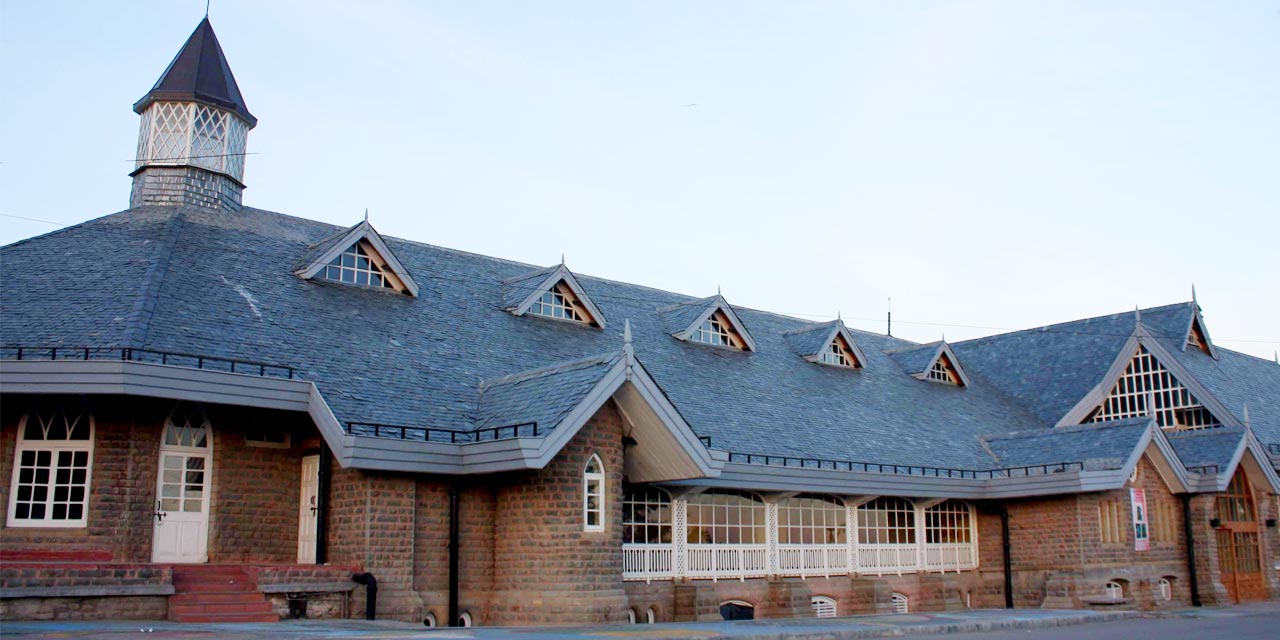 Gaiety Heritage Cultural Complex Shimla Entry Fee
10 per person without Camera for Indian Nationals
25 per person with Camera for Indian Nationals
25 per person without Camera for Foreign Nationals
50 per person with Camera for Foreign Nationals
Gaiety Heritage Cultural Complex Shimla Phone
---
Rating:
| 4/5 stars
Based on total 77 reviews
Gaiety Heritage Cultural Complex Shimla Address: The Mall, Shimla, Himachal Pradesh, 171001, India
Gaiety Heritage Cultural Complex Shimla Guided Tour Timings
Timings
11:00 am - 11:45 am
11:45 am - 12:30 pm
12:30 pm - 1:15 pm
Lunch Break 1:15 pm - 1:45 pm
1:45 pm - 2:30 pm
2:30 pm - 3:15 pm
3:15 pm - 4:00 pm
4:00 pm - 4:45 pm
4:45 pm - 5:30 pm
5:30 pm - 6:15 pm
6:15 pm - 7:00 pm
---
It's time to pave your way towards Gaiety Heritage Cultural Complex and get amazed with its amazing architecture. Adding charm to the 'Queen of Hills', the Gaiety Theatre is a great spot for people who are interested in art and has become a common place for hosting various events and programs in Shimla.
Also known as one of the oldest cultural complexes in India, the Gaiety Heritage Cultural Complex takes you back in time with its historical beauty and lets you enjoy the British Era moments again. Nestled just a short stroll away from the town, the theatre attracts people from every corner of the world due to its cultural prominence. It is, undoubtedly, a must-visit attraction of Shimla tour and is a perfect base for a half-day excursion.
History of Gaiety Heritage Cultural Complex, Shimla
Dating its history back to 122 years, the Gaiety Heritage Cultural Complex in Shimla was designed by a renowned British Indian architect, Henry Irwin.
Initially, it was a five-story building with a ballroom, a police office, an armoury, a theatre, a bar and galleries. However, after two decades of its construction, the structures were found to be extremely unsafe and unstable. Although most of the parts were demolished, the Gothic-styled theatre remained untouched. Later, the renovation added the art gallery, the theatre, the multi-purpose hall, the museum and the exhibition hall to the existing complex. Today, the venue is used for organizing numerous cultural programs along with displaying ancient or historical art.
Interesting facts about the Gaiety Heritage Cultural Complex
The building opened its doors on May 30th, 1887.
The first drama was recorded on June 9th, 1838.
The foundation of the Amateur Dramatic Club was laid in 1887.
The town hall and Gaiety theatre were planned and constructed together.
Image Gallery of Gaiety Heritage Cultural Complex Shimla
Architecture of Gaiety Heritage Cultural Complex, Shimla
Featuring a Gothic style of architecture, the Gaiety Heritage Cultural Complex lets you re-visit the history with its awe-inspiring heritage building. It has large glass windows and Victorian style doors. The interior space is quite well-maintained and has been cleverly utilised for displaying the sculptures and paintings.
The most interesting feature of this complex is its Victorian theatre that holds the footprints of legends such as Prithvi Raj Kapoor, K. L. Sehgal, Baten Powel and Rudyard Kipling. Other attractions include a multi-purpose hall that comprises of a performance area and a stage where local, national, and international artists perform. There is also a museum, an art gallery and an amphitheatre for hosting cultural performances.
Entry Fee and Timings of Gaiety Heritage Cultural Complex, Shimla
The entry fee to visit Gaiety Heritage Cultural Complex in Shimla is INR 10 per person for Indians and INR 25 per person for foreigners. It is open from 9:00 am to 5:00 pm from Monday to Friday.
Travellers Tips for Gaiety Heritage Cultural Complex, Shimla
Don't carry any eatable along as the outside food is not allowed.
Refrain yourself from drinking and smoking when you are inside the complex.
Best Time to Visit Gaiety Heritage Cultural Complex, Shimla
Although Gaiety Heritage Cultural Complex welcomes its tourists throughout the day, you can enjoy most of the shows in the morning and then catch a performance in the evening.
How to Reach Gaiety Heritage Cultural Complex, Shimla?
Getting to the Gaiety Heritage Cultural Complex is pretty easy. Since it is located in the middle of the Mall Road, it maintains good transport connectivity from all parts of the city and can be accessed via a local vehicle.
By Train: Shimla Railway Station is the nearest station to Gaiety Theatre in Shimla. Board a regular train either from New Delhi Station or enjoy the Kalka Shimla Toy Train ride from Kalka station. The toy train crosses over 800 bridges to cover a distance of approximately 96 km and takes nearly 5-6 hours to reach the hill-station.
By Road: All those who are coming directly from the Shimla Bus Stand can opt for a local cab to get to the destination. You can also hire a private taxi from one of the top car rental companies in Shimla for a hassle-free commutation. However, the entry of the vehicle is not allowed on the main road. So, you can park at a lower level and choose to walk on foot. For your convenience, there is also a lift that takes you to the upper roads of the Mall Road. It is only 1 km away from Shimla Old Bus Stand.
---
To enjoy your holiday to the fullest, you can get in touch with us. We at Shimla Tourism, a division of Holidays DNA, offer our clients with a wide variety of travel deals at pocket-friendly prices. Our team of experts carefully design the all-inclusive Shimla tour packages suiting your holiday and budget requirements. In addition, we also assist people in planning a perfect trip of their life. Customer satisfaction is our only goal and we leave no stone unturned to achieve it. Please fill the Contact Us form to know more about our services.
Location Map for Gaiety Heritage Cultural Complex Shimla