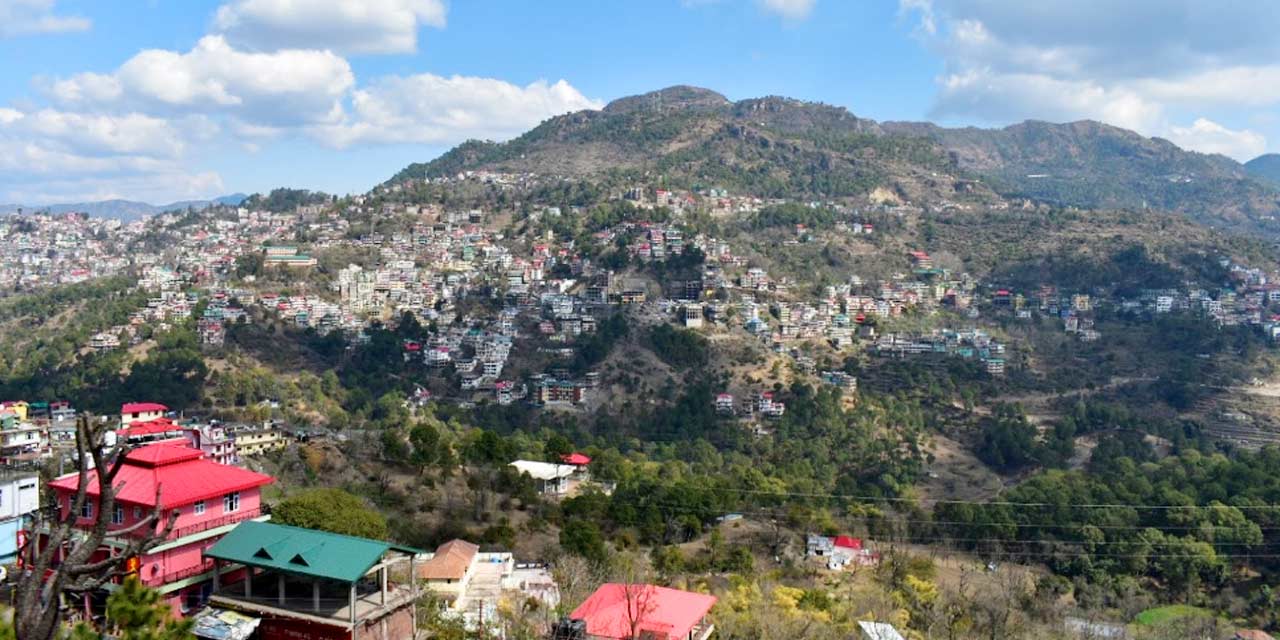 Solan in Shimla Entry Fee
Solan in Shimla Phone
N/A
---
Rating:
| 4/5 stars
Based on total 75 reviews
Solan in Shimla Address: Mall RdRailway Station Rd, Lawi Khurd, Solan, Himachal Pradesh, 173212, India
---
Lying in the foothills of the Shivalik ranges is this charming hill town, Solan. Often described as the Mushroom City of India and the City of Red Gold, Solan, encompassed by scenic mountains, deodar forests, and verdant hills, invites people of all ages to have a fun-filled time with their loved ones far away from the bustling city life.
Not only does it have forts, monuments, gardens, temples, and churches that exude family vibes, but this place also works best for those who are interested in natural sightseeing. It is the largest city in the state of Himachal Pradesh that offers a laid-back atmosphere for tourists to soak in the tranquil vibes and is blessed with a unique combination of culture, history, and art, making it a favorable choice for all kinds of travelers.
Perched at a height of 1550 meters above sea level, Solan is a one-stop destination for tourists wanting to explore hill stations like Kasauli and Kufri on their Shimla tour. The undisturbed view of the landscapes on one side and the unfiltered scenic beauty on the other side encourage holidaymakers to explore this city at least once for sure and indulge in a few out-of-the-box things.
From peaceful spots for young and adult travelers to many amusement places for kids, Solan has something for everyone. Adding cherry on the cake is the unusual charm and aura that draws the attention of everyone to this town. All-in-all, it won't be wrong to say that it's a place you can visit alone, as a couple or with a group of friends. Include it in your bucket list and start packing your bags to enjoy it to the fullest.
Places to Visit in Solan, Shimla
With so many tourist attractions available in Solan, it sometimes gets difficult to decide on what to cover and what to leave. So, for your ease, we at Holidays DNA, have shortlisted the top 6 places you can think of exploring during your visit to Shimla. These are as follows:
1. Majathal Sanctuary: An ideal destination for wildlife enthusiasts, the Majathal Sanctuary is widely known for providing shelter to several endangered species. Out of all, Cheer Pheasant and Goral are the prime attractions here. You can also spot an extensive variety of rare animals such as Sambar, Leopard, Jungle Cat, Himalayan Black Bear, Langur, Barking Deer, Rhesus Macaque, etc., along with evergreen flora that is worth seeing in this reserve forest.
During your visit, tourists can opt to stay in jungle houses to experience what it actually feels like to stay in a jungle. The Majathal Sanctuary also allows trekkers to try their hand at an exciting trekking trail through the rugged terrains so that you can witness its natural side at its best. It welcomes people from 9:00 AM to 6:00 PM and charges only INR 10 per head as an entrance fee.
2. Bon Monastery: The second oldest monastery in the world, Bon Monastery impresses people with its extremely fascinating architecture and holds great importance among Buddhists from all across the nation.
Perched on a hilltop location, the Bon Monastery is a grand spectacle that invites tourists to look at the jaw-dropping views of the snow-capped mountains and the entire town from a location that will surely make you fall in love with this place. Here you can spend some relaxing moments in absolute peace and de-clutter your mind in serenity so that you can return home refreshed and revitalized. There are also well-maintained lawns, a library, and a souvenir shop for the utmost comfort of tourists. You can easily spend 2-3 hours here and understand the Bon religion in detail.
3. Chail: If you're craving a hill retreat, then the best option you have in and around Solan City is Chail. Tucked in the lap of nature, Chail is a great place for all those who are after a mix of serene surroundings, picturesque views, and a tranquil atmosphere. It's no less than a paradise for nature lovers and can also be visited by wanderers, explorers, and photographers.
Head to the Chail Palace Hotel to know about the royal lifestyle in the erstwhile era, enjoy breezy weather at Sadhupul Lake, listen to the chirping of birds at the famous Chail Wildlife Sanctuary, explore the world's highest cricket ground or dine in at the lake restaurant. The options are endless!
4. Children's Park: Have a great time with your family and friends at Children's Park. Situated only 1-minute away from the mall road, the Children's Park features various kids-friendly rides, slides, and swings for the enjoyment of little guests and is a perfect spot for a half-day excursion.
The elephant-shaped ride is quite famous among the children here. You can also enjoy a musical fountain along with visiting a café where you can munch on your favorite snacks to satisfy your hunger pangs. It is open from 7:00 AM to 10:00 PM every day.
4. Jatoli Shiv Temple: Famous for its grand and spectacular architecture, the Jatoli Shiv Temple is the highest Shiv temple in Asia that attracts devotees and pilgrims in large numbers every year. It's a beautiful shrine that is dedicated to the Hindu community and has a presiding deity of Lord Shiva, who is also believed to be an incarnation of Lord Vishnu.
Situated at a distance of only 6 km from Solan City, the Jatoli Shiv Temple features a Southern-Dravidian architecture and has 3 consecutive pyramids resting on the crown of its base. Go towards the northeast corner and you'll find a Jal Kund exhibiting some medicinal properties. There is also a cave and a black-colored shivling along with a huge statue of Lord Shiva that stands at a height of 111 feet. You can also enjoy the festival of Maha Shivratri here in case you happen to visit this place at that time of the year.
5. Mohan Shakti Heritage Park: Pay a visit to the Mohan Shakti National Heritage Park to step back into the past and gather enough knowledge about the rich culture of the region. Also titled as the first-ever ancient park in North India, the Mohan Shakti Park is dotted with many unique structures and sculptures that make you stop and stare. Here you can also find the grand statues of the Indian gods and goddesses along with the statues of various animals that catch the attention of your children.
One can enjoy a simple walk amidst the lush greenery, catch the glimpse of archaeological sites, indulge in bird watching, or choose to admire the gorgeous landscapes of green meadows and towering peaks. There is also a beautiful shrine within the complex where you can seek blessings from the presiding deity and spend some time in divinity.
It is no wonder why the Mohan Shakti National Heritage Park is considered as one of the most popular tourist places to explore on your Shimla tour. Please note that it is only half an hour drive away from Solan and is open for its visitors from 8:00 AM to 8:00 PM on all days.
In addition to all these places, this city also bestows several other sightseeing places that can also be included in your itinerary list if you're interested and have time. These include Shoolini Mata Temple, Krishna Bhavan Mandir, Kuthar Fort, Shirdi Sai Baba Mandir, Solan Brewery, Nalagarh Palace, Motilal Nehru Central State Library, and many more. Try to spare some time out for them as well – they're totally worth it.
6. Shopping in Solan, Shimla: You cannot return home without shopping in Solan! It's a city where you can find a plethora of shops selling everything from traditional clothing to antique souvenirs, artworks, books, and so much more at reasonable prices.
One such place that addresses all your shopping needs is the popular Mall Road. The Mall Road is the primary shopping area in Solan that receives a huge influx of locals as well as tourists from near and far every day. Here you can enjoy a stroll around the market to see the famous items of this Indian-style bazaar and shop accordingly. It's a go-to place for buying carpets, blankets, shawls, caps, mittens, gloves, and mufflers. Some of the products that most visitors prefer purchasing here are beautiful jewelry, Himachali hats, and homemade handicrafts.
Image Gallery of Solan in Shimla
How to Reach Solan, Shimla?
Located in Himachal Pradesh State, Solan maintains great connectivity with the rest of the country through road and can be easily accessed by tourists by all means of transportation. Here are the different ways to reach Solan:
By Air: While there are no airports in Solan, you can take a direct flight to Jubbarhatti Airport which is the main and only airport in Shimla and is approximately 50 km away. After arriving at the airport, you can look for a private taxi from the list of top car rental companies in Shimla to get to your destination in a hassle-free manner.
By Train: Catch a train to Kalka Railway Station from Delhi, Chandigarh, Amritsar, Dehradun, etc., to reach Kalka at pocket-friendly prices. From there, one can opt to enjoy a Kalka Shimla Toy Train ride to experience a magical and scenic train journey from Kalka to Shimla. In Shimla, there are various modes of transportation available that take you to Solan leisurely.
By Road: Last but not the least, the HSRTC Department operates several AC and non-AC buses from the metro cities of India to Solan on an everyday basis. So, if it suits you, you can definitely go with this option. It is convenient for people of all ages. All you need to do is to get the booking of an AC bus done in advance in case you're planning to travel via it.
---
If you need any help with your Shimla tour, you can get in touch with our professionals. We at Shimla Tourism, a division of Holidays DNA, present a variety of all-inclusive Shimla tour packages that can be customized according to your holiday needs. You can also take assistance from our team of experts in creating an itinerary that helps you cover the popular sightseeing places in Shimla. Please fill out the Contact Us form to know more about us.
Location Map for Solan in Shimla