Get immersed in the pristine surroundings of the most ethereal hill station of Himachal Pradesh – Shimla. With multiple sightseeing options, Shimla is a tourist destination that is a favourite amongst honeymooners and family vacationers alike.
#Trivia: It is named after the Goddess Shyamala and is also known as the 'Queen of Hills'.
With gorgeous mountains to explore to an exquisite experience of sunrise and sunset, there is so much that a person can do while travelling to Shimla. Captivating tourists with short and long holiday options, you get a chance to escape from the hullaballoo of the city and transcend into the tranquillity of the lush greenery and warm locals.
Shopping on Mall road to exploring the nuances of local cuisine, Shimla Darshan Tour Packages spoil you for choices, making it very exciting.
No Shimla Darshan is complete without visiting the prominent places of sightseeing and exploring the magical beauty of different spots in and around the hill station. With a proper tour plan and a vehicle to take you to different spots, the best way to explore this majestic beauty is by booking a Shimla Darshan by Car package offered by Shimla Tourism, a prominent division of Holidays DNA.
We have culminated a list of temples and holy places that you can visit with the help of leading tour organizers in the town. We have worked out the best prices to help tourists enjoy the location with utmost comfort and leisure.
#Trivia: Shimla Mirch, as the name suggests, originates from Shimla as this is the place where Britishers introduced Capsicum cultivation for the first time in India.
Shimla Darshan – Top Sightseeing Places in Shimla to Visit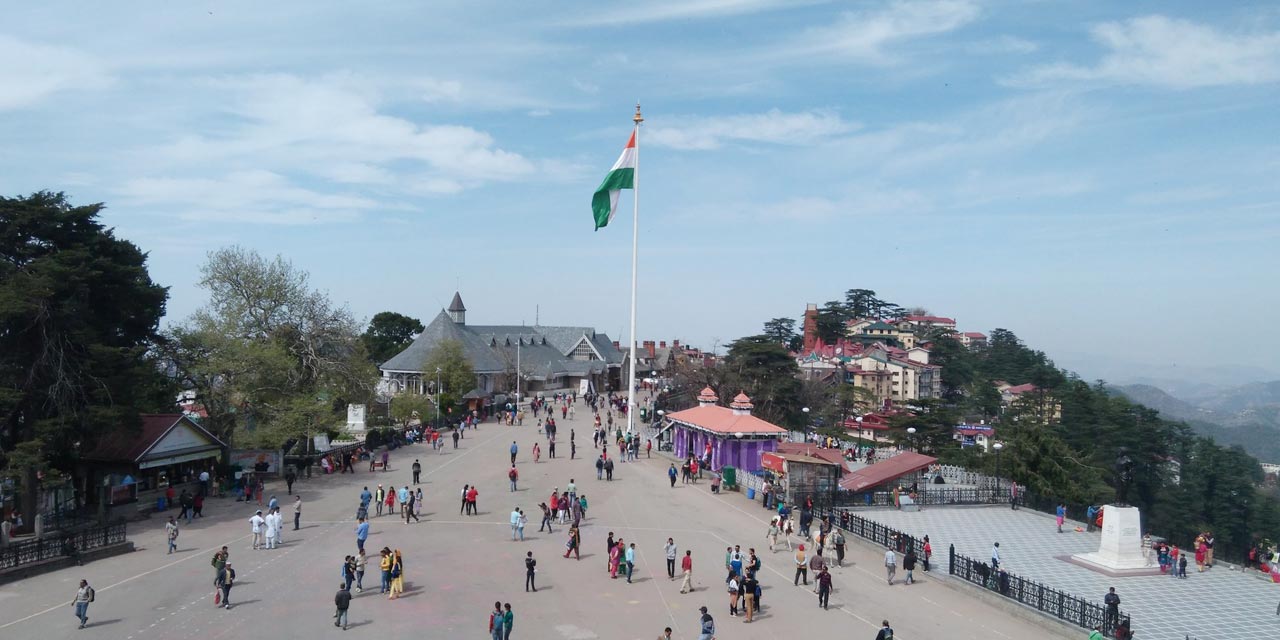 With a great ambience and a beautiful aura around, the Ridge is the most popular spot in Shimla to explore. The place is abuzz with tourists and locals all day long. The gorgeous sight of the city, leaves you completely mesmerized and awestruck.
#Trivia: Shimla is set on top of seven hills namely Observatory Hill, Jakhu Hill, Inverarm Hill, Prospect Hill, Elysium Hill, Bantony Hill, and Summer Hill.
Overlooking the twinkling lights in the night sky, tourists can immerse themselves in the goodness of natural beauty and local delights on the Ridge. This hub of all cultural activities is a favourite amongst tourists and locals alike. From trying out traditional attire and getting yourself clicked, to riding a horse, there is a lot that kids and adults can enjoy at the Ridge.
There is no entry fee and is open from 8 am to 6 pm every day.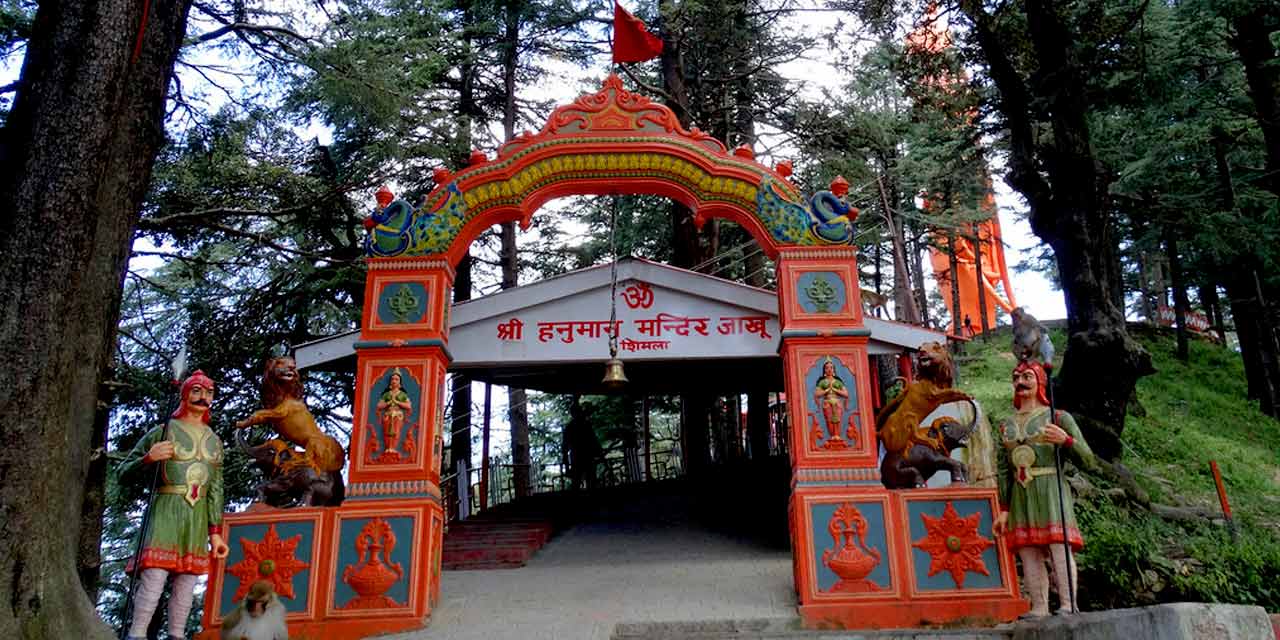 Situated on the tallest peak of Shimla, Jakhu Hill is home to the famous Jakhu Temple. Dedicated to Lord Hanuman, the figure of the God stands at a towering 108 ft.
#Trivia: Legend says that Lord Hanuman stopped at the top of this peak to rest while looking for the famous Sanjeevani Booti to cure Lord Lakshmana.
The temple can be easily reached by foot, taxi or even a ropeway. The Jakhu ropeway was inaugurated in 2017 and starts from the foot of the hill to the top. Each ride costs Rs. 500 per person for a return trip while kids tickets are priced at Rs. 400 approximately. It is built to carry around 6 people at one time.
Every day hundreds of devotees throng the temple to seek blessings of the lord and pay their obeisance. There are a lot of monkeys present in the temple premises and it is advisable to be careful while climbing there and moving around the temple.
The quaint temple ground is a picturesque beauty by itself with deodar trees lining the skyscape and presenting a very tranquil aura around.
Immerse yourself in the goodness of nature at Jakhu Temple while planning your Shimla Darshan tour package.
There is no entry fee to visit Jakhu Temple and the temple is open from 7 am to 8 pm every day.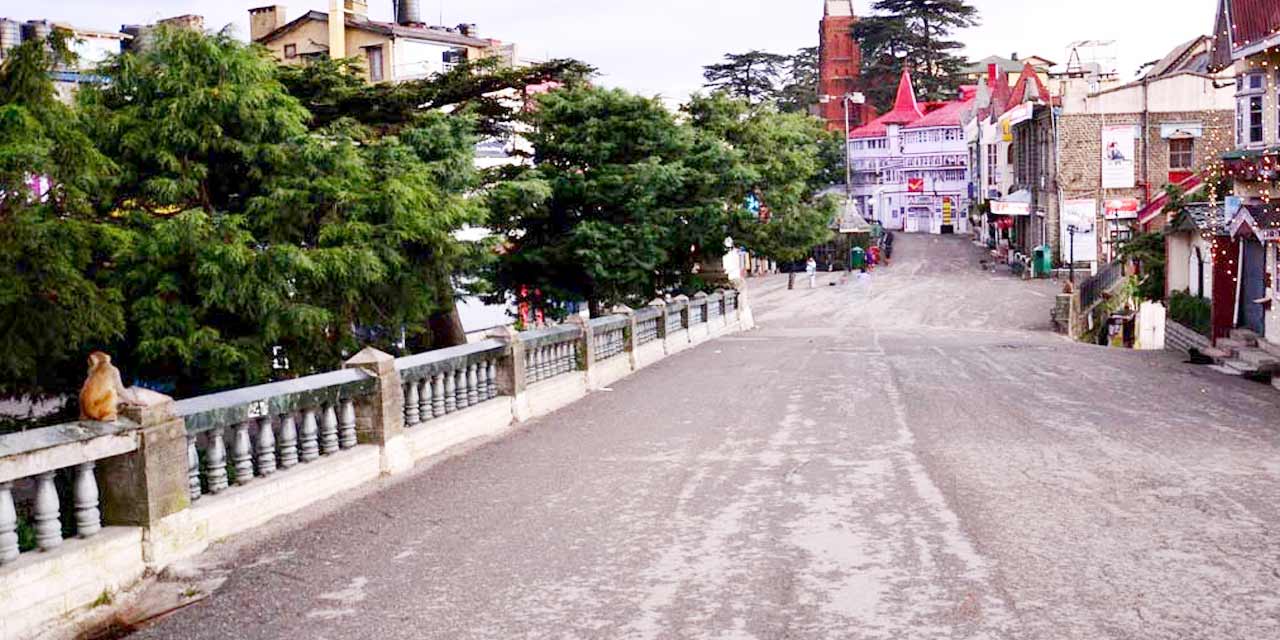 At the centre of Shimla lies the famous Mall Road. With local shops and eateries around, small cafes lining the street and an amazing feeling walking up and down, the Mall road is a great place to spend some quality time in Shimla.
#Trivia: It is one of the first Mall roads in the country. The name comes as a result of daily trading of goods that took place at this place.
It has a lot of showrooms, department stores and restaurants as well for tourists to enjoy any and all types of cuisine.
The major attractions of the Mall Road are –
1. Gaiety Theatre – One of the oldest in the country, the Gaiety theatre opened its doors in 1887. Many prominent personalities have delivered power-packed performances at this venue and now is used by schools for performing arts.
2. Scandal Point- It gets its name because of the rumoured affair of a British lady with an Indian Maharaja. He was later banished to enter Shimla. It is also close to the fabled, haunted and the oldest post office of the country- the General Post Office that was established in 1882.
3. Town Hall- It is the municipal corporation of Shimla and resonates the traditional beauty of Shimla architecture from the pre-independence era.
4. Kali Bari temple – Built in 1845, the temple is a fine example of craftsmanship and is perceived to be an ancient temple of Shimla. It houses a wooden idol of the goddess.
5. Johnnie's Wax Museum- Recently opened, Johnnie's wax museum is an excellent local attraction located at the start of the Mall Road. It houses wax statues of many celebrities including movie stars, politicians, national and international sportspeople, etc.
There is no entry fee to enter Mall Road and the shops here open from 9 am to 9 pm every day.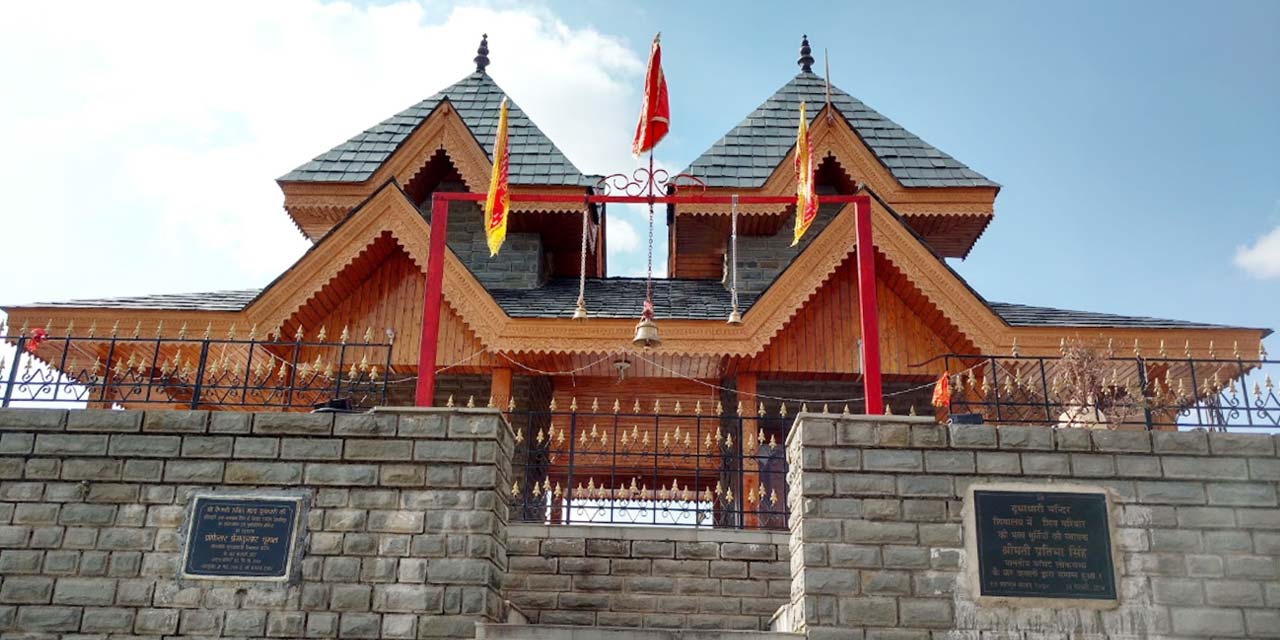 If you are one to explore the ancient beauties in the form of temples of local places, your Shimla darshan tour package is incomplete without a visit to the Tara Devi Temple.
Located on the Shimla-Kalka highway, this is an ancient temple of Shimla dedicated to Goddess Tara.
#Trivia: It is said to be built by Raja Bhupendra Sen from the Sen Dynasty of Kolkata. While on a hunting spree, the king, who had the locket of Ma Tara around his neck, laid down to rest and was blessed with a vision from the goddess along with Lord Hanuman and her consort Dwarpal Bhairav. It is believed that it is on her direction that he built this temple and introduced the people of Shimla to the powers of Goddess Tara. It is built on an expansive 10 acres of land.
The most unique thing about the temple is the location as it exudes nothing but serenity and tranquillity to those visiting. The seclusion makes it a beautiful place to visit in Shimla.
Tara Devi temple is open from 7 am to 6:30 pm and there is no entry fee to visit the temple.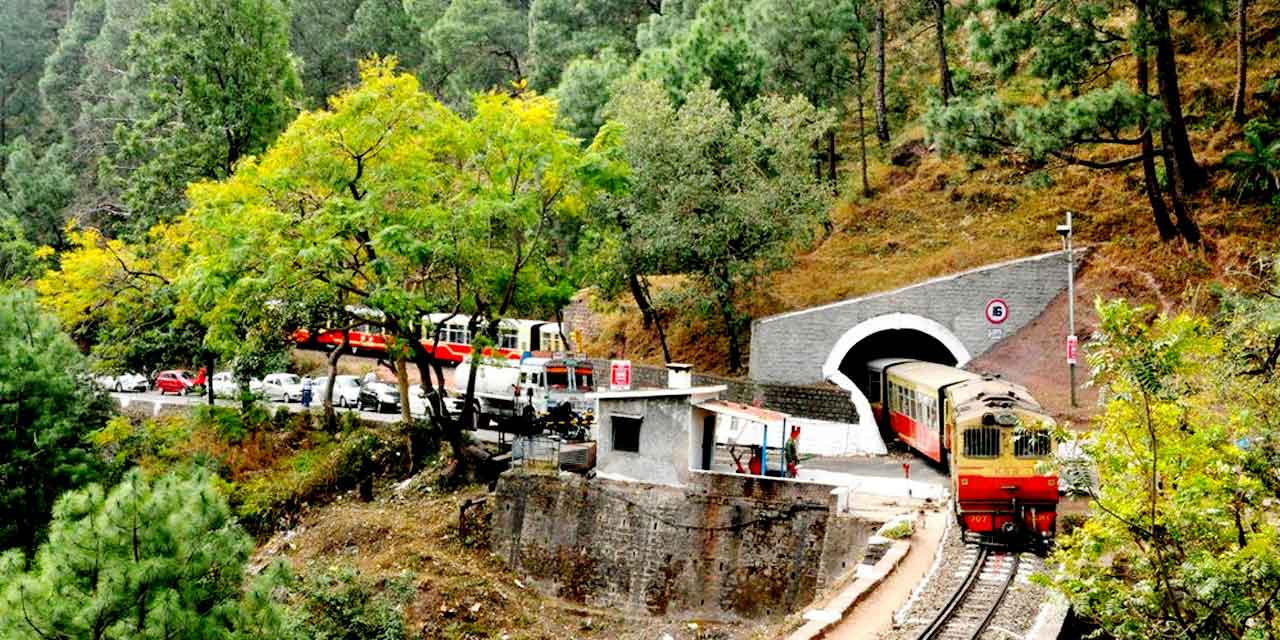 Recognized as a World Heritage Site by UNESCO, the Kalka Shimla Railway is an engineering marvel because of its narrow gauge line. It is also rated as the greatest engineering marvel in India by "The Guinness Book of Railway Facts and Feats" in a specific category of narrow gauge.
The line is still operational and connects Shimla to Kalka making it a slow yet absolutely enjoyable train journey winding through the mountains and tunnels.
The 'Witch's Well' or "Chudail Baudi" is located on the Shimla highway from Chota Shimla to Navbahar. It extends an eerie feeling, especially at night. It is believed cars automatically slow down on this stretch despite accelerating at high speed.
#Trivia: One of the haunted places in Shimla.
If you do not believe in the myths, it is definitely an enjoyable drive between the two destinations while on a tour of Shimla.
How to Reach Shimla
Getting to Shimla has become extremely easy now. It is easily accessible by road, rail and air from major destinations.
The nearest airport is located in Chandigarh and the drive is around 5 hours to Shimla from the airport.
The nearest broad gauge railway station is in Kalka, approx.. 90 kms away. One can then hire a cab from top car rental companies in Shimla or travel by the narrow gauge Shimla-Kalka railway line.
By Road it takes just about 3 to 4 hours from Chandigarh on the Shimla-Chandigarh highway. The roads are in excellent condition, making your journey absolutely wonderful.
Best time to visit Shimla
Summer is the favourite time of the year when you will see a thousand tourists thronging the skyscape of Shimla. To enjoy the cool weather and pristine clarity, take a breath of fresh air between March to July.
Monsoons can hamper your visit to different tourist places in Shimla, hence it is best to avoid travelling during this time. It can also pose a threat with landslide.
If you wish to enjoy the gorgeous snowfall of the city, it is best to visit it from November to February. While the snow months are December and January, the chill in the air actually makes you enjoy the meaning of winter.
---
If you are spending a day in Shimla it is best to explore these places and enjoy the beauty of the hill station in all its regalia. Besides this, Shimla tour packages can also take you around nearby places such as Kufri, Chail, Naldhera, Mashobra, and much more.
Pack your bags and get to your favourite holiday destination soon. Check out our well-planned and budget-friendly Shimla darshan tour packages on Shimla Tourism, a division of Holidays DNA, today! For more details, please fill the Contact Us form.