Panoramic views, lush escapades and the mountains come alive- such is the beauty of Shimla, a complete tourist destination for national and international tourists.
Get captivated with the expansive mountain peaks and the warm welcome of the locals. Immerse yourself in the depths of the mysteries surrounding the hill-station to the gorgeous temples that catapult you in a different era. There is so much you can do while enjoying your 1 day in Shimla.
Get ready to transcend into the quintessential beauty of the 'Queen of Hills' – Shimla!
#Trivia: It was the erstwhile summer capital of British India. Now this capital of Himachal Pradesh is home to the most exquisite colonial homes.
Honestly, when you travel so far, 1 day may seem like a short time to explore every nook and cranny of Shimla. Well, since you have one day to visit the top places in Shimla, let us quickly take a tour of getting you to different places.
Shimla places to visit in 1 day- Option 1: The Ridge, Lakkar Bazaar, Jakhu temple, Mall Road, Chadwick Falls and Glen.
Shimla places to visit in 1 day- Option 2: Kufri, Mashobra, The Ridge and Mall Road
Shimla places to visit in 1 day- Option 3: Jakhu Temple, Annandale, Himachal cultural museum, Viceregal lodge, Mall road and all the places on it.
The top 7 Places to Visit in Shimla in one day are: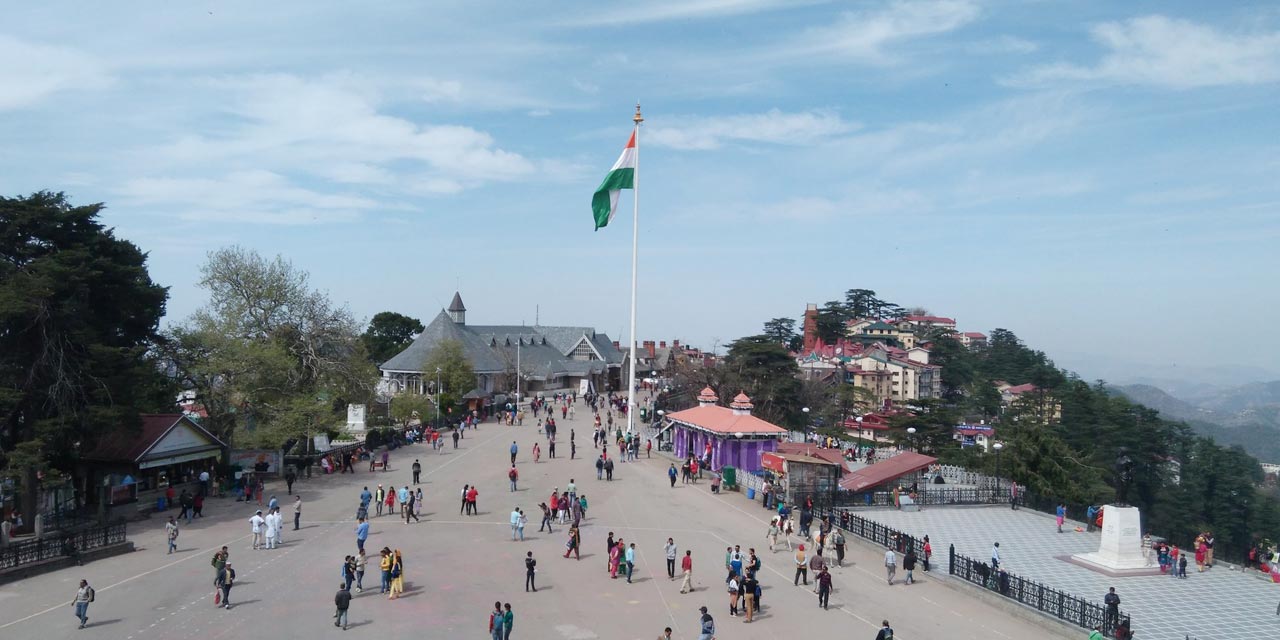 The Ridge is the most popular tourist spot in Shimla. With an expansive view of the city, there is a lot of buzz and liveliness that you experience once you are on the Ridge.
Located in the heart of Shimla, it is a huge elevated open space that exudes a look of grandeur and elegance. The road runs from Scandal Point on one end joining Lakkar Bazaar- a famous wooden crafts market, on the other. Full of liveliness, it is truly the heart and soul of Shimla.
For families, there are a lot of things to do on the Ridge such as get pictures clicked in traditional Himachali attire or let your little ones take a horse ride or simply just hang out with your family or friends. The center of the town is a gorgeous place to admire the rolling expanse of Shimla.
Prominent landmarks of the Ridge include Scandal Point, neo-gothic architectural beauty of the Church built in 1844 and a marvellous Library built in 1910 in a typical Tudorbethan style.
Covered with green slopes of firs, pines and the Himalayan oak with carmine rhododendron trees, the Ridge gives you a sneak peak into the life of the most beautiful hill station in India.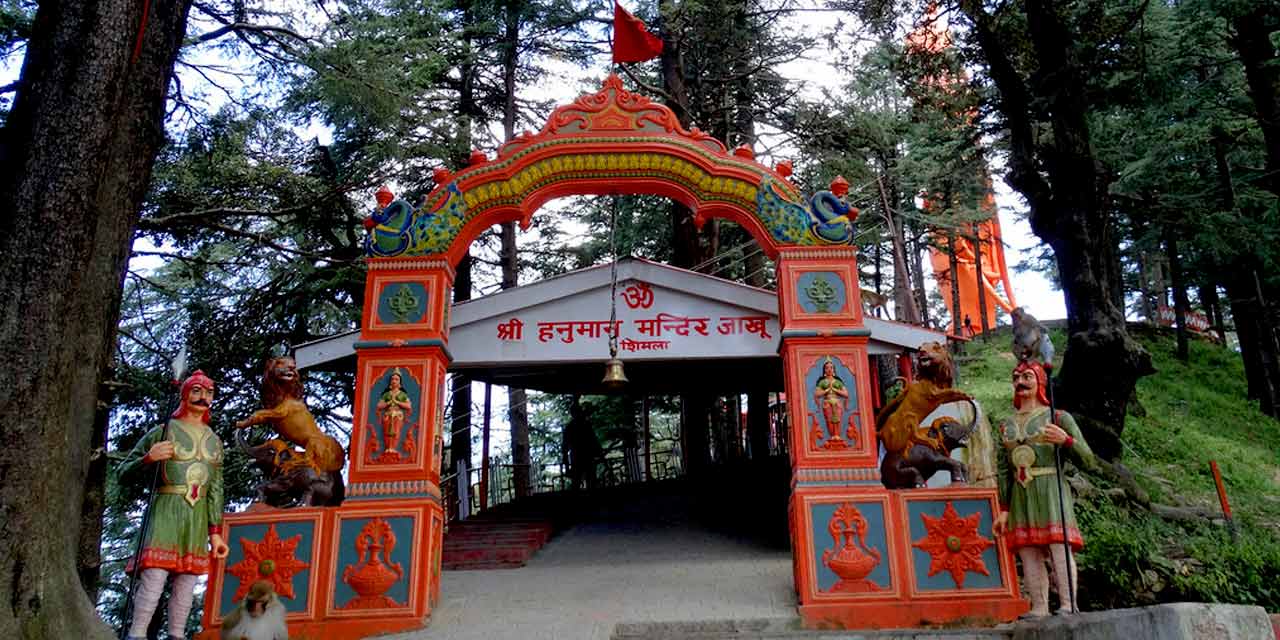 So, while you are out touring the beautiful city of Shimla, one of the most prominent places to visit in Shimla in a day is – Jakhu Temple.
A place of worship dedicated to the Lord Hanuman, built on the highest peak in Shimla- Jakhu hill.
#Trivia: Well, legend says that while on his way to get the Sanjeevani Booti for Lord Lakshamana, Lord Hanuman had rested on this very peak. Hence the divine sanctity to the lord of the hill station.
The humongous statue of the Lord is built at a whopping 108 ft., making it visible from every angle in Shimla. With picturesque beauty, the entire aura on top of the hill is full of positive energy. A definite must visit while on a tour of Shimla, it is quite accessible by road and ropeway.
There is a ropeway that has been built from the Ridge to the hill-top that is capable of carrying around 6 people at one time. A round trip inside the cable car costs Rs. 500 approx. for adults and Rs. 400 approx. for kids. It is best to check the timings, the weather condition and whether it is actually functioning on that particular day, before you decide to take a ride.
The last ride leaves at 6 pm from the top of the hill, for reasons of getting chilly and dark pretty quickly. There is a stone stairway that leads down to the bottom of the hill and is lined with beautiful sayings from the Hanuman Chalisa.
Tip: Be wary of the numerous monkeys present on the peak as it is a temple dedicated to the Lord of the Monkeys, after all.
Quite beautiful and under-rated, Shimla has the largest ice skating rink in India. If you are out to seek thrill and adventure on your day out, we suggest you try your hand at ice skating. You can bring your own or hire a pair from their shop.
#Trivia: It is the largest natural ice skating rink in South Asia and the oldest in all of Asia. It is also the only open air skating rink in the country.
Located in Lakkar Bazaar, it is one of the places you should visit while exploring different places of interest in Shimla. The place attracts swarms of people from India and different parts of the world. It remains operational from December to February and is priced at Rs. 100 or Rs. 200 per person for a limited time. It is open from 8am to 11am and 5pm to 8pm every day.
The Himachal government also hosts an annual carnival welcoming all skating enthusiasts, from rookies to pros, to explore the beautiful ice skating rink of Shimla.
In case you were planning a summer trip, we have now given you reason to explore it in winters and experience the energy.
A beautiful open space located around 2 kms from Shimla, Annandale is a gorgeous and timeless playground situated approx.. 6000 feet above sea level. It is one of the best destinations to visit in Shimla.
It gives an absolutely spectacular view of the city encircling it and the surroundings of deodar, pine and oak trees. Annandale is a literal treat to your senses because of the freshness in the air that is quite required by our lungs today.
If you love walking around, the uphill walk is quite worth it. The well maintained gardens by the Army are a treat to wanderlust soul. A perfect place to spend the day with your family, bask in the purity of the air at Annandale. It will take around an hour or two to roam around here. Get enchanted with the drive to this absolutely picturesque spot.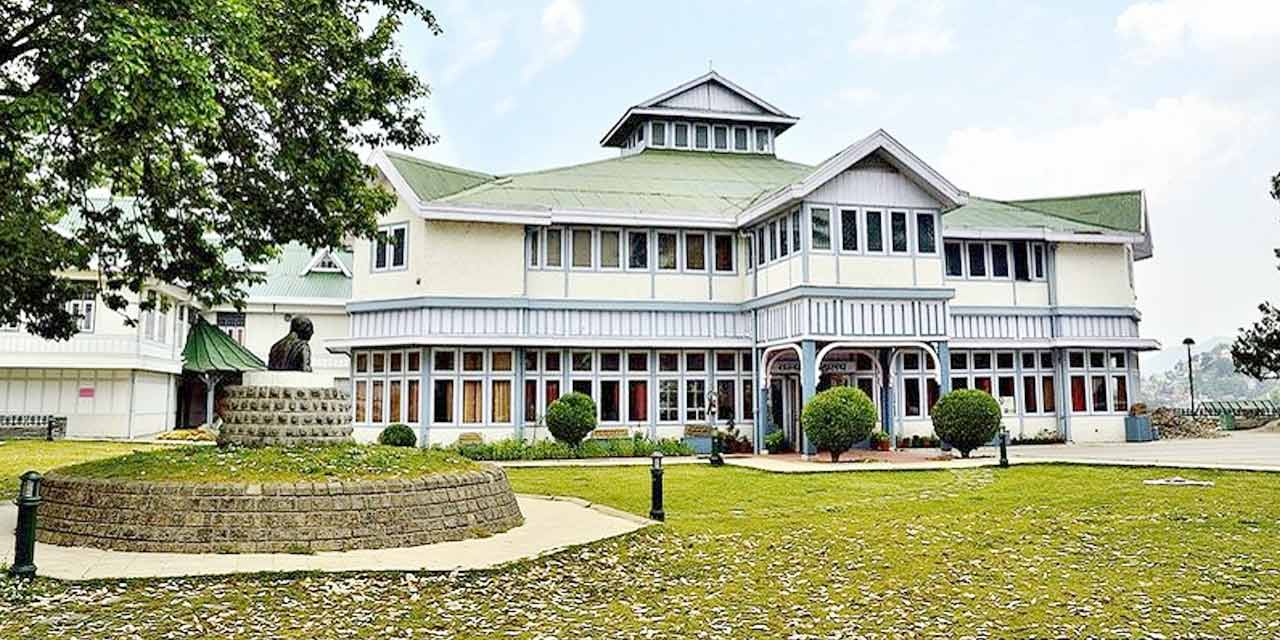 Located atop Mount Pleasant, Himachal State Museum has a rich display of artistic, cultural and archaeological heritage of Himachal Pradesh. It has an array of spectacular paintings, the history of Shimla, archaeological gallery, coin gallery, Pahari painting gallery, doll gallery showcasing a beautiful collection of Himachali bride and tribal dolls, different manuscripts and a lot of absolutely mind-blowing history that can be learnt right here.
It is located between ViceRegal lodge and Shimla Railway Station and is open on all days from 10 am to 5 pm. Mondays and Public Holidays are off days.
Get your dose of one of the best places to visit in Shimla at this museum.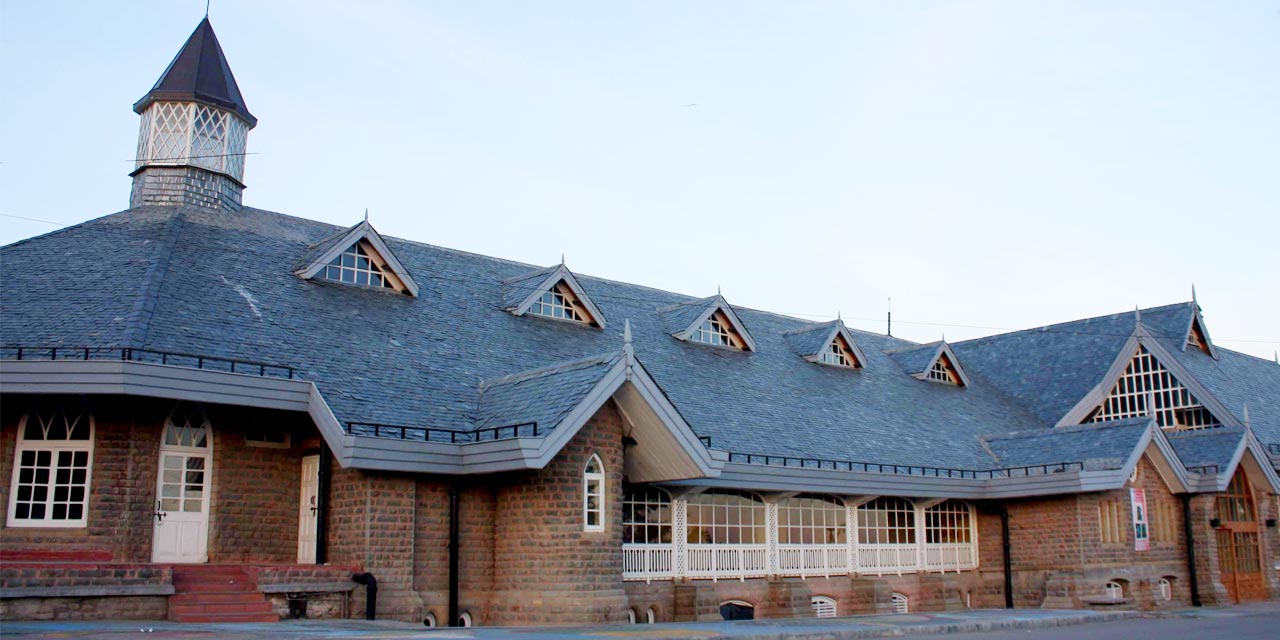 Let the magic of an age-old cultural and theatrical complex captivate you and devour you in its historical lineage. Built in 1887 by Henry Irwin, it is one of the oldest theatres in Himachal.
This Victorian style theatre reminds you of the old English movies with small theatres being showcased as their setting. The theatre has been graced by stalwarts and legends of the movie fraternity such as Rudyard Kipling, K.L.Sehgal, Baten Powel, Prithvi Raj Kapoor and many others.
It is now being used by schools to hold their annual events, cultural programs and classical events. Get a glimpse into the art and cultural extravaganza of this beautiful British-era city right here!
It is open from Monday to Friday between 9 am to 5pm. The entry fee is Rs. 10 for Indians and Rs. 25 for foreigners.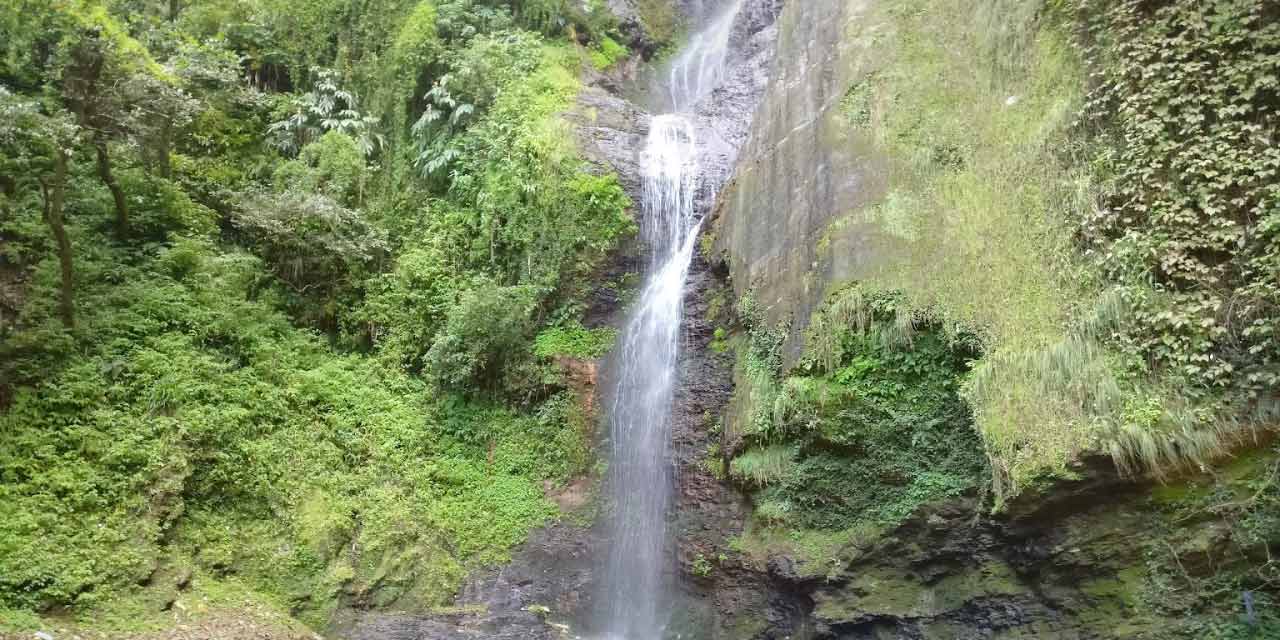 A place that resonates so beautifully with your sense, Chadwick falls is an absolutely breath-taking waterfall located around 7km from Shimla. Located near Summer Hill, Chadwick Falls is a popular tourist attraction of Shimla.
#Trivia: Situated nearly 1500 feet above sea level this waterfall is surrounded by some of the most gorgeous and mist-covered forests and hills.
Another unmatchable ravine located approx.. 4km from Chadwick Falls is Glen. A great picnic spot for the locals, you can enjoy the enthralling beauty of nature and the absolute tranquillity that you experience right here.
---
The gorgeous hill station of Shimla has a ton of exciting places to offer that may not be covered in 1 day. However, with this array of options, we personalize your itinerary and try taking you to the best locations in and around Shimla in 1 day.
Sojourn into the land of the Paharis and the erstwhile British Summer Capital- Shimla. Let the merriment, fun and excitement take you on a magnificent journey through the expansive forests, winding roads and shopping for some absolutely unique artefacts from the city.
Check out our one day Shimla tour package by private cab offered by Shimla Tourism, a division of Holidays DNA that will help you explore the important places in one day in Shimla. With our well organized packages, you are sure to make memories that last a lifetime.