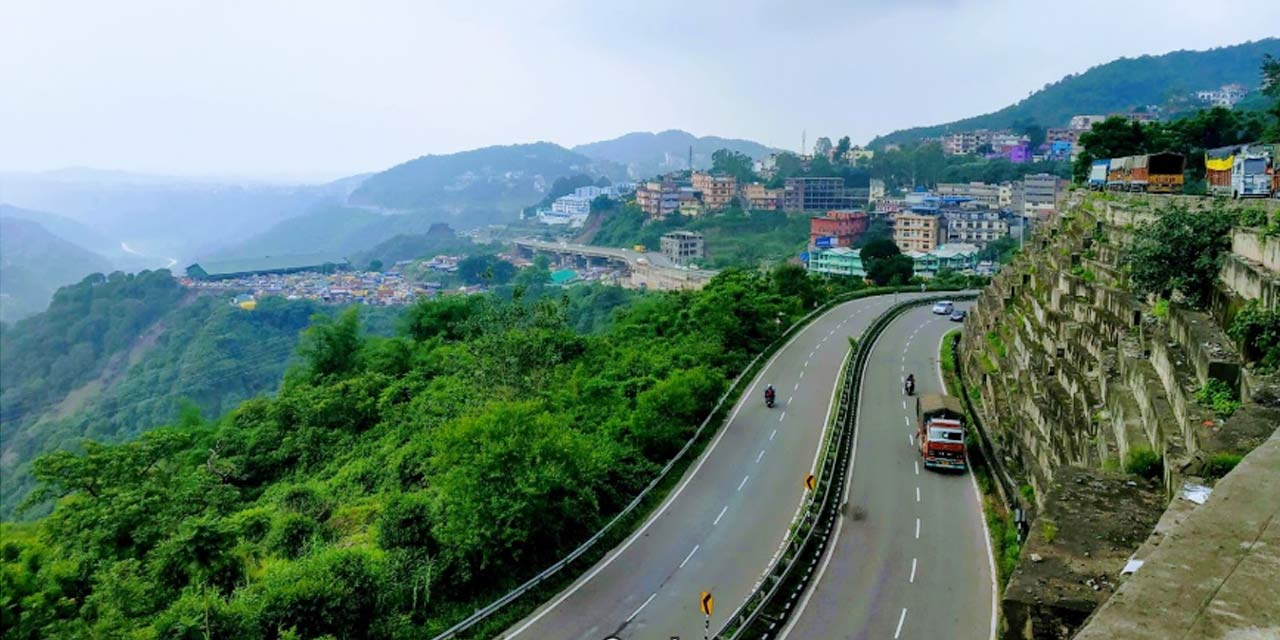 Parwanoo near Shimla Entry Fee
Parwanoo near Shimla Phone
N/A
---
Rating:
| 4/5 stars
Based on total 73 reviews
Parwanoo near Shimla Address: Parwanoo, Himachal Pradesh, 173220, India
---
Visit Parwanoo for a refreshing yet adventurous trip. Adorned with mind-blowing greenery, verdant hills, and jaw-dropping Shivalik ranges, Parwanoo is among the popular getaways that invite people to spend some time in serenity and enjoy a much-needed break away from the everyday hustle and bustle of city life.
Also known as a one-stop destination for important tourist points like Kasauli and Solan in Shimla, this small town has a dense forest of pine and fir trees all around the area and is blessed with pleasant weather that will encourage you to come to this place at any time. It is an amazing destination for people to unwind in the captivating ambiance of a hill station and can also be visited by thrill-seekers seeking to bring out the best of adventure in themselves.
Places to Visit in Parwanoo, Shimla
Out of many natural splendors and attractions that await you in this town in Himachal Pradesh state, there are a few places that you can plan to cover on your next trip to Parwanoo. These are as follows:
1. Fruit Orchards: Pay a visit to the Fruit Orchards in Parwanoo whenever you come here, whether for a short city break or a delightful weekend retreat. The huge stretch of fruit orchards sprawling over miles draws the attention of visitors from different walks of life every year to this destination.
Nestled in the lap of the Shivalik range, this town experiences favorable climate conditions all around the year, making it a suitable place for the production of a wide variety of fruits including apples, peaches, and berries. The thick forests surrounding the area enhance its overall charm and the soothing ambiance allows you to relax and escape away from the monotony of everyday life.
2. Gurkha Fort: Another point of tourist interest that draws history buffs in large numbers to this town is the Gurkha Fort. It's a kind of attraction that fascinates people who wish to step back in time and take a dig into the past.
Located on a small hill in Subathu and at an altitude of 4500 feet above sea level, Gurkha Fort was built by Amar Singh Thapa, who was the Chief of the Gurkha Army, to protect themselves from getting hurt during the time of the fight with the British army. Today, it stands proudly for its imperial legacy and is sure to leave you speechless with its years-old structure.
3. Shri Balaji Temple: The next destination that is worth exploring on your Shimla tour is the Shri Balaji Temple. Nestled in a small village in Parwanoo, the Shri Balaji Temple is the major attraction of the town that has the idol of Lord Balaji as the main statue and also boasts the deities of Lord Vishnu and Lord Hanuman within the complex of this religious site. It's a sacred spot for the blind followers of Lord Balaji from all over the world and is also frequently visited by people seeking some alone time in a calm and peaceful place.
4. Kali Mata Temple: If you're looking for a place surrounded by positivity and serenity, you should head towards the Kali Mata Temple, one of the top places to visit in Shimla. Located at a distance of only 2 km in Parwanoo, the Kali Mata Temple is an ancient temple that is dedicated to the Hindu community and has a presiding deity of Goddess Kali.
It is believed that this temple was built by the Pandavas during exile and since then, it has been attracting a huge influx of devotees during the Navratri festival every year. A visit to this temple will help you know a lot about the local culture and traditions of the region. So, if time permits, you can surely include it in your itinerary list.
5. Pinjore Garden: Have a great time with your family and friends at Pinjore Garden. Covering more than 100 acres of land, the Pinjore Garden, also referred to as Yadvinder Garden, is a beautiful Mughal Garden in Pinjore that offers an unforgettable experience to people wanting to get one step closer to nature.
Widely renowned among the locals as well as tourists for its well-maintained lush greenery, jaw-dropping water bodies, and refreshing fountains, the Pinjore Garden serves as a perfect picnic spot for holidaymakers to take some time out from their busy schedules and explore its unseen beauty at their comfort. Not only does it have a vast expanse of flora but you can also visit the splendid nursery, a mini zoo, a Japanese Garden, and many other historic places to make the most out of your time here.
Please note that this garden also hosts the Mango festival during the time of Baisakhi every year. So, in case you happen to visit this place at that time, you can be part of the event to enjoy it to the fullest.
In addition to these places, Parwanoo has a lot more places to unveil to its tourists. These include the Cactus Garden, Mansa Devi Temple, Gurudwara Nada Sahib, Dagshai, Baba Balak Temple, Nagarkoti Mata Temple, and Kamakhya Devi Temple. Do visit them whenever you get time; all these places deserve your presence at least once for sure, if not more.
Image Gallery of Parwanoo near Shimla
Things to do in Parwanoo, Shimla
In Parwanoo, you will find several things that will keep you engaged throughout the time of your visit. However, it's not feasible for anyone to try their hand at each and everything at once. So, for your ease, we at Holidays DNA, have shortlisted the top 4 activities which will interest everyone, despite the kind of traveler you're. Here is a short glimpse:
1. Enjoy the Cable Car Ride: Get ready to experience the ropeway ride at Timber Trail to admire the unbelievable natural beauty in the foothills of the Himalayas. One of the must-try activities here in Parwanoo, the Cable Car Ride gives you an opportunity to feel an adrenaline rush in your body as you slide through mountains into the steep hill.
It can easily accommodate up to 12 people at once and covers a total distance of 1.8 km. Do not forget to bring your camera to capture the virgin charms of this destination; it's truly magical! To enjoy this activity, you'll need to pay INR 1250 per person for adults and INR 1000 per person for children.
2. Witness the Sunset: Nothing could be better than watching an amazing sunset with your partner whenever you're on a honeymoon, right? Well, Timber Trail is a place where you can soak in the peaceful vibes and breathe in the fresh air to calm the restless mind.
Offering the best of the lush green mountains, it welcomes solo travelers, couples, and families with children to enjoy a refreshing getaway far away from the chaotic city life. Here you can also choose to stay for a night or two to leverage the benefits of its modern facilities.
3. Relish the Flavour of Local Dishes: Hog on your favorite Himachali cuisine to satiate your taste buds. Home to a variety of fine-dining restaurants and small outlets that are specialized in serving an exclusive range of dishes, Parwanoo invites people from far and near to enjoy food whilst overlooking the unparalleled pristine beauty in their comfort.
Whether you're a pure vegetarian or fond of non-vegetarian delicacies, you can find something of your interest here. There are many places where you can discover the real essence of local and regional items at pocket-friendly prices.
4. Do Shopping: No trip is complete without shopping in and around the area and a similar is the case with your visit to Parwanoo. Although you may not find many places to shop here, there are many fruit-based products that most tourists prefer purchasing whenever time permits. A few of them are freshly made pickles, mouth-watering jams, and marmalades. Do not forget to bring pickles made up of meat back home. It is considered as the must-buy item in this place.
How to Reach Parwanoo, Shimla?
Being a small town in Himachal Pradesh state, Parwanoo doesn't own an airport or a railway station of its own. However, there is a facility of various state-owned buses that run from Delhi, Haryana, Punjab, and other neighboring states to Parwanoo on an everyday basis. That simply means that you don't have to worry about anything as you can easily access it via a road journey at your utmost convenience and that too at pocket-friendly prices.
In case you're traveling from a place that doesn't ply bus service to Shimla or Parwanoo, you can catch a flight from the nearest airport to Chandigarh Airport (41 km), Shimla Airport (66 km), or Delhi Airport (275 km) to reach Shimla in the least amount of time. From there, you will find numerous options that will help you to get to your destination in a hassle-free manner.
Alternatively, there is also an option of traveling via train. Catch a direct train to Kalka Railway Station, which is the closest railway station to Parwanoo and it is only 4 minutes away. After deboarding the train, you can look for a taxi from the list of top car rental companies in Shimla to explore the popular sightseeing places leisurely.
---
Book an all-inclusive Shimla tour package with us to have a gala time on your Shimla tour. We at Shimla Tourism, a division of Holidays DNA, present a variety of Shimla travel packages that are carefully designed to cater to your varied holiday needs. Our team is available round the clock to serve you with the best of our services so that you can enjoy your vacation to the fullest. For more information on the packages and deals, we request you to fill out the Contact Us form.
Location Map for Parwanoo near Shimla