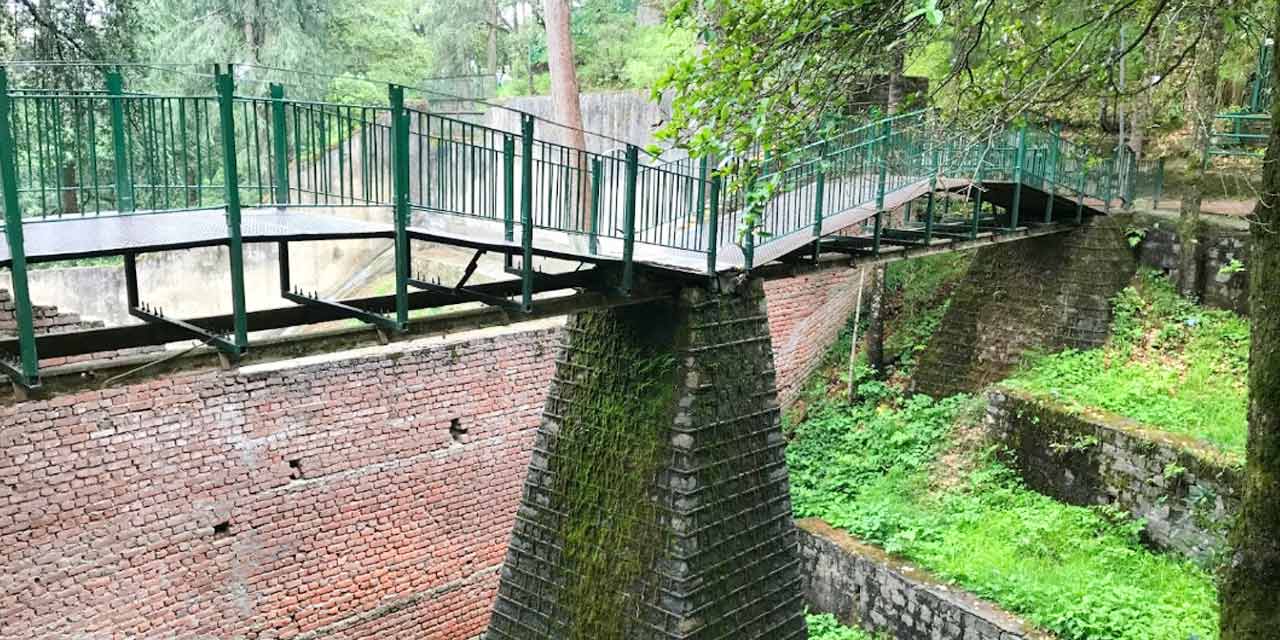 Reserve Forest Sanctuary Shimla Entry Fee
25 per person Entry fee
150 per Vehicle Charge
100 for Bike / Scooter
20 for Own Cycle
50 for Still Camera
1000 for Video Camera / Handy Cam for Commercial Purpose per day
5000 for Cine Camera
10 per person for Students (Showing I-Cards)
50 Bicycle rent for 5 hrs
Reserve Forest Sanctuary Shimla Phone
---
Rating:
| 4/5 stars
Based on total 66 reviews
Reserve Forest Sanctuary Shimla Address: NH 22, Charabra, Mashobra, Shimla, Himachal Pradesh, 171012, India
---
An ideal destination for nature admirers, photo fanatics, wildlife enthusiasts and fun lovers, the Reserve Forest Sanctuary offers magnificent views of the Rakta Dhar, Deo Tibba, Badrinath and Pir Panjal mountains ranges of Jammu and Kashmir. Located on one of Asia's largest watersheds, the sanctuary covers an area of approximately 951 hectares and is a wonderful place for kids to visit on a Shimla tour.
Widely known for featuring a variety of flora, fauna and avifauna species, the Reserve Forest Sanctuary in Shimla lets you relax your mind far away from the complexities of the metro life. It is like a heaven on earth for tourists who are looking to spend some ME time in silence and serenity. Here you can discover a diverse range of oak, pine and cedar trees along with spotting an array of animals and birds such as leopard, Kakkar, barking deer, monkeys, partridge, Himalayan eagle, and pheasant.
Admire the natural greenery while overlooking the eye-soothing scenic beauty. Feel the fresh breeze blowing all the time. Hang out with your friends in the evening and capture as many pictures as you can – to make your visit an unforgettable experience of your lifetime. The weather is always pleasant here, thus making it a perfect spot for trekking, camping, mountaineering and picnic.
Places to Visit Near Reserve Forest Sanctuary, Shimla
The moment you pave your way towards Reserve Forest Sanctuary, you will feel yourself surrounded by breathtaking greenery. However, after spending a few hours here, you can plan to visit other places which are near to Reserve Forest Sanctuary. The top 5 attractions are as follows:
· Craignano Nature Park – Enjoy a romantic drive from Shimla to Mashobra to witness the hidden beauty of Craignano Nature Park. It is a perfect holiday base for adventure enthusiasts to try their hand at rock climbing, fishing and rappelling. The park is only 0.6 km from Reserve Forest Sanctuary.
· Green Valley – Another equally fascinating place for experience seekers in Shimla is Green Valley. Also known as Hassan Valley, Green Valley offers more of a tranquil setting to enjoy nature at its best. It is just 2.3 km drive away from Reserve Forest Sanctuary.
· Kufri Fun World – Nestled amidst the snow-capped Himalayan mountains, the Kufri Fun World is one of the best amusement parks in Shimla and features the highest go-kart track in the world. It is a great place to enjoy some fun-filled time with your children. The park is only 3.2 km from Reserve Forest Sanctuary.
· Jakhoo Temple – Get rid of the negativity at the Jakhoo Temple. Dedicated to the devotees of Lord Hanuman, Jakhoo Temple has the world's largest statue of Pawan Putra and is the only place to immerse yourself in mystical vibes. The temple is only 5.6 km from Reserve Forest Sanctuary.
· The Ridge – No trip is complete without shopping and Shimla tour is no different than others. At the Ridge, you can discover the flavours of local food at the street stalls or chill at the bars. There are several shops where you can stop to bring some souvenirs back home. It is only 6 km from Reserve Forest Sanctuary.
Image Gallery of Reserve Forest Sanctuary Shimla
Entry Fee and Timings of Reserve Forest Sanctuary, Shimla
The entry fee to visit Reserve Forest Sanctuary in Shimla is INR 25 per person. It is open from 9 am to 6 pm on all days of the week.
Travellers Tips for Reserve Forest Sanctuary, Shimla
Carry a bottle of water to keep yourself hydrated throughout the time.
Always wear sunglasses to protect your eyes from sunlight.
Wear comfortable shoes as you might need to walk to explore its enchanting beauty.
Bring an umbrella and a raincoat along if you are planning to visit it during the monsoon season.
How to Reach Reserve Forest Sanctuary, Shimla?
Located at a distance of 4 km from Mashobra, Shimla's Reserve Forest Sanctuary can be easily accessed via a bus, a taxi or a cab.
By Air: The nearest airport to reach Shimla is Jubbarhatti Airport, which is 23 km drive away. It is well-served by commercial flights from Chandigarh and New Delhi Airport. After reaching Shimla, you can look for a local mode of transport to explore the various sightseeing places in Shimla.
By Train: Shimla Railway Station is approximately 13 km drive away from Reserve Forest Sanctuary. Board a toy train ride from Kalka railway station to soak up the beauty of the mountains in the vicinity. It might take some time, but the journey will offer you a perfect holiday experience before you enter the 'Queen of Hills'.
By Road: If you're coming directly from Delhi, you can follow NH 44 to reach Chandigarh in the least possible time by road. From there, you can take the route of NH 22 to get to Shimla. There are several private and government-owned buses available, operated by HRTC department, for the convenience of tourists. You can also hire a private vehicle from one of the leading car rental companies in Shimla to enjoy a hassle-free commutation within the hill-station.
---
Catering to everyone's budget requirements, we at Shimla Tourism, a division of Holidays DNA, present our clients with plenty of all-inclusive Shimla tour packages. In addition, we also offer various discount coupons for our travellers. Choose the best deal that suits you the most and enjoy! Our travel team helps you plan your tour at pocket-friendly prices. To know more about our packages, reach us out by filling the Contact Us form.
Location Map for Reserve Forest Sanctuary Shimla