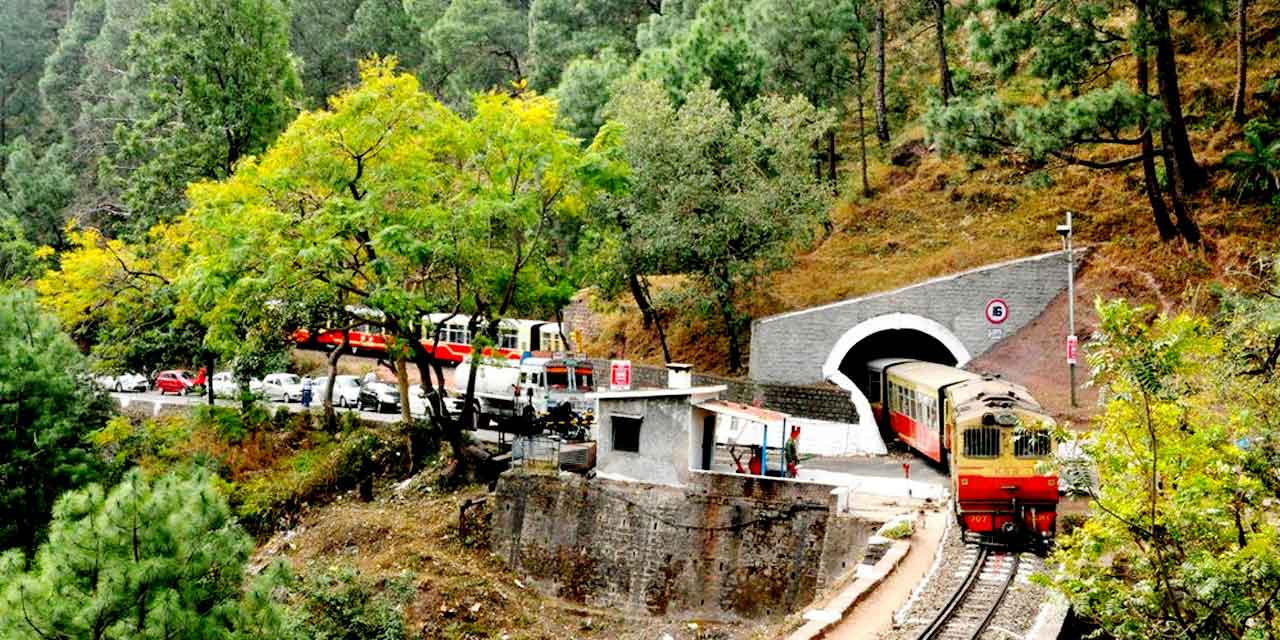 Kalka Shimla Toy Train Entry Fee
320 per person for Adults (Rail Motor Car)
160 per person for Children (Rail Motor Car)
510 per person for Adults (Shivalik Deluxe Express)
255 per person for Children (Shivalik Deluxe Express)
470 per person for Adults (Himalayan Queen)
235 per person for Children (Himalayan Queen)
Kalka Shimla Toy Train Phone
N/A
---
Rating:
| 4/5 stars
Based on total 76 reviews
Kalka Shimla Toy Train Address: Kalka - Shimla Rd, Dharampur, Himachal Pradesh, 173209, India
Shimla Tour Packages
Kalka Shimla Toy Train Timings
Links:
Website
|
Map
---
Get ready to experience one of the most beautiful railway journeys of your life with Kalka Shimla Toy Train. It is indeed an integral part of every Shimla tour. Offering a pleasant view of the lush green valleys, rugged mountains, waterfalls and pine covered forests, the Kalka Shimla Toy Train invites people to witness the verdant beauty of Himachal Pradesh.
Kalka Shimla Toy Train is one of the best modes of transport to explore the rich colonial history of the hill station along with an array of fine-dining restaurants, bars and shops lined up at the edge of the Mall Road and the Ridge.
A must-try ride for holidaymakers of all ages, the Kalka Shimla Toy Train passes through more than 100 tunnels and 800 bridges to cover some 60 miles. Built in 1903, this UNESCO World Heritage Site takes you back in time with a display of awe-inspiring landscapes.
The scenery you get to see throughout the journey is simply breathtaking! And the best part is that the train makes you forget everything about the destination, thus giving you a lifetime opportunity to travel with a different feeling.
History of Kalka Shimla Toy Train
When India was under the influence of Britishers, Shimla (earlier called as Simla) was officially declared as the summer capital of the British Empire. During that period, there was no good connectivity to reach Shimla. Whatever route was available, it was risky, dangerous and used to consume a lot of time.
So, to provide an easy and quick access to Shimla, Britishers started the Kalka Shimla narrow-gauge train in November 1903. Lord Curzon enjoyed the first train ride and since then, the train has been running on an everyday basis, except for the maintenance breaks in between.
Image Gallery of Kalka Shimla
Kalka Shimla Toy Train Route
The Kalka Shimla Toy Train begins its journey from Kalka railway station, situated in Panchkula district of Haryana. At 656 meters, it takes its first climb and starts covering a track length of 96 km to reach Shimla, which is positioned at an altitude of 6,812 feet amidst the beautiful hills and mystical woods.
The 18 stations it covers are: Kalka, Taksal, Gumman, Koti, Sonwara, Dharampur, Kumarhatti, Barog, Solan, Salogra, Kandaghat, Kanoh, Kathleegat, Shoghi, Taradevi, Jutoh, Summer Hill and Shimla. At every station, the train halts for some time, so passengers can relish the taste of local food along with enjoying tea and snacks on the way.
The most refreshing part of the journey is the experience of overlooking the mesmerizing sights, breathing in the fresh air, basking in the pleasant atmosphere, admiring the lush greenery, dancing to the tunes of birds chirping and grazing around the track.
Kalka Shimla Toy Train Services
Here is the detail about the three main tourist train services that run on the Kalka Shimla railway route:
Rail Motor Car
Offering one of the most sought-after train journeys in India, the Rail Motor Car is a single coach train that operates from Kalka to Shimla and vice-versa. It is carefully decorated with beautiful tube light fittings and has got a transparent glass rooftop with cushioned chairs, an LCD and air-conditioning. In addition, the seats are quite comfortable and have 2 plug points to charge your mobile phones, laptops or any other device.
Having an accommodation capacity of 14 to 18 passengers, the Rail Motor Car also provides an express service with food on its way. For all those who don't want to get up early for food, the train stops at Barog station for approximately 20 minutes. Here you can enjoy your morning meal at just INR 50, which includes 2 slices of bread, a cup of coffee and butter. There is also an option of choosing an omelette or 2 pieces of cutlet for vegetarians. Make sure to click some pictures here as the station is nice in itself.
Shivalik Deluxe Express
The Shivalik Deluxe Express luxury Toy Train, equipped with a carpet, large glass windows, plush cushioned seats, upgraded toilets and soothing music offers a pleasant ride from Kalka to Shimla and vice-versa. It is beautifully designed with all wooden work and features wall to wall carpeting with curtains and portraits.
In addition, the train has a comfortable seating arrangement along with an accommodation capacity of 120 passengers in total. You can reverse the orientation of the seats or put your stuff at the foldable side table to make the most of your journey.
Enjoy overlooking the panoramic views of the scenery from wide-glass windows while having your food on the way, which includes 2 pieces of brown bread, 1 veg cutlet, bread jam, bread butter and ketchup sachets.
The train also serves its travellers with a mineral water bottle and hot water in a thermos to prepare tea or coffee. Although there are no stops listed in between, it halts at Barog station for some time. Here you can satisfy your appetite with a healthy yet mouthwatering meal.
Himalayan Queen
Also known as a standard train to explore the beauty of the hill-station positioned in Himachal Pradesh, the Kalka Shimla Himalayan Queen Toy Train comes with first and second-class carriages. It runs all 7 days in a week and covers the required distance at a speed of 18 Kmph. The train is equipped with only one chair coach and has standard car seats to offer – to make the journey of the passengers an enjoyable experience.
Though the food service is not available in Himalayan Queen train, people can get their food at any of the 9 main stations it stops. These stations include Barog, Dharampur, Jutogh, Solan, Summer Hill, Kumarhatti, Taradevi, Kandaghat and Salogra. Some of the halts are for nearly 5-10 minutes, which simply means that you can step out of the train to capture as many photos as you can – with mesmerizing landscapes and valleys at your backdrop.
To enjoy the most comfortable train journey of your life, better to go with either the Rail Motor Car or Shivalik Deluxe Express. Unless you're travelling in a first-class carriage of the Himalayan Queen Toy Train, you might face a few inconveniences like unhygienic toilets, hard bench seats and lack of enough space to keep your luggage.
Shivalik Queen and Shivalik Palace Tourist Coach are two more trains that operate on the same route. Designed to offer the ultimate luxury to the passengers, they feature ultra-modern facilities with a beautiful interior, a dining table, a refrigerator, a fully-equipped kitchen, comfortable sofas and cushion beds for relaxing. However, one needs to make booking much ahead of their Shimla tour to travel via these trains as they run only once a week and from March to September.
Kalka Shimla Toy Train Timings
Timetable from Kalka to Shimla
The Rail Motor Car (72451) starts early in the morning at 5:10 am from Kalka and reaches its destination at 9:50 am.
The Shivalik Deluxe Express toy train (52451) starts early in the morning at 5:20 am from Kalka and reaches its destination at 10 am.
The Himalayan Queen toy train (52455) leaves Kalka at 12:10 pm and arrives at its destination at 5:30 pm.
Timetable from Shimla to Kalka
The Rail Motor Car toy train (72452) departs at 4:25 pm from Shimla and arrives at Kalka at 9:35 pm.
The Shivalik Deluxe Express (52452) train departs at 5:50 pm from Shimla and arrives at Kalka at 10:30 pm.
The Himalayan Queen train (52456) departs at 10:40 am from Shimla and reaches Kalka at 4:10 pm.
Kalka Shimla Toy Train Fare
The Rail Motor Car charges INR 320 one way for adults and INR 160 for children.
The Shivalik Deluxe Express charges INR 510 one way for adults and INR 255 for children.
The Himalayan Queen charges INR 470 one way for adults and INR 235 for children.
Extra Holiday Kalka Shimla Toy Train Services
In addition to the normal train operations, the Kalka Shimla Toy Train also offers extra holiday services during the peak season, which usually starts from May until July, September, October, December and January.
One of the special toy trains that run during the busy holiday season in India is Shivalik Special. Shivalik Special, with one day departure, leaves Shimla at 3:50 pm in the evening and arrives at Kalka station around at 9:00 pm. It takes nearly five and a half hours to cover the route, with 9 stops.
Kalka Shimla Toy Train Booking Guide
If you are planning to travel through Kalka Shimla Toy Train, make sure to book the tickets in advance, especially in the months of April, May and June. Similarly, Shimla attracts a huge crowd of tourists during Dussehra holidays, which usually falls in October. Other than that, there will be a rush at the time of Christmas and New year celebration. During these times, it is important to book the train-tickets in advance.
Kalka Shimla Toy Train Travel Tip
To enjoy your toy train journey to the fullest, make sure to sit on the right side of the train to overlook the best views whenever you're travelling from Kalka to Shimla and on the left side when heading back home.
How to Reach Kalka?
Both Chandigarh as well as Delhi offers several ways to reach Kalka. The main 3 modes of transport are as follows:
Train: There are various trains available from Delhi to Kalka. However, the most comfortable train is the Shatabdi Express, which starts early in the morning. It takes nearly 4 hours to reach its destination and covers a distance of 269 km in total.
Road: One can hire a private car or a taxi to reach Kalka from Delhi and Chandigarh. In addition, you can also opt to travel via Volvo buses, which operate from Delhi and are usually booked in advance, online.
Air: Chandigarh Airport is the nearest airport to reach Kalka from Delhi or Chandigarh. So, if you're running out of the time, it is better to board a flight from Delhi. After getting there, you can look for a local taxi or a cab.
Those who're interested in commuting within the city can opt for public transport or hire a private taxi to explore the must-visit tourist attractions. We at Shimla Tourism, a division of Holidays DNA, have also prepared a list of top car rental companies in Shimla for your convenience. In addition, you can also look for all-inclusive Shimla tour packages at pocket-friendly prices. What else do you need? Just pack your bags and get ready to make the most of your trip. To know more, reach us by filling our Contact Us form.
Location Map for Kalka Shimla Toy Train