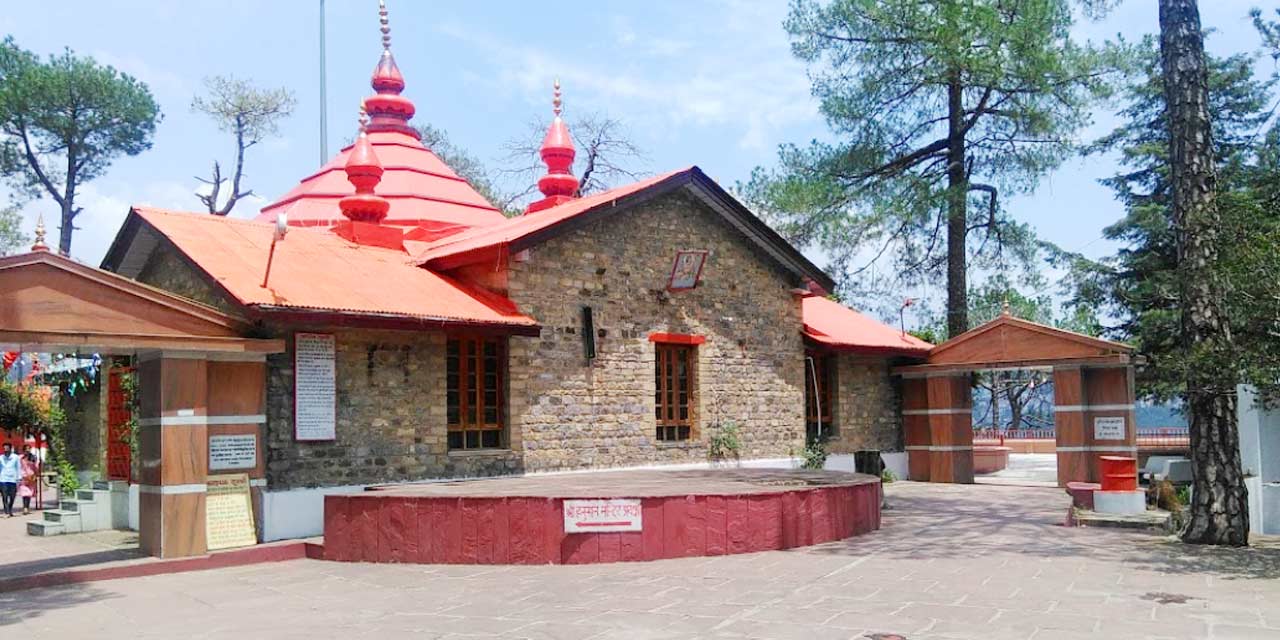 Sankat Mochan Temple Shimla Entry Fee
Sankat Mochan Temple Shimla Phone
---
Rating:
| 4/5 stars
Based on total 65 reviews
Sankat Mochan Temple Shimla Address: Bagh, Taradevi, Shimla, Himachal Pradesh, 171010, India
Shimla Tour Packages
Sankat Mochan Temple Shimla Timings
Day
Timing
Monday
6:30 am – 8:00 pm
7:00 am – 6:30 pm (Winter)
Tuesday
6:30 am – 8:00 pm
7:00 am – 6:30 pm (Winter)
>
Wednesday
6:30 am – 8:00 pm
7:00 am – 6:30 pm (Winter)
Thursday
6:30 am – 8:00 pm
7:00 am – 6:30 pm (Winter)
Friday
6:30 am – 8:00 pm
7:00 am – 6:30 pm (Winter)
Saturday
6:30 am – 8:00 pm
7:00 am – 6:30 pm (Winter)
Sunday
6:30 am – 8:00 pm
7:00 am – 6:30 pm (Winter)
Links:
Website
|
Map
---
We all need to take some time off from the hustle and bustle of everyday life, right? Something which can relax and rejuvenate our senses. Something which can help us look forward to daily chores. A visit to the Sankat Mochan Temple on your Shimla tour can be the right spot to visit in this beautiful hill-station.
Nestled amidst the lush greenery and tranquil setting of Himachal Pradesh, the Sankat Mochan Temple offers an exceptionally calm and peaceful environment to holidaymakers of all ages. It is one of the famous sightseeing places in Shimla and the second most popular spot after Jakhoo Temple.
Dedicated to Lord Hanuman, the temple has a meditative atmosphere that soothes your mind and the majestic mountains at its backdrop. Here you can enjoy the panoramic view of the valleys, click some unforgettable pictures and witness the widespread city of Shimla.
The temple also houses a huge hall where you can taste the delicious prasad, also known as langar, every Sunday. In addition, people can organize marriage ceremonies and other sacred rituals in the building. There is also a small park for children to enjoy and an Ayurvedic clinic to get the medicines for various ailments.
History and Architecture of Sankat Mochan Temple, Shimla
Sankat Mochan Temple traces its historical significance way back to the 1950s when Baba Neeb Karori Ji Maharaj came to this serene and enchanting place for meditation. During his stay of 10 days, he was so impressed with the beauty of this place that he decided to build a Hindu temple on the same location.
Baba Ji along with his faithful followers such as the governor of Himachal Pradesh shouldered the responsibility of setting up the temple on priority and started its construction in the year 1962. Finally, on 21st June 1966, the temple was consecrated.
Initially, it was a small temple. But, with time, due to the huge crowd of devotees, the temple has acquired great dimensions and today, it spans over an area of 18.8 bighas of land. At present, the building features the idols of Lord Hanuman, Lord Rama and Lord Shiva in separate complexes. There is also a temple for Baba Neeb Karori Ji Maharaj and a temple of Lord Ganesha in south Indian architectural style.
Image Gallery of Sankat Mochan Temple Shimla
Entry Fee and Timings of Sankat Mochan Temple, Shimla
There is no entry fee to visit Sankat Mochan Temple in Shimla. It is open from 6:30 am to 8:00 pm in summers and from 7:00 am until 6:30 pm in winters.
Travellers Tips for Sankat Mochan Temple, Shimla
· Leave your footwear outside the main temple premises.
· Don't forget to carry ample woollen clothes with you as the weather in Shimla might turn too cold suddenly.
How to Reach Sankat Mochan Temple, Shimla?
Since the Sankat Mochan Temple is located only 5 km away from Shimla, it is easily accessible from all parts of the city and offers several transport options to reach your destination.
By Train: Shimla Railway Station is the nearest station to the Sankat Mochan Temple in Shimla, which is only 5.5 km drive away. However, if you're coming directly from Chandigarh, you can also opt for Kalka-Shimla Toy Train ride to get down to Tara Devi Station. From there, you can enjoy strolling on foot or hire an auto-rickshaw.
By Road: Another way to reach the Sankat Mochan Temple is from Shimla Old Bus Stand, which is only 6.4 km drive away. It maintains good connectivity via road and offers the facility of several public and private buses. You can also look for a shared taxi or a local cab to visit this temple.
---
Whether you're looking to offer your prayers to Lord Hanuman or simply wish to spend some ME time away from the temporal world, the Sankat Mochan Temple has got something for everyone. It is a great place for experience seekers, nature lovers and photographers as well.
For all those who want to have a perfect time of their life in Shimla can explore our Shimla tour packages. We at Shimla Tourism, a division of Holidays DNA, provide the best travel deals at competitive prices. Other than that, our team of experts also assist you in choosing the top car rental companies in Shimla for a hassle-free commutation within the hill-station. What else do you need? Just pack your bags and get set to go! Please fill out the Contact Us form to talk to one of our tour representatives!
Location Map for Sankat Mochan Temple Shimla