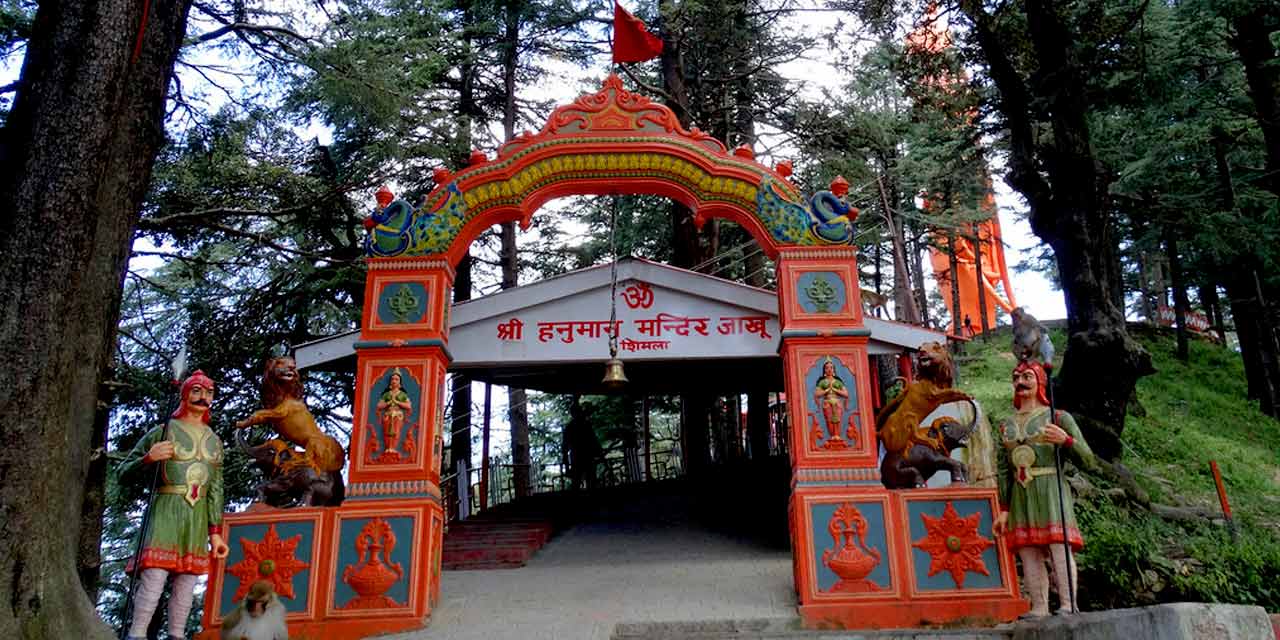 Jakhu Temple Shimla Entry Fee
Jakhu Temple Shimla Phone
---
Rating:
| 4/5 stars
Based on total 60 reviews
Jakhu Temple Shimla Address: Jakhu Temple Park, Jakhu, Shimla, Himachal Pradesh, 171001, India
---
Nestled amidst the vibrant beauty of the Shivalik hill ranges, Jakhoo Temple is an ancient Hanuman temple which offers a mystical vibe to the devotees of the "Pawan Putra". One of the famous sightseeing places in Shimla, it has the world's largest statue of God Hanuman, attracting holidaymakers of all ages apart from the Hindu community.
Overlooking the nearby town of Sanjauli, the surroundings of the Jakhoo Temple are complemented by amazing views that make the setting even more spectacular. It is a great place to enjoy the awe-inspiring sunrises and sunsets and an adventurous drive for trek enthusiasts. Other than that, the lush green winding pathways are an absolute treat for nature lovers.
History of Jakhoo Temple, Shimla
Jakhoo Temple has an interesting mythological story attached to it. It is generally said that during the battle course of Ramayana, Ram's younger brother Lakshmana got injured by a powerful arrow and became unconscious. He couldn't be revived despite several efforts. Then, a renowned priest told Lord Rama that he needed a particular Sanjeevani herb to bring him back to life. Hanuman was given the charge of getting the herb from the Himalayas.
While going towards the Himalayas, he met sage Yaaku on the hilltop. Hanuman sat on the mountain and cleared his doubts about the herb. The mount couldn't bear his weight and got flattened, remaining half of its size. After collecting enough information about the herb, he promised Yaaku to meet him while going back to Lanka.
However, on his way back, he had to fight with a demon named "Kalnemi" who tried to fool him around, which consumed a lot of his valuable time. To reach Lanka on time, he chose not to meet sage and took the shortest possible route. When sage was disappointed, he thought of meeting him in person and tell the reason for breaking the promise.
As Hanuman left the place, an idol of him appeared on the hill by itself. To honour the Lord's visit, Yaaku built a temple there. It is believed till date that the temple has the footprints of Hanuman and the monkeys that stay around the shrine are the descendants of Lord Hanuman.
Image Gallery of Jakhu Temple Shimla
Architecture of Jakhoo Temple, Shimla
Positioned at the highest peak in Shimla, Jakhoo Temple offers several reasons to visit this place. Surrounded by lofty mountains and deodar trees, the trail up to the temple lets you soak in the mesmerizing beauty – with gorgeous views at your backdrop.
The premises hold several paintings that represent the story of Hanuman during Ramayana. Installed in 2010, the 108 feet long idol of Hanuman is an attraction in itself and has enticed a huge number of tourists throughout the years. Illuminated with lights in the night, it is a grand sight to watch on your Shimla tour and is visible from anywhere in Shimla.
Things to do in Jakhoo Temple, Shimla
Apart from its religious significance, Jakhoo Temple also keeps its tourists occupied with many things to do in Shimla. Here is a list of top 6 places to visit in and around the temple -
Jakhoo Hill – Surrounded by Alpine trees, snow-capped Himalayan mountains and the evergreens valleys, Jakhoo Hill is a favorite escape for visitors wanting to relax away from the city life. Here you can spend hours just by looking at the clouds or simply capture the breathtaking scenery. This place is also famous for its trekking activity. It is only 0.4 km away from Jakhoo Temple.
Lakkar Bazaar – Widely known as the popular shopping street of Shimla, Lakkar Bazaar is an old wooden market from where you can bring some wooden handicrafts back home. In addition, the local market is also famous for selling handmade artifacts, key chains, Himachali woollen items at competitive prices. It is only 0.6 km away from Jakhoo Temple.
Sky Jumper Trampoline Park – Have an unparalleled experience with your family and children at Sky Jumper Trampoline Park. From gaming arcade to dash cars, basketball, volleyball and other recreational activities, the amusement park takes care of everyone's enjoyment. It is only 0.8 km away from Jakhoo Temple.
The Ridge – An ideal place for tourists to spend some leisure evenings, The Ridge lets you breathe in the fresh air while you click some pictures on your Shimla tour. It offers more of a laid-back atmosphere to overlook the panoramic beauty and has an array of fine-dining restaurants, bars and shops – to make your experience an unforgettable one. It is only 1 km away from Jakhoo Temple.
Christ Church – For all those who are after a mix of peace and spirituality, Christ Church is a great place to visit. Perfect for history lovers and archaeological fanatics, the Christ Church allows you to go back in time and re-cherish the past memories. It is only 1.3 km away from Jakhoo Temple.
Kali Bari Temple – Don't forget to seek blessing from Kali Bari Temple when you are in Shimla. Built in 1845, the temple is one of the oldest temples of Goddess Kali and is a heaven for nature admirers. Witness the stunning landscapes in your free time or enjoy the mouthwatering Bengali food in the canteen. The temple also offers a guest house for the convenience of tourists. It is only 1.7 km away from Jakhoo Temple.
Entry Fee and Timings of Jakhoo Temple, Shimla
There is no entry fee to visit Jakhoo Temple in Shimla. It is open from 7 AM in the morning to 8 PM in the evening every day.
Travel Tips for Jakhoo Temple, Shimla
Make sure to leave the footwear outside the temple premises.
Don't carry anything in your hands while visiting the temple. The monkeys here are famous for snatching things away from you.
Try to avoid eye contact with monkeys on your way. You can also rent a stick of INR 10 to keep them away.
How to Reach Jakhoo Temple, Shimla?
Since the Jakhoo Temple is just a short stroll away from the city centre, it is pretty easy to walk the picturesque trail of 2 km to reach your destination. One can also hire a taxi or a shared cab to enjoy the Shivalik ranges and steep slopes on the road route.
However, the easiest way to reach the Jakhoo Temple in Shimla is through a new ropeway that takes you directly to the temple from The Ridge in 5 minutes. Tourists visiting the temple get a lifetime opportunity to overlook the beautiful landscapes and British-era architecture from up in the air. The 2-way journey costs nearly INR 500 per person (for adults) and INR 400 per person (for children).
Distance of Jakhoo Temple from Shimla bus stand: 3.4 km
Distance of Jakhoo Temple from Shimla railway station: 3.2 km
If you prefer travelling by road, you can also hire a private vehicle from one of the top car rental companies in Shimla.
---
Whether you're a nature seeker, a photographer or a Hanuman devotee, visiting the Jakhoo Temple in Shimla can work like adding a cherry on the ice-cream. It is a perfect getaway for locals as well as tourists to disconnect themselves from the temporal world for some time.
Catering to everyone's needs and budget limits, we at Shimla Tourism, a division of Holidays DNA present our clients with a wide variety of Shimla tour packages at pocket-friendly prices. You can choose the best deal to make the most of your holiday. To know more about the discounts and available all-inclusive packages, please fill the Contact Us form. One of our tour representatives will reach you out shortly.
Location Map for Jakhu Temple Shimla