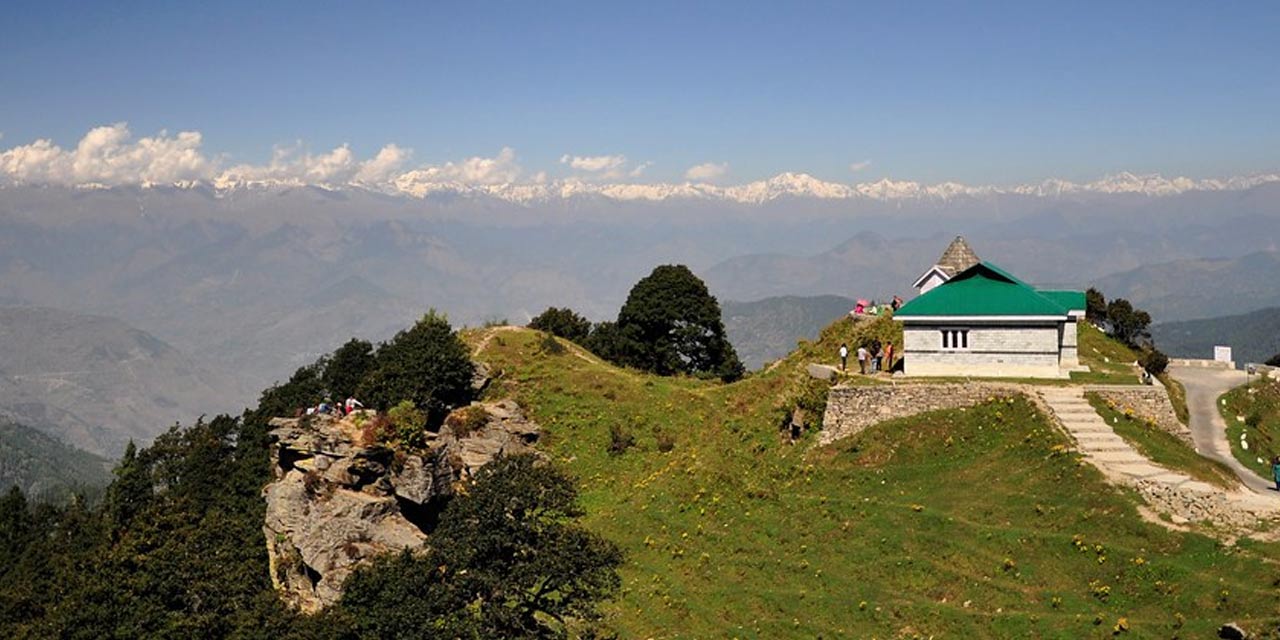 Narkanda near Shimla Entry Fee
Narkanda near Shimla Phone
N/A
---
Rating:
| 4/5 stars
Based on total 64 reviews
Narkanda near Shimla Address: Mall Rd Narkanda, Himachal Pradesh, 171213, India
---
Narkanda, a small and tranquil town located at a drive of just 2-hours away from Shimla, attracts a huge influx of tourists every year. Encompassed by majestic hills and tropical forests, Narkanda is a hidden gem in Dev Bhoomi that is blessed with a refreshing ambiance and perennial greenery along with verdant landscapes, dense forests, and sprawling orchards of apple and cherry.
The awe-inspiring meadows in this region are known for leaving footprints in the heart of nature lovers forever and the numerous interesting expeditions will make you fall in love with its ethereal beauty over and over again. Whether you're a wanderer, a sightseeing lover, an experience seeker, a leisure traveler, or an adventure seeker, Narkanda pleases everyone with so many things to see and do all around the day. Enjoy a visit to this town and we bet you'll wish to stay back there forever.
The plus point about visiting Narkanda is that it can be explored by tourists at any time of the year as every season brings its own charm and aura, changing its scenic beauty completely.
In winter, due to frequent snowfall, the town remains covered under a blanket of a white sheet which makes it look even more mesmerizing and enchanting when viewed even from a distance. Whereas on the other hand, the summer season adds a romantic vibe to the overall atmosphere with an average temperature ranging from 10-degree Celsius to 30-degree Celsius. In monsoon i.e., from July to September, the region receives moderate rainfall, but the vibrant beauty you get to see at this time is something that cannot be simply put in words.
All-in-all, it won't be wrong to say that Narkanda lets you enjoy an ultimate holiday experience throughout the year and hence, could be a great addition to your bucket list for your next trip to the mountains.
Places to Visit in Narkanda, Shimla
Out of many tourist attractions in Narkanda, there are a few places that deserve your attention, whether you're on a Shimla tour alone, as a couple, or with children. These include:
1. Hatu Peak: About 8 km from Narkanda and 70 km from Shimla is the Hatu Peak which impresses nature-buffs with its jaw-dropping views.
Standing proudly at a height of 12000 feet above sea level, the Hatu Peak is considered as the highest peak in Shimla that welcomes people to relax and unwind in a magical setting and offers a laid-back atmosphere to make you feel refreshed and rejuvenated after a long, hectic break. It's a delightful destination for all wanderers and is no less than a paradise for experience seekers as well.
The majestic mountains covered in a dense green blanket are hard to miss here and the fresh breeze gives you a chance to breathe freely in a calm and peaceful environment. Unlike other sightseeing places in Narkanda, this place remains less crowded and has everything one needs to spend some quality time far away from the chaotic city life.
2. Tanni Jubbar Lake: If you're traveling with family, you should definitely not miss Tanni Jubbar Lake in Narkanda. It's an offbeat tourist attraction that lets you dwell in a serene setting and allows you to enjoy a fun-filled day out with your children.
Encompassed by trees all around the area, the Tanni Jubbar Lake is a beautiful lake in the town that presents its tourists with a variety of interesting things to do and see all around the day. Here you can sit by the lake, walk on the green grass, read your favorite book, play card games, or go boating in the lake. Please note that the recommended timings to visit this lake are from 6:00 AM to 6:00 PM and you'll need approximately 1-2 hours to explore its beauty.
3. Hatu Mata Temple: The next destination you must include in your itinerary list while covering the famous sightseeing places in Narkanda is Hatu Mata Temple. Widely renowned for boasting unique architecture, the Hatu Mata Temple is a religious pilgrimage site that offers a 360-degree view of the mountains and a twisty uphill ride from an altitude of 3352 meters.
It's one of the kinds of holy sites in Shimla that catch the attention of bikers from all over the nation every year and is also frequently explored by trekkers looking for a short and exciting trekking trail. The narrow and sharp roads on the way to the temple make the overall journey challenging, giving you a chance to bring out the best of hidden talent in you. You can head towards the Hatu Mata Temple at any time from morning to evening and it doesn't charge anything from its devotees as an entry fee.
4. Stokes Farm: Walk around the Stokes Farm for a more fascinating and enjoyable experience this town provides to every one whosoever comes here, be it for a day or a complete week. Founded by Samuel Satyanand Stokes, the farm is famous for producing apples on a large scale as well as boosting its production in the state. Today, it is known for delighting tourists from all walks of life.
Don't forget to hire an experienced and knowledgeable guide to make the most of your visit to Stokes Farm. With a guided tour, you can learn everything about the local apples in detail and gather enough knowledge about them.
5. Jau Baug: Experience the heavenly beauty at Jau Baug. A 15-minute walk away from Hatu Peak, the Jau Baug has beautiful mountains and lush meadows that serve as a perfect backdrop for tourists to click some crazy pictures with their friends and families. It is a great place for newlyweds and honeymooners to enjoy some time alone and can also be explored by nature admirers and adventure enthusiasts.
Try to witness its breathtaking beauty on foot as the narrow roads that take you to this viewpoint get dangerous for cars as you get closer to the location. Hence, it is advised for everyone to access it by walking.
Other than these places, this town also boasts Mahamaya Temple, Derthu Mata Temple, and Koteshwar Mahadev Temple which can also be visited by tourists on their Shimla tour if time permits. These temples hold great importance among the locals and are definitely worth visiting at least once for sure, if not more.
Image Gallery of Narkanda near Shimla
What to do in Narkanda, Shimla?
Choose from a wide range of activities to keep yourself engaged all the time. In Narkanda, you'll never fall short of things to do on your trip as it has umpteen options for tourists of all ages. So, despite the kind of traveler you're, you are sure to find something of your interest here. A few of the must-try things are:
1. Skiing: Get ready to experience skiing in the foothills of the Himalayas in Narkanda to admire the undulating beauty of nature in its best possible way. Heaven for ski lovers, this small town attracts thousands of adventure lovers from all over the nation every year between December and February to try their hand at skiing.
Don't worry if you're new to it. There are several trained and experienced skiing instructors that provide various instructions, ski courses, and the right type of skiing equipment so that you can enjoy it to the fullest.
2. Trekking: Enjoy trekking to the highest peak in the Shimla district to treat your eyes to extraordinary mountain views and enchanting meadows on your way. A challenging yet worthwhile outdoor sport, trekking allows you to discover the unseen wonders as you go through a dense forest covered with a variety of trees and have a close interaction with nature itself.
Make sure to look back once you reach the top; the feeling you get cannot be explained in words. It's by far a must-to-do activity here in Narkanda and can be enjoyed by even beginners as well. Please note that trekking shoes are mandatory if you're looking to make the most out of your trek.
3. Shopping: Do save some money for shopping if you love buying souvenirs from every place you visit. In Narkanda, the retail therapy is not as fancy as it is in Shimla, Kufri, and Solan, but you can always roam around to purchase a few of the items that will remind you of your trip to this town forever.
Some of the popular products that every tourist prefers shopping from here are the Himachali shawls, caps, blankets, and handmade shoes. You can also pay heed to the Himachali Hat outlets to find traditional items that define the local culture out there.
How to Reach Narkanda, Shimla?
Lying at a distance of approximately 60 km from Shimla, Narkanda maintains good road connectivity with the neighboring towns of the Himachal Pradesh state and can be easily accessed by tourists via local transportation. You can choose to hire a private taxi from the list of top car rental companies in Shimla outside the Shimla Airport, Chandigarh Airport, or Delhi Airport to reach Narkanda at your utmost comfort if you're traveling by air.
The Kalka Railway Station, which is 150 km away, receives frequent train services from the metro cities of India like Chandigarh, New Delhi, Dehradun, Amritsar, etc. After deboarding your train there, one can opt to experience a magical Kalka Shimla Toy Train ride to get to the Shimla Railway Station at pocket-friendly prices. In Shimla, you have several options available to head towards your desired location.
Last but not the least, the HSRTC department also operates various AC and non-AC buses for your convenience. So, if it looks good to you, you can surely go ahead with it. However, you'll need to make sure that you get the reservation of an AC bus done in advance in case you're looking for a hassle-free road journey.
---
Explore Narkanda and the other popular hill stations in Himachal Pradesh state with our all-inclusive Shimla tour packages. We at Shimla Tourism, a division of Holidays DNA, offer a variety of Shimla travel packages for the ease of our avid travelers. Depending on your holiday budget and duration, our travel packages can also be customized so that you can enjoy the best vacation of your life. To know more about our services, please fill out the Contact Us form. One of our representatives will get in touch with you soon.
Location Map for Narkanda near Shimla