If you're planning to travel with your family and looking for a destination that beckons travelers with promises of adventure, romance, and serenity, then you should consider heading to Shimla and Manali. A Shimla-Manali family tour isn't just a journey; it's a delightful adventure that weaves together the warm embrace of the Himalayas, the aroma of delectable local cuisine, and the laughter of your loved ones. To enjoy your visit to the fullest, we recommend you plan a guided trip with our Shimla Manali Family Packages.
Shimla, the "Queen of Hill Stations," exudes colonial charm with its stately buildings, lush gardens, and the iconic Mall Road. Here, the echoes of history blend harmoniously with the vibrant present. You'll find yourself wandering amidst colorful bazaars, savoring delectable street food, and taking in panoramic views that stretch to infinity.
But the real magic happens when you venture further into the heart of Himachal Pradesh. Manali, an adventurer's haven, is a tapestry of rugged mountains, cascading waterfalls, and lush forests. The Solang Valley is a playground for thrill-seekers, offering paragliding, ziplining, and in winter, a snowy wonderland for skiing and snowboarding.
For those seeking a more tranquil experience, Old Manali's cobbled streets reveal cozy cafes, hippie markets, and a laid-back vibe that invites you to slow down and savor the moment. Yet, the real star of the show is nature itself. Trek through emerald forests, discover hidden waterfalls and find solace in the serene landscapes of this hill station in India.
As the day gives way to night, the star-studded Himalayan skies become your personal planetarium. Gather around a crackling bonfire with your loved ones, sharing stories and marshmallows. And when you retire to your cozy accommodations, the lullaby of mountain breezes and distant streams will serenade you to sleep.
In Shimla and Manali, every day is an invitation to explore, to connect, and to be captivated by the grandeur of the Himalayas. It's a journey that unfolds like a beautifully crafted story, where the characters are you and your fellow travelers, and the plot is an adventure waiting to be written in the pages of your memory. What are you waiting for now? Pack your bags and get ready to have a great time with our Shimla Manali Family Packages.
Overview of Shimla Manali Family Packages
Explore the best of Shimla and Manali with our Shimla Manali Family Packages. We at Holidays DNA understand that every family is unique, and your preferences may vary. Our packages are highly customizable, allowing you to tailor your trip to your family's specific needs, interests, and budget. All you need to do is to just tell us the inclusions you wish to see in your shortlisted travel package and we promise that our team won't mind going the extra mile to come up with a Shimla Manali Tour Package that is specially designed for you.
With us, you can immerse yourselves in the local culture and heritage with our suggestions for visiting historical sites, temples, and markets. With us, you can experience the diverse and delectable flavors of Himachali cuisine with our recommendations for local restaurants and eateries, adding a culinary adventure to your trip. With us, you can be as lazy or as adventurous as you want. What else do you want?
Your family's safety is our top priority. We provide assistance and support throughout your journey, ensuring a secure and worry-free vacation. To know more, we request you to fill out the Contact Us form. Our representative will get back to you soon.
Why Book with Us?
A perfectly planned trip is all you need for your family members who are looking to connect on a deeper level. What's the best way to get everything done seamlessly and flawlessly? The most obvious choice is to hire a reputed tours and travel company which possesses years of experience in organizing the things exactly the way people want.
At Holidays DNA, our Shimla Manali family packages are thoughtfully designed by travel experts who have an in-depth knowledge of both Shimla and Manali. We've curated itineraries that balance sightseeing, adventure, relaxation, and cultural experiences to cater to the diverse interests of your family members.
Our packages offer a wide range of activities suitable for family members of all ages, from leisurely walks and cultural tours to thrilling adventures like paragliding, trekking, and river rafting. With our extensive knowledge of the region, we provide you with valuable insights into the best places to visit, dine, and explore, ensuring you get an authentic and enriching experience.
For us, your comfort comes first. We prioritize your family's safety by selecting accommodations that are well-suited for families. You can expect cozy and welcoming stays that address your needs. Booking a package with us means you can relax and fully enjoy your family vacation without the stress of planning, booking, and coordination. We take care of the details so you can focus on creating cherished memories with your loved ones.
Resorts and Hotel Options with our Shimla Manali Family Packages
Experience luxury at its best with our Shimla Manali Family Packages. Catering to everyone's holiday style, preferences, and budget, we at Holidays DNA, have curated a list of a variety of resorts and hotels that offer the ultimate comfort to all the guests without compromising on hospitality.
In Shimla, you can head to the Wildflower Hall, An Oberoi Resort to enjoy the stunning views of the Himalayas. Located amidst pristine forests, this luxurious resort has spacious rooms, making it a perfect choice for a family vacation. While the Radisson Hotel is suitable for families looking for modern conveniences and a central location, the Oberoi Council Hotel combines old-world charm with modern amenities. It has well-appointed rooms and a range of activities including a kids' club for families traveling with their little ones.
Coming to the accommodation in Manali, this hill station features the Apple Country Resort, Span Resort & Spa, The Manali Inn, and the Solang Valley Resort to address the varied needs of travelers. In case you're looking for budget-friendly options that make you feel at home away from home, you can simply get in touch with our team of professionals. Our team helps you find the right resort/hotel that suits you as well as your family members.
Popular Sightseeing Places to Visit in Shimla and Manali
Wondering where to kick-start the sightseeing exploration in Shimla and Manali? Well, for your ease, we have listed the top 4 attractions that draw people's attention in large numbers every year. These are as follows: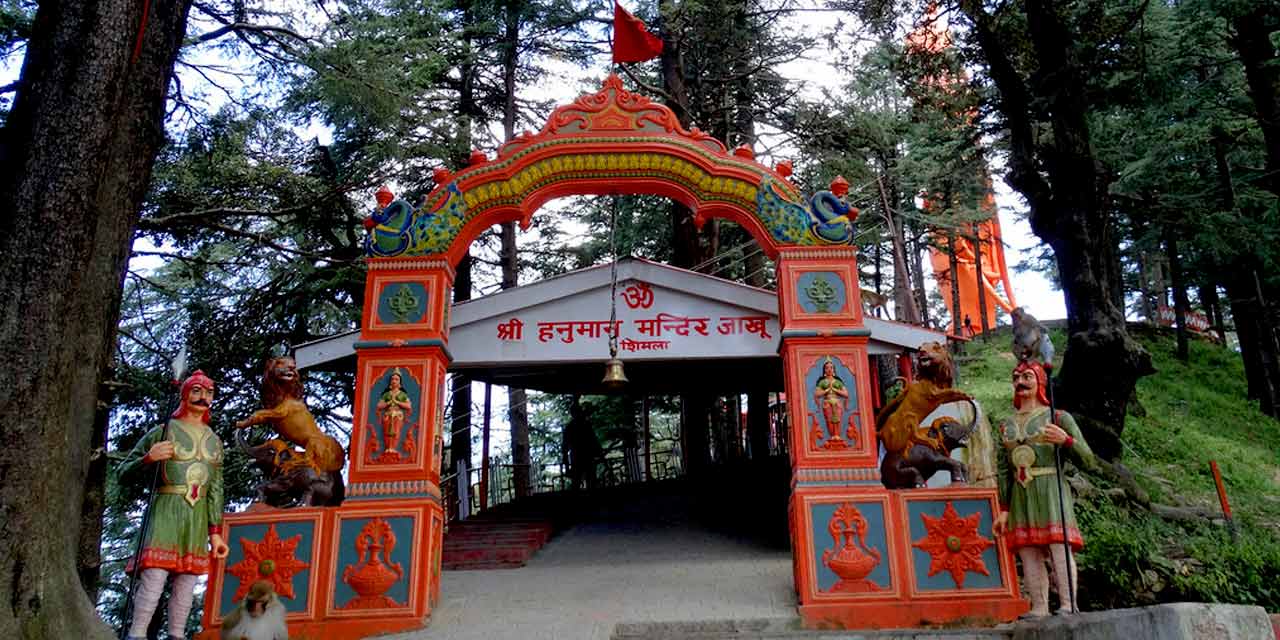 The most prominent and revered religious site in Shimla, Jakhoo Temple is an ancient temple that is located atop Jakhoo Hill. The temple not only holds religious significance but also offers spectacular panoramic views of the surrounding landscapes including Shimla town and the majestic Himalayan mountains.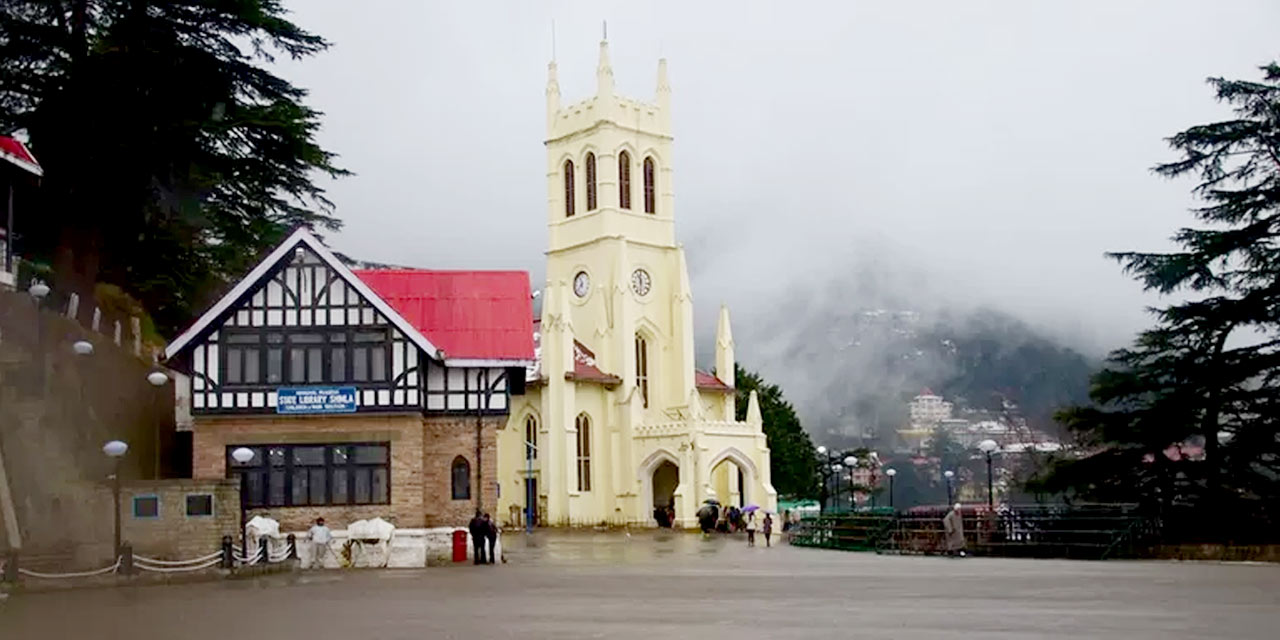 Situated at the heart of the city on The Ridge, Christ Church is considered among the oldest churches in North India that boasts the neo-Gothic architectural style with stained glass windows that adds to its charm and historical appeal. It is illuminated at night, creating a magical atmosphere in the Shimla night sky, making it a go-to spot for evening strolls and photography.
Revel in the picturesque beauty of Jogini Waterfall. The Jogini Waterfall is a captivating natural wonder in the scenic hill station of Manali that impresses people with its serene and peaceful environment. It is a favorite place for photographers and can be frequented by anyone looking to be in the lap of Mother Nature.
Sprawling over an extensive area, the Great Himalayan National Park in Manali is known for its pristine landscapes, dense forests, alpine meadows, and diverse range of flora and fauna. It is home to numerous wildlife species and offers wildlife lovers a chance to witness the untamed beauty of the Himalayan ecosystem.
In addition to the above-mentioned places, there are many other points of interest in Shimla as well as in Manali that are worth your time. These include Green Valley, Viceregal Lodge, Himachal State Museum, Summer Hills, Bhrigu Lake, Hadimba Temple, Van Vihar National Park, Naggar Castle, and more. Adding to them are the Arjun Gufa, Vashisht Temple, Gaiety Heritage Cultural Complex, Old Manali, Annadale Army Heritage Museum, and Shimla Reserve Forest Sanctuary.
Activities & Things to Do in Shimla and Manali
If you're an adventure buff and seeking to add a bit of thrill to your Shimla Manali tour with our Shimla Manali family packages, you can plan a getaway to Kufri, Solang Valley, and Rohtang Pass to have a fun-filled day out with your near and dear ones. Some of the must-try outdoor activities are Paragliding, Skiing, Snowboarding, Zorbing, Trekking, Mountain Biking, River Rafting, Camping, Rock Climbing, and Cable Car Rides.
For a calmer experience, one can simply choose to enjoy nature trails along scenic routes that will mesmerize you with their unparalleled charm and aura. Here you can also bring out the photographer in you by capturing some amazing photos that you'll cherish for your entire life.
Don't return home without shopping in Shimla and Manali. In Shimla, you can pay heed to Mall Road, Ridge, Lakkar Bazaar, and Tibetan Market to purchase items like woolen clothes, wooden artifacts, Tibetan and Himalayan handicrafts, jewelry, etc., under one roof.
The tiny hamlet of Manali presents you with numerous markets like Manu Market, Tibetan Monastery Market, Old Manali Market. Here you can buy souvenirs for excellent gifts or personal namesakes.
When shopping in Shimla and Manali, it's a good idea to bargain, especially in the local markets. Also, be sure to check the authenticity of products, particularly if you're buying traditional handicrafts. Whether you're looking for traditional Himachali items or modern trinkets, the markets in Shimla and Manali have something for every shopper.
---
In summary, our Shimla Manali Family Tour Packages are designed to provide a comprehensive, enjoyable, and stress-free family vacation. With our expertise, customization options, and commitment to your family's comfort and safety, we ensure that your trip to Shimla and Manali is a truly unforgettable adventure filled with joy and bonding.