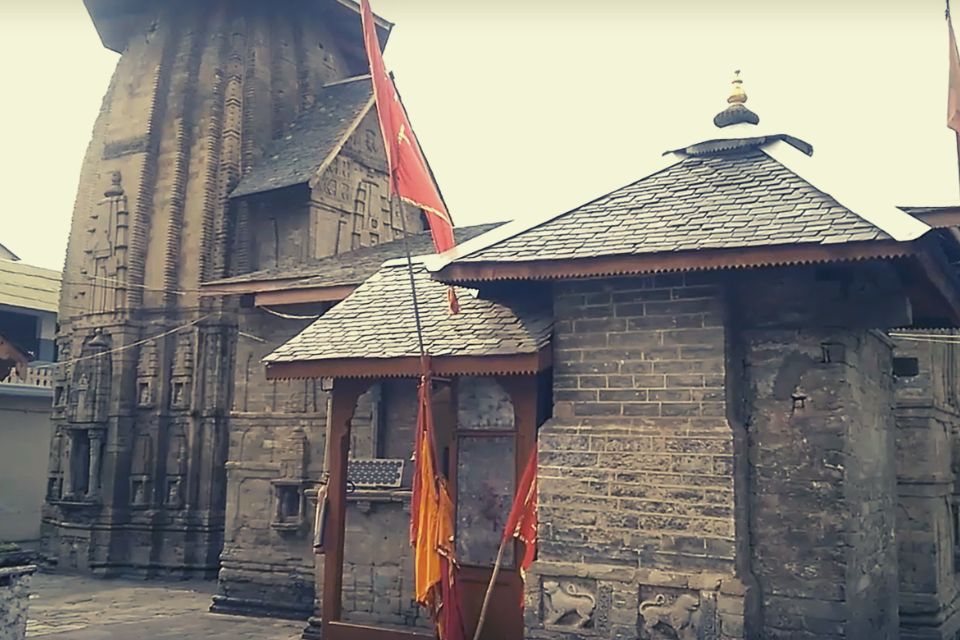 Laxminarayan Temple Shimla Entry Fee
Laxminarayan Temple Shimla Phone
---
Rating:
| 4/5 stars
Based on total 64 reviews
Laxminarayan Temple Shimla Address: NH 22, Housing Board Colony, Sanjauli, Shimla, Himachal Pradesh, 171006, India
Shimla Tour Packages
Laxminarayan Temple Shimla Timings
Day
Timing
Monday
6:00 am – 12:30 pm
2:30 pm – 8:30 pm
Tuesday
6:00 am – 12:30 pm
2:30 pm – 8:30 pm
Wednesday
6:00 am – 12:30 pm
2:30 pm – 8:30 pm
Thursday
6:00 am – 12:30 pm
2:30 pm – 8:30 pm
Friday
6:00 am – 12:30 pm
2:30 pm – 8:30 pm
Saturday
6:00 am – 12:30 pm
2:30 pm – 8:30 pm
Sunday
6:00 am – 12:30 pm
2:30 pm – 8:30 pm
Links:
Website
|
Map
---
Laxminarayan Temple, surrounded by beautiful Arki hills, boasts an amazing architecture with its great historical significance. Dedicated to the Hindu community, it is one of the oldest and largest temples in Chamba that offers a holy and divine atmosphere to the devotees of Lord Shiva and Lord Vishnu.
The tranquil setting around the temple gives a sense of relaxation the moment you step inside the complex and the amazing views make it look even more spectacular. It is a great place for holidaymakers of all ages and has been attracting tourists from every corner of the world. The best time to visit Laxminarayan Temple is from April to October.
History of Laxminarayan Temple, Shimla
The idol of the presiding deity, Lord Vishnu, who is believed to be a replica of Lord Krishna has a legendary story attached to it. It is said to be sanctified by one of the Kings of the region - Raja Sahil Verman. People say that Sahil Verman had envisioned this temple as a place made of a rare marble that has a glittering appearance.
Owing to the wishes of Sahil Verman, he sent eight of his sons to Vindhyachal mountains in search of an appropriate marble, but no one could succeed. And then comes a day when his eldest son, Yugkara, finally succeeded to get the marble for the temple.Although he was attacked by the robbers on his way back home, he effectively managed to protect it with the help of a saint. Thus, with great efforts of the king, the image of Lord Vishnu could be made.
Image Gallery of Laxminarayan Temple, Shimla
Architecture of Laxminarayan Temple, Shimla
With construction being completed in the 10th century, this architectural marvel is built in Shikara style. While the interior is finely executed in classical forms, the exterior adds charm to its overall glory.
Featuring a mesmerizing pillar at its entrance, the pillar is beautifully decorated with a metallic statue of Garuda, which was contributed by the King Balabhadra Verma. Later, Aurangzeb ordered to demolish this building. To protest against the Mughal emperor, the then King, Raja Chhatra Singh thought of including the gold plates pinnacles in its top portion in the year 1678.
The main temple houses six different temples within the complex, each dedicated to either Lord Shiva or Lord Vishnu. Other than that, there are 3 more shrines that feature the idol of Radha Krishna, Shiva and Gauri Shankar. Wooden Chattries is the main attraction of this temple. However, the temple also includes Bimana and a mandapa like structure. Other highlights are the wooden umbrellas and the shell roofs that protect the roof against snowfall.
Places to Visit near Laxminarayan Temple, Shimla
There are several places to visit in and around the Laxminarayan Temple. For your convenience, we have summed up the top 5 tourist attractions in Shimla:
1. Gaiety Heritage Cultural Complex – Witness the impressive architecture of Gaiety Heritage Cultural Complex and get nostalgic with uncountable historic moments. Built in 1887, the theatre is a central venue for organizing various events and cultural programs in Shimla. It is only 2.3 km from Laxminarayan Temple.
2. Jakhoo Temple – You cannot leave Shimla without seeking the blessings of Lord Hanuman at Jakhoo Temple. Nestled amidst the beauty of Shivalik Hill ranges, the temple is surrounded by lush-green winding pathways and offers breathtaking views of the sunrise and sunset. It is only 2.4 km from Laxminarayan Temple.
3. Annandale Ground – Experience the lifestyle of the Indian Army at the Annandale Ground. One of the must-visit tourist attractions of Shimla tour, the Annandale comprises of a cactus museum, a sporty golf club, a greenhouse, a café and several souvenir shops. It is only 2.5 km from Laxminarayan Temple.
4. Mohan Shakti Heritage Park – Visit Mohan Shakti Heritage Park to see a collection of marble structural monuments. It is an excellent place to know more about the Vedas and ancient Indian culture in detail. Other than that, this heritage spot is also known for its calm, peaceful and tranquil atmosphere. The park is only 2.6 km from Laxminarayan Temple.
5. Scandal Point – Walk hand-in-hand with your loved ones at the Scandal Point. Perfect for couples and honeymooners, the Scandal Point lets you relax and rejuvenate your senses away from the metro life. Here you can also explore a wide variety of eateries and shops. It is only 3.6 km from Laxminarayan Temple.
Entry Fee and Timings of Laxminarayan Temple, Shimla
There is no entry fee to visit Laxminarayan Temple in Shimla. It is open for its visitors from 6 am to 12:30 pm in the afternoon and from 2:30 pm to 8:30 pm in the evening on all the days of the week.
How to Reach Laxminarayan Temple, Shimla?
Since Laxminarayan Temple is located in the main market, it is easy to access via a bus or a taxi. The three main modes of transport are as follows:
By Train: Shimla Railway Station is the nearest station to Laxminarayan Temple. You can also enjoy a Kalka Shimla Toy Train ride to have a perfect train journey of your life. The toy train starts from Kalka station and takes nearly 5-6 hours to reach Shimla. From there, you can hire a private vehicle from one of the top car rental companies in Shimla for a hassle-free experience.
By Road: There are several regular, private and public-owned buses that connect Shimla to several other states of India. Other than that, air-conditioned and luxury coaches are also available for the ultimate comfort of holidaymakers. Please note that the booking of deluxe buses is done in much advance. From there, you can choose to walk on foot if you want to soak up the beauty of the Queen of Hills.
By Air: All those who prefer travelling by air can board a direct flight from Chandigarh or New Delhi Airport. After arriving at Jubbarhatti Airport, you can opt for a local cab to commute within the hill-station.
---
Book an all-inclusive Shimla tour package with us to make the most of your holiday. We at Shimla Tourism, a division of Holidays DNA, present our clients with plenty of customized holiday packages. Our team of experts offer competitive travel deals at pocket-friendly prices. In addition, we also guide people about the top tourist places to visit in Shimla. What else do you need? Reach us out by filling the Contact Us form. One of our representatives will get back to you shortly.
Location Map for Laxminarayan Temple Shimla