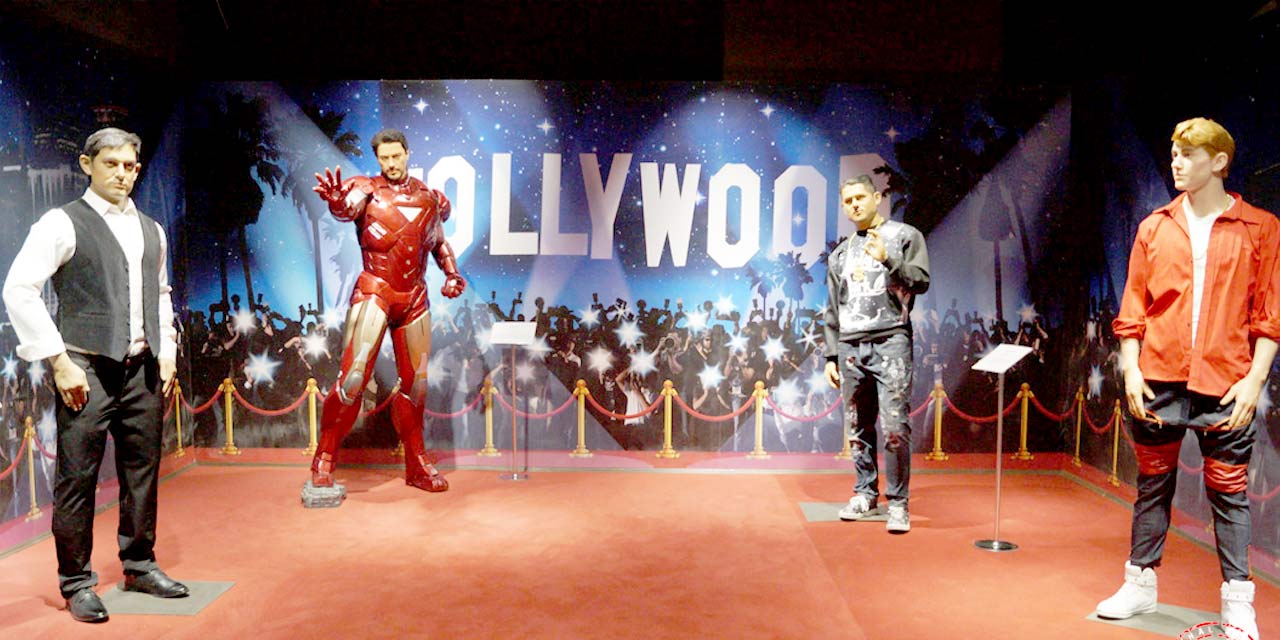 Johnnie's Wax Museum Shimla Entry Fee
250 per person
Entry Free for Children Below 5 years
Johnnie's Wax Museum Shimla Phone
---
Rating:
| 4/5 stars
Based on total 70 reviews
Johnnie's Wax Museum Shimla Address: Willow bank, The Mall, Shimla, Himachal Pradesh, 171001, India
---
Why go to London when you can see a truly unique and an equally fascinating attraction in Shimla? Also known as the first wax museum of Himachal Pradesh, Johnnie's Wax Museum is a place where you can spend a few hours with the life-size statues of the world-famous personalities. It is a great spot to hang out with your family and has become a must-visit tourist destination of Shimla tour, attracting hundreds of holidaymakers every day.
Click pictures with your favourite celebrities. Rub shoulders with widely popular names or interact with legends under one roof. You'll also get a chance to come face-to-face with Bollywood stars, sports stars, music pop stars and real-life heroes. The Johnnie's Wax Museum in Shimla also allows people to get a wax replica of their hand – to make their visit an unforgettable experience for a lifetime.
History and Architecture of Johnnie's Wax Museum, Shimla
Opened on May 11, 2016 by Chief Minister Virbhadra Singh, the Johnnie's Wax Museum was brought into existence by a Gurgaon based company "BM Brothers", which laid its foundation at the historic WillowBank Estate in the "Queen of Hills".
Featuring wax statues of 16 widely-recognized people from different backgrounds, the museum displays the statue of Mahatma Gandhi at the entrance. The Prime Minister of India, Narendra Modi and the ex-President of the USA, Barack Obama are standing face-to-face. Other names such as Steve Jobs, Johnny Depp, Michael Jackson, Paul Walker (actor of the Fast and Furious), Amir Khan, Harry Potter, James Bond, Tony Stark, Dwayne Johnson, Lionel Messi (Soccer Player), Indian rapper Honey Singh, Justin Bieber and Salman Khan are also there.
Not only this, but the company is also planning to add more wax statues to the Shimla charm and expand its reach to other cities such as Hyderabad, Delhi, Noida and Ahmedabad. Few of the personalities include Shahrukh Khan, David Beckman, Tom Cruise, Mother Teresa, Priyanka Chopra, Deepika Padukone, Mark Zuckerberg, Amitabh Bachchan, Sachin Tendulkar and Leonardo DiCaprio.
Image Gallery of Johnnie's Wax Museum Shimla
Things to do in and around Johnnie's Wax Museum, Shimla
1. Sky Jumper Trampoline Park – An ideal place for families to have an unparalleled experience, the Sky Jumper Trampoline Park is a powerhouse of entertainment with 100 plus interconnected trampolines and several games such as volleyball, basketball and dodgeball. It is just 0.1 km away from Johnnie's Wax Museum.
2. Jakhoo Hill – Spend some ME time away from the chores of everyday life at the Jakhoo Hill. Featuring a tranquil setting with a calm and peaceful atmosphere, the Jakhoo Hill lets you enjoy the panoramic views of the snow-capped Himalayan mountain ranges. It is just 0.5 km away from Johnnie's Wax Museum.
3. Lakkar Bazaar – One of the most popular shopping streets of Shimla, Lakkar Bazaar is famous for selling a wide variety of handmade wooden crafts items. Other than that, you can also buy Himachali woollen clothes, artifacts, key chains and fashion jewellery at pocket-friendly prices. It is just 0.7 km from Johnnie's Wax Museum.
4. Christ Church – If you are a follower of Christianity and looking for some spiritual vibes in Shimla, Christ Church is the place to visit. Boasting a great architecture for history buffs, the church is also a great spot to click several pictures outside the premises. It is just 0.7 km away from Johnnie's Wax Museum.
5. Kali Bari Temple – Take the blessings of Goddess Kali at the famous Kali Bari Temple. Dedicated to Shyamala Mata, the temple was built in the year 1845. It is a heaven for nature admirers and an excellent place for landscape lovers. The temple is just 1.1 km away from Johnnie's Wax Museum.
Entry Fee and Timings of Johnnie's Wax Museum, Shimla
The entry fee to visit Johnnie's Wax Museum in Shimla is INR 250 per person. However, the entry for children below 5 years is free. It is open from 10 AM to 10 PM for all the days of the week.
How to Reach Johnnie's Wax Museum, Shimla?
Located just a few steps away from The Mall Road in Shimla, Johnnie's Wax Museum can be easily accessed from all parts of the town.
By Train: The nearest station to Johnnie's Wax Museum is Shimla Railway Station, which is only 2.2 km away. After reaching Shimla, you can hire an auto-rickshaw to explore the streets of the hill-station.
By Road: If you're coming directly from the bus stand, you can look for a local mode of transport to reach the main road of the city centre. From there, you need to either walk on foot or take a lift operated by the Himachal Pradesh Tourism Development Corporation to get to the upper roads. It is only 1.8 km away from Shimla Old Bus Stand.
---
For your convenience, we at Shimla Tourism, a division of Holidays DNA, present you with plenty of Shimla tour packages catering to your budget and other holiday requirements. Our team of experts offer the best competitive deals for choosing a private vehicle from one of the top car rental companies in Shimla. Other than that, we also assist you with the sightseeing places, fine-dining restaurants and shopping. You just need to fill out the Contact Us form to get in touch with us. Our travel experts will help you know everything about our services. So what are you waiting for?
Location Map for Johnnie's Wax Museum Shimla