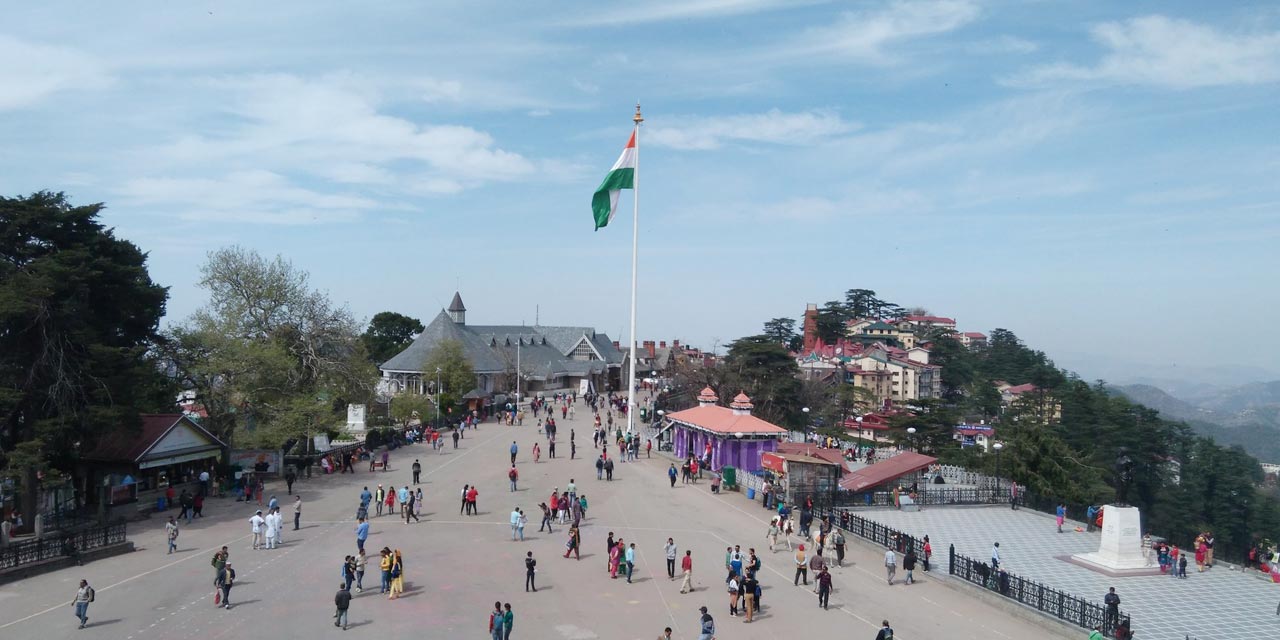 The Ridge Shimla Entry Fee
The Ridge Shimla Phone
---
Rating:
| 4/5 stars
Based on total 65 reviews
The Ridge Shimla Address: Shimla, Himachal Pradesh, 171001, India
---
The Ridge, nestled in the heart of Shimla, boasts an excellent hill-top location with a mix of traditional colonial architecture, panoramic scenic beauty, hassle-free atmosphere and lush vegetation. It is just a short stroll away from the famous Mall Road and has everything that you need to make the most of your vacation.
From exclusive shops selling a wide variety of goods to vibrant bars, clubs and world-class restaurants, here you can be as active or as lazy as you want. This place is known as the face of Shimla and is a perfect spot to get photographed – with spectacular views of the mountains and evergreen trees surrounding it.
Visitors from all over the world love to visit this hill station at least once a year - to overlook the mesmerizing view of the sunset at the dusk – an experience that one cannot forget in their lifetime. Other than that, the Ridge is also a central point for all the cultural activities in Shimla.
Things to do at Ridge, Shimla
The moment you reach this tourist spot, you'll find yourself occupied with so many things to do during the day and enjoy in the evening. Hence, we have summed up a few places for you to start with-
Admire Nature at Jakhoo Hill – A perfect spot to soak up in nature while admiring snow-capped Himalayan mountains, Jakhoo Hill attracts tourists of all ages. Situated only a few minutes away from the Ridge, Jakhoo Hill is covered with Alpine trees and has a colorful Jakhoo Temple where you can seek blessings from the idol of Hanuman. Take some time out to capture the breathtaking scenery or try your hand at trekking. You can also choose to spend hours just by looking at the clouds – which is undoubtedly a majestic sight for peace lovers.
Seek Blessings from Kali Bari Temple – For all those who want to spend some time away from the hustle and bustle of the city life, Kali Bari Temple is a great place to visit. Built in 1845, it is one of the oldest temples of Shamla Mata. The temple is a heaven for the devotees of Goddess Kali and is also a blissful spot for nature lovers. Here you can enjoy the panoramic views or explore an array of shops and eateries located within the surroundings.
Visit Christ Church – Also recognized as the charm of Shimla, Christ Church is a famous landmark of the hill station. Positioned at the Ridge, this neo-gothic architecture attracts a huge number of history buffs and archaeological enthusiasts every year. It is the 2nd oldest church in northern India and is a symbol of pure devotion. If you want to go back in time and re-cherish the past memories, be sure to visit this place. There is something unique and exciting that makes it a popular place among people of all ages.
Enjoy a Cultural Tour to Gaiety Theater – Gaiety Theater, a hidden gem of India, is a lovely old theater that features an exquisite interior-Gothic style of architecture with an art gallery, an exhibition hall, an amphitheater and a multipurpose hall. Widely popular for organizing cultural events for local, national and international artists, this Victorian-style theatre also promotes the overall value of art and how it affects the culture in Himachal Pradesh.
Stroll around Lakkar Bazaar – Explore the streets of Lakkar Bazaar if you're looking to buy some decorative or wooden household items. As the name suggests, Lakkar Bazaar is an old wooden market of Shimla. Famous for selling Himachali woollen items, key chains and wooden artifacts, the market is worth walking for a while and exploring a wide variety of wooden made stuff.
An Evening at Himachal State Museum – If you're interested in learning more about the history, head to Himachal State Museum. Home to a collection of artifacts, jewelry and Himalayan masks, the museum represents the military history part and how the Indian army fought in detail.
Discover the different flavours at your favorite Eatery – Indulge yourself in a wide variety of cuisines and treat your taste buds with mouthwatering dishes. With an array of fine-dining restaurants, bakeries, local eating joints and food stalls available at every corner, you can satisfy your hunger pangs with Chinese, Continental, Italian, Mediterranean or South Indian food. And when you feel like relaxing in a cozy and calm ambiance, visit the local cafes to chill out with refreshing drinks!
Go Shopping – No trip is complete without shopping and when you are in Shimla, you just can't ignore it. A paradise for shopaholics, the Ridge is an excellent place to shop for shawls, caps, mufflers, warm socks, gloves and branded clothes. Other than that, you can also look for Tibetan items to bring some memories back home.
Image Gallery of The Ridge Shimla
Best Time to Visit Ridge, Shimla
Although, the Ridge in Shimla offers pleasant weather throughout the year, visiting it during the months of April to August and December to January is considered as the best time to explore its streets. You can also plan to visit Ridge during the summers to enjoy the cultural festivals every year.
How to Reach Ridge, Shimla?
The Ridge Shimla route is well-connected to all parts of the city and offers several options to reach your destination. Choose to walk on foot if you're living close to this attraction or simply look for a private car or a taxi if staying at a distance from the central location. However, the entry of the vehicles is restricted on this street, so you can park at a lower level and take the lift to get there.
Distance from the nearest bus stand: 2.1 km
Distance from the nearest railway station: 1.6 km
The Bottom Line
With so much to do under one roof, a short trip to Ridge will be a perfect getaway for all those who want to disconnect themselves from everyday life for some time. You will fall in love with this place in no time and would like to visit it time and time again. So, what are you waiting for? Just pack your bags now!
Location Map for The Ridge Shimla