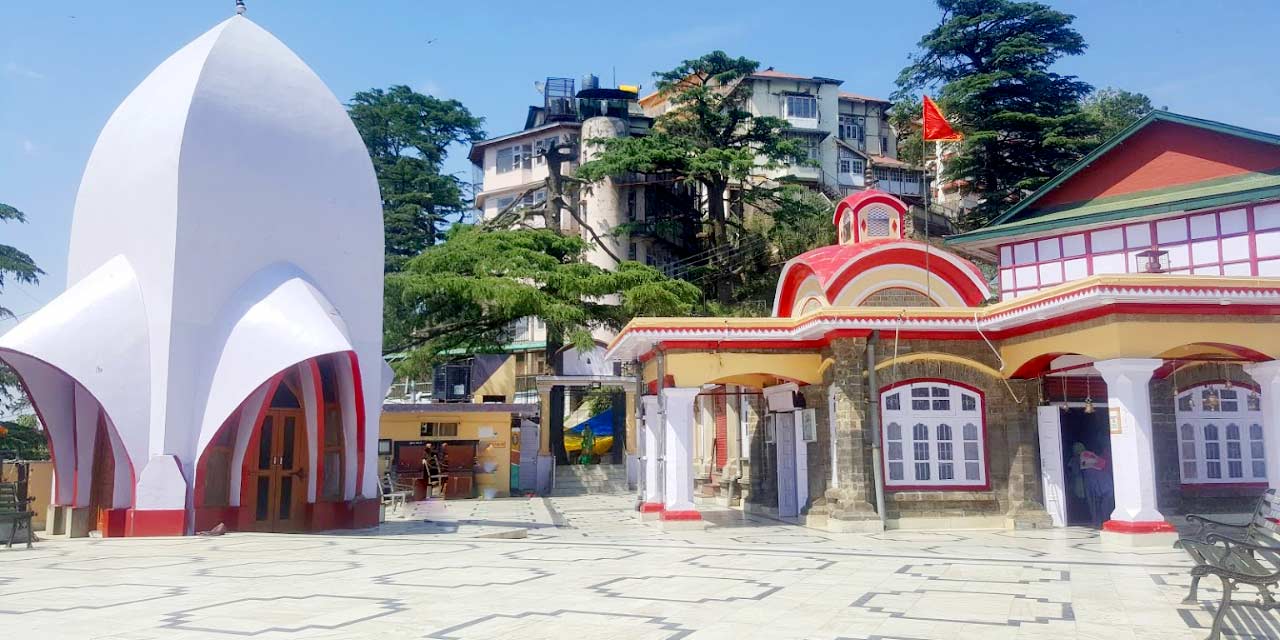 Kali Bari Temple Shimla Entry Fee
Kali Bari Temple Shimla Phone
---
Rating:
| 4/5 stars
Based on total 65 reviews
Kali Bari Temple Shimla Address: Kali Bari Road, Fingask Estate, Shimla, Himachal Pradesh, 171001, India
---
Whether you're looking for a short city break or wish to spend some time amid spirituality, the Kali Bari Temple in Shimla can be the right place to visit.
Kali Bari Temple, boasting an excellent hill top location, with a panoramic view of the mountain ranges and lush-green forests, offers a divine atmosphere to the devotees of Shyamala Mata. It is a popular religious place for the Hindu community in India and has become a must-visit tourist attraction of Shimla tour.
Widely famous for its historical and festival significance, the holy vibes of the temples make you feel positive from inside. Here you can enjoy strolling around the place to soak up the natural greenery or simply click some pictures – with mesmerizing scenery at your backdrop. Other than that, the temple also provides accommodation for the tourists who wish to stay nearby. There is also a canteen where you can treat your taste buds with mouth watering delicacies during lunch and dinner time.
History and Architecture of Kali Bari Temple, Shimla
Dating its history back to 100 years ago, the Kali Bari Temple was originally built by a Bengali Brahmin 'Ram Charan Brahmachari' in the vicinity of Rothney Castle on Jakhoo Hill. It is one of the ancient temples of the city and features a unique Hindu-style architecture along with the blue coloured wooden idol of goddess Kali. Later, the Britishers shifted the location of the temple to a new site.
It is believed that the mother Kali is looking after people who worship her with full faith and deep dedication. Such devotees always feel the mercy of Goddess in their lives. You can also seek the blessings of her in the forms of Ma Tara, Ma Parvati, Ma Bhavani, Ma Kumar Sati, Ma Rudrarani, Ma Meenakshi, Maa Chamunda and Ma Himavati.
Entry Fee and Timings of Kali Bari Temple, Shimla
There is no entry fee to visit Kali Bari Temple in Shimla. It is open from 6 AM in the morning to 7 PM in the evening every day.
Image Gallery of Kali Bari Temple Shimla
Best Time to Visit Kali Bari Temple, Shimla
Although people can offer their prayers at Kali Bari Temple at any time of the year, visiting it during the auspicious occasion of Durga Puja and Kali Puja is usually considered best.
At the time of Durga Puja, Goddess Kali, along with her complete family, comes to her own abode i.e.; the Himalayas to bless her devotees. While at the time of Navratri, thousands of tourists flock to this place to experience her compassion and love for the entire world. Besides this, there are huge celebrations at the temple to celebrate the victory of Goddess mother Kali over evil on the day of Deepawali.
Travellers Tips for Kali Bari Temple, Shimla
Make sure to keep your belongings safe while visiting the temple. The monkeys around the place may try to snatch the things away from you.
Don't click the pictures inside the temple. It is strictly prohibited at the premise.
How to Reach Kali Bari Temple, Shimla?
Located just a short stroll away from The Mall Road in Shimla, the Kali Bari Temple offers several transportation options to reach your destination. It is well-connected to all parts of the city via road and has beautiful scenery to offer for tourists who are fond of walking.
By Road – If you are staying in the heart of the town, you can either choose to walk on foot or hire an auto rickshaw to get down to your place. However, if you're directly coming from the bus stand or railway station, it is advisable to board a local bus or a shared taxi to visit the Kali Bari Temple.
For a hassle-free and easy commutation within the hill-station, you can also opt for a private cab from one of the leading car rental companies in Shimla. It is only 1 km from Shimla Old Bus Stand and 1.5 km from Shimla Railway Station.
By Air: For those who have a shortage of time can opt to travel via air. Jubbarhatti Airport is the nearest airport to reach Shimla from Chandigarh as well as from Delhi. After reaching there, you can look for any mode of transport to explore the popular sightseeing places in Shimla.
---
We at Shimla tourism, a division of Holidays DNA, help you make the most of your holiday with a wide variety of Shimla tour packages. Our team of experts carefully design the travel packages suiting to your budget. You can avail the best deal at the competitive prices. What else do you need? Just pack your bags and get set go!
Please fill out the Contact Us form to know more about the packages.
Happy holidaying!
Location Map for Kali Bari Temple Shimla