'To travel is to enjoy life amongst the unexplored crevices that have no end.'
Have you ever felt the urge to pack your bag and leave for an unexpected journey? Now is your chance to explore a wonderful 3 days in Shimla surrounded by some of the most gorgeous hills and sightseeing places.
With a taste of paradise, Shimla is nothing short of a majestic hill station that many take respite in travelling to. With abundant greenery and vegetation, historical sites and amazing adventure activities to keep you busy, there is so much to celebrate in this quaint, yet popular, hill city called Shimla.
If you are planning a three-day getaway to Shimla, we have chalked out a complete itinerary covering all major hotspots and gorgeous escapades located nearby. Plan your complete itinerary covering the most important places to visit in 3 days in Shimla. Bask in the natural beauty of the silver-lined clouds and refreshing breath of air while enjoying time with the most important people in your life.
Boasting of an aura from the British times, Shimla is the quintessential travel destination for all those wanderlusts, family vacations and honeymooners across the country.
How can you get to Shimla?
While there are many ways to get to Shimla, we do suggest the drive up from Chandigarh or Delhi / NCR to truly regale and cherish the beauty of the mountains around. You can also travel to Kalka by train and then take the narrow gauge train from Kalka to Shimla. You get to experience a railway engineering marvel by travelling through the narrow winding tunnels of this 4 hour or 90 kms journey in this small train.
The nearest airport to Shimla is in Chandigarh, which is accessible by most places in India.
Colonial architecture, misty mountains and sun-kissed peaks allure you to enjoy the beauty of Shimla. Pack your bags and get ready to rock three days in Shimla with attractive packages designed by Holidays DNA in tandem with the top local tour operators.
Shimla has been a favourite holiday destination for many people from across the country. Its pristine beauty and cool mountain air draws tourists to explore the magnificence it beholds. Although the hill station can be explored in 1 day but there are a lot of places nearby that need two or three days to completely discover and enjoy.
As part of your tour itinerary, some places that can be comfortably covered in 3 days in Shimla are –
Kufri– Mashobra – Shimla
Chail – Kufri – Shimla
Shimla – Narkanda – Solan
Kasauli – Shimla – Parwanoo
Solan – Shoghi – Shimla
While these are some broad options for you to explore, they can be itemized to suit your time and comfort with the help of local tour operators.
Each of these places is located in close proximity to Shimla and can be covered one day at a time or you can also spend 1 day exploring two places.
The gorgeous hill station has some of the most popular tourist spots that can be explored comfortably in 1 to 1.5 days.
The popular places that can be covered in 3 days in Shimla are: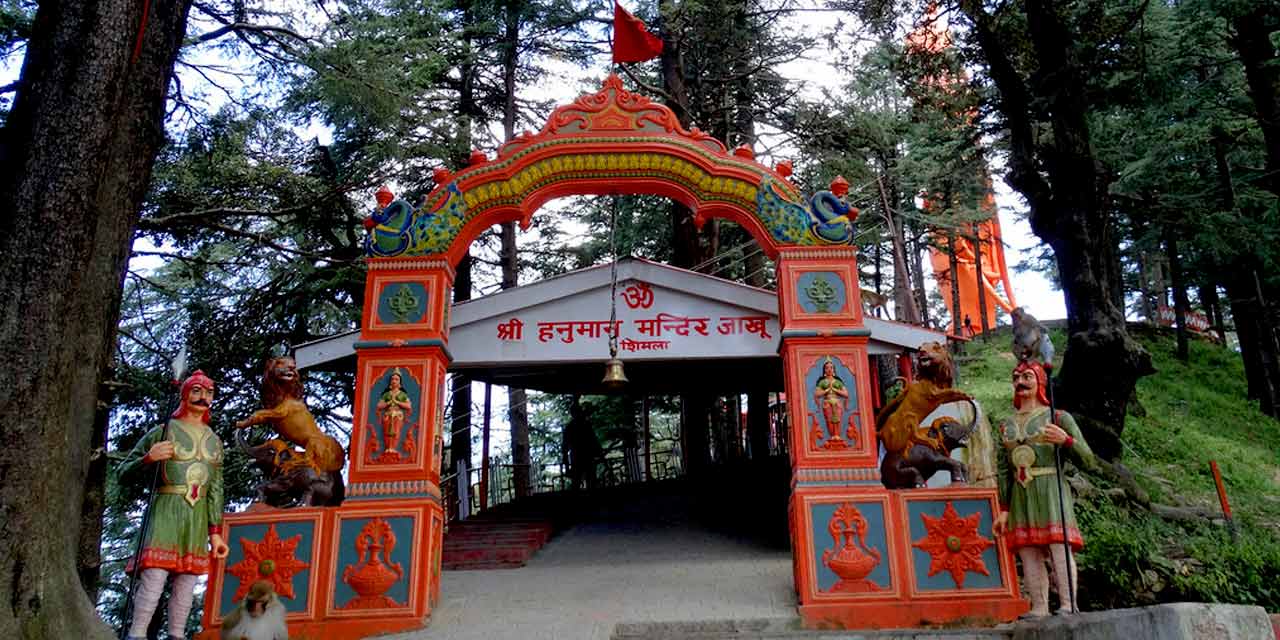 A devout temple dedicated to Lord Hanuman, it is built atop Jakhu hill, which is one of the seven hilltops on which Shimla stands today. The main attraction is the 108 ft. tall statue of Lord Hanuman that stands tall peering through the tips of the dense forest cover. Visible from every angle in Shimla, it is a must visit for all those coming here.
The temple is accessible by road and even a ropeway that runs from one end of the Ridge right till the top of the hill. A round trip journey via the cable car costs approx. Rs 500 for adults and Rs. 400 for kids.
It has a beautiful play area and a quaint temple where devotees can pay their obeisance.
Note- please be wary of monkeys playing and jumping on the trees here as they may just get a little snatchy. Don't feed them or gesture them in anyway.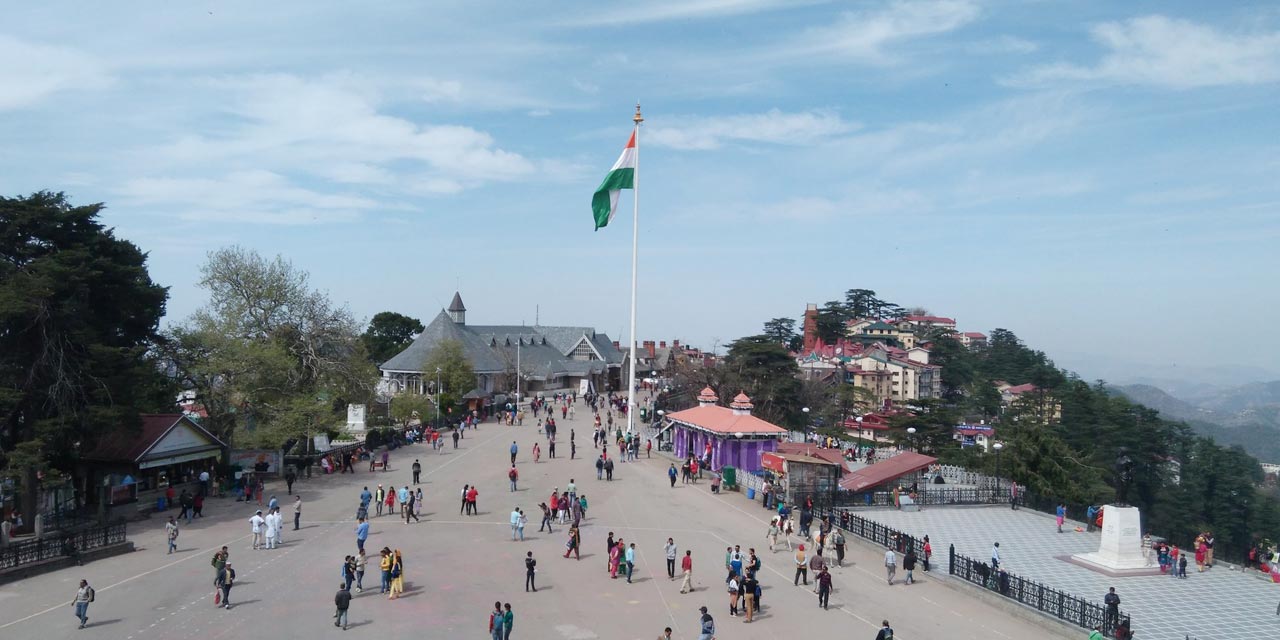 A large open space located in the center of the city, the Ridge is home to one of the oldest libraries in the country and a gorgeous neo-gothic style Christ Church as well. It is the hub of all events and liveliness that encompasses the city of Shimla.
#Trivia: The Ridge has also been part of many movie shootings, the most famous one being – 3 Idiots.
It runs along the Mall road, east to west, and has a lot of things to offer tourists. This includes a panoramic view of the city from both sides, multiple snack joints, photographers to click you in traditional Himachali attire and much more.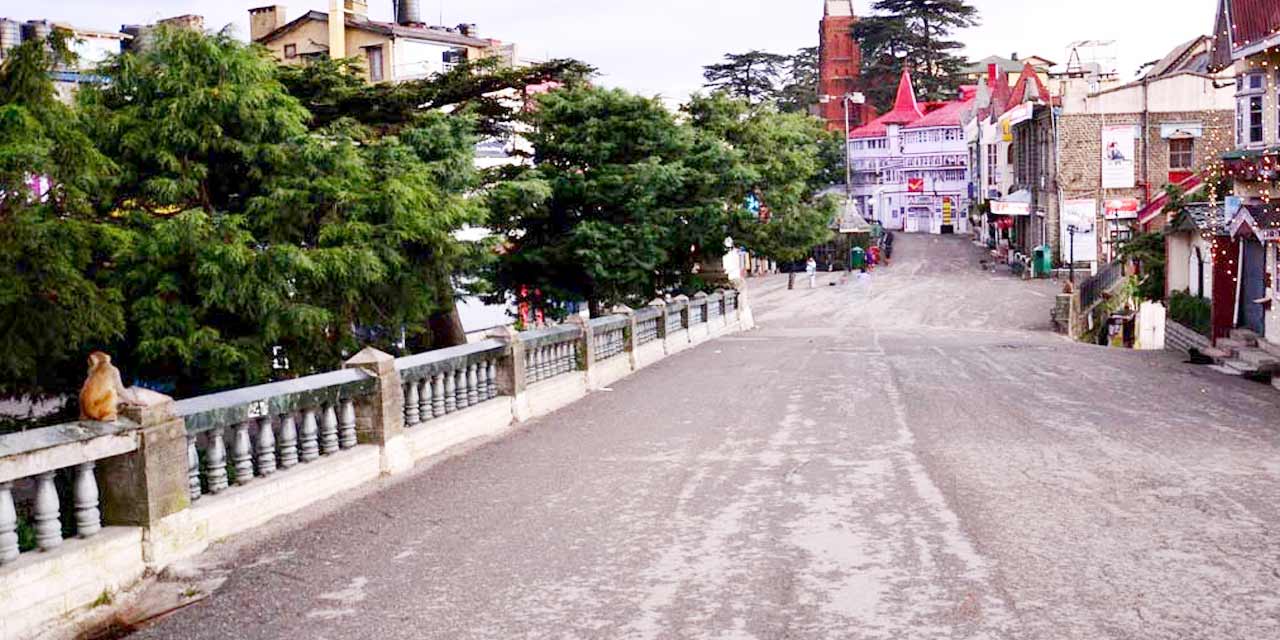 Mall road is the lifeline of all trade and market activity in Shimla and also houses some of the most popular eateries in the city. The little cafes lining the streets are a treat to sit down and relax with a cup of coffee.
Mall road has a number of spots to visit such as Scandal point, Lakkar bazaar at one end of the road, Johnnies wax museum, Gaiety theatre complex and Kalibari temple. All these can be easily covered in half a day in Shimla.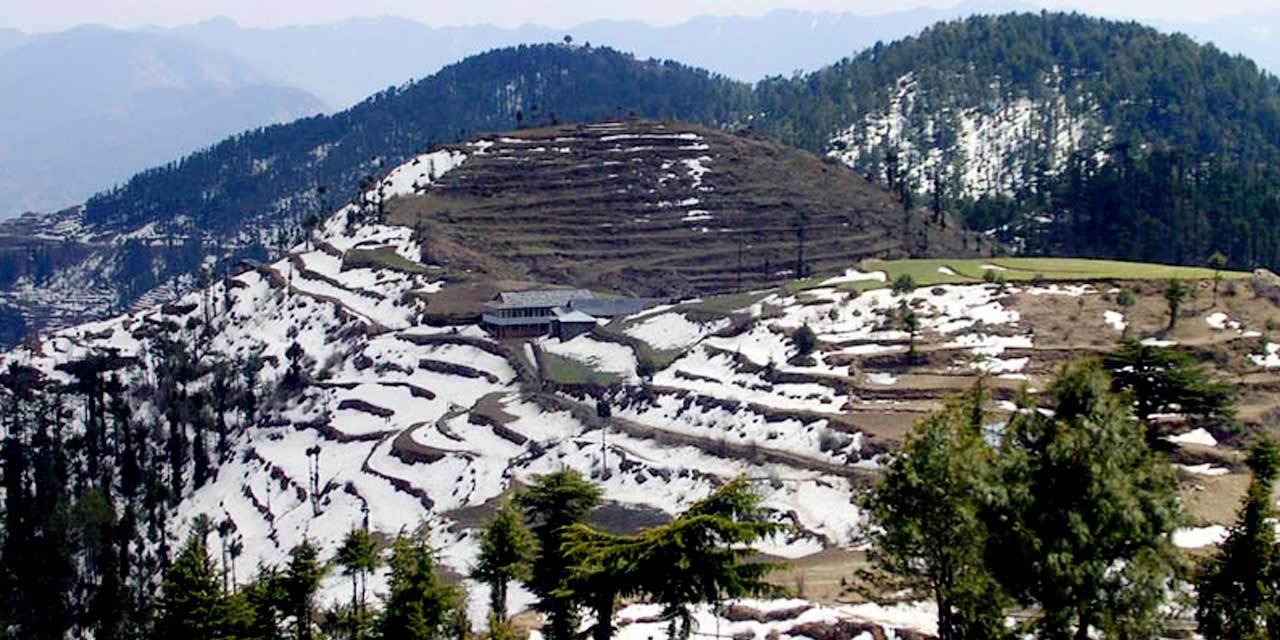 A quaint skiing destination in winters and a beautiful destination to explore a little away from Shimla, Kufri boasts of views that are absolutely breath-taking.
#Trivia: Kufri derives its name from the word 'Kufr' that means 'lake' in the local language. It was established in the year 1819 and is one of the most popular holiday spots near Shimla today.
Take a ride to the top of Mahasu peak in Kufri on a horse back and enjoy many adventurous activities such as tobogganing, zipline, mountain biking, etc. Pay your obeisance to the temple dedicated to Nag Devta, the local deity, and enjoy awe-striking views of different spots located at quite a distance. You can view these spots with the help of a big telescope that is chargeable at Rs. 300 approx. per person.
While in Kufri, take a trip to the Kufri National Park or the Himalayan Nature park to enjoy the abundant flora and fauna. You can also trek to another popular peak nearby, Fagu.
Spending a day in Kufri will ensure that you get to enjoy everything located here. So, take time out and enjoy the gush of fresh air right here.
A quiet hill town located around 2 hours from Shimla is Chail. Home to highest cricket ground in the world, Chail offers quite a spectacular view from the top of the peak. Surrounded by dense pine, cedar and deodar trees, it is a perfect day getaway for some time out from the conundrum of sounds.
Walk around the Palace, enjoy the chirping of the birds at the Chail Wildlife Sanctuary, enjoy some hot Maggi and snacks at Sadhupal Lake sitting in the middle of the water with the ripples flowing underneath your feet or simply soak in the goodness of nature that often eludes us in big cities.
A one day trip to Chail can cover all these points and also get you back to Shimla without feeling too tired or worn out.
Known as the 'Quiet Shimla' is also home to some really great adventure activities. From paragliding to trekking, biking to rappelling, there is something in store for all you adventure junkies to get the adrenaline pumping.
A birdwatchers delight in the true sense, get your cameras ready and enjoy the beautiful sounds of chirping birds in one of Asia's largest watersheds that supplies water to Shimla- The Reserve Sanctuary. The coniferous trees are home to some of the most beautiful species that include the Himalayan Eagle, partridges, pheasants, chikors and much more.
#Note: It is important to take prior permission from the forest authorities to visit the sanctuary.
It is also home to one of the two Presidential retreats in India.
Explore the different apple orchards in Mashobra and Fagu to see the glorious plantations that is a treat to our taste buds- Shimla Apples.
Yet another breath-taking destination that can be included in your Shimla tour is Narkanda. A beautiful hilly area that is absolutely famous for its snow-clad peaks in the winters and skiing down the slopes.
Hatu Peak is one of the most popular peaks of Shimla district, located in Narkanda. Nearly 12000 feet above sea level, this majestic peak is the gateway to unending beauty and glorious views of the snow-peaked mountains far away. The mesmerizing views are simply breath-taking. Visit the Hatu Mata mandir that is dedicated to the wife of King Ravana- Mandodari.
Tannu Jubbar Lake reminds you of a scene from a Japanese movie that boasts of a quaint lake surrounded by a colourful forest cover, an ideal spot to enjoy a picnic with friends and family. The lake is encircled with the thick forest cover and can prove to be a great photography spot for the camera enthusiast.
Stokes farm is one of the most popular farms and apple orchards started by a man called Satyanand Stokes. He brought the cultivation to Narkanda, which later became the lifeline of the town.
Known as the 'Mushroom city of India' because of its vast mushroom farming and 'City of Red Gold' because of its bulk tomato production, Solan is yet another popular hill station located around 46 kms from Shimla.
Solan is named after Goddess Shoolini, the main deity of the town and is a quaint place to enjoy oneness with nature. If you are simply looking for a relaxed time, spend a day in Solan. Solan serves as a gateway to other hill stations like Chail, Kasauli, Kalka, Barog and Parwanoo.
Shoghi is a small hill suburb of Shimla that just offers respite from everything chaotic. With absolutely nothing to do and just put your feet up and relax, Shoghi is a great way to find time for yourself and enjoy the expansive green slopes around you. You can club the one or two hill towns and make a 3 day trip to Shimla just enjoying the natural beauty of the mountains.
Parwanoo is a small industrial town in Himachal Pradesh has the states' largest wholesale market. It is also fondly called Shanu city.
The most exciting thing to try in Parwanoo is the Timber Trail or the ropeway ride that takes you above the hilly and rugged terrain of the Shivalik Range and Kaushalya Valley with a gorgeous view the jacketed green surroundings.
It is also famous for its extremely amazing fruit orchards that is the largest fruit producing unit of HPMC. If you are looking for a prickly adventure, visit the beautiful cactus garden that is one of its kind in Asia.
A quaint little trip awaits you atop the hills of Parwanoo. The pine and fir trees offer a wonderful respite from the hullabaloo that awaits you in the city.
---
Let your hair down and get the best of Shimla in 3 days with customized packages to suit your travel time and requirement. So set your dates and choose exciting packages that will cover all the must-see places in and around Shimla in three days. Make your holiday an exciting ones with Holidays DNA customized tour packages.